You may have already come across our LaserPecker 2 and LaserPecker 3 models on our official website, and the decision to choose the perfect fit might have been a tough one for you. But we're excited to announce that the LaserPecker (LP4) hits the market with a bang. It's a revolutionary model that effortlessly combines the diode and infrared laser technology in one powerful engraver and cutter.
In this blog, we'll take an in-depth look at the remarkable upgrades and capabilities of the LaserPecker 4. We aim to provide multiple perspectives to help you make an informed decision. Additionally, we'll discuss the endless possibilities of creativity with our best engraver and cutter model and our unwavering focus on creating cutting-edge laser engravers.
So, what's so remarkable about the LP4? The LaserPecker 4 signifies a significant breakthrough in laser engraving technology, offering unmatched precision, speed, safety features, and intuitive software. With its impressive array of upgrades, our latest model is an excellent solution for a wide range of DIY crafts, commercial products, and materials of all types. Next, we're going to elaborate upon the excellent performance in detail.
I. What's excellent about the LP4?
◆ 2 laser types available
When it comes to the LaserPecker 4, its key standout feature is the integration of its dual-laser system, which effortlessly engraves almost all materials (300+). By simply switching light sources, the LaserPecker 4 can utilize its 10W 450nm blue diode laser and 2W 1064nm infrared (IR) laser for optimal engraving/cutting results, regardless of the material - be it wood, leather, glass, metal, or plastic. This smart combination of lasers removes the need for multiple machines, making it both cost-efficient and practical for various applications. Thanks to the machine's intuitive touchscreen interface, users can seamlessly switch between the two lasers, which underscores its user-friendly design.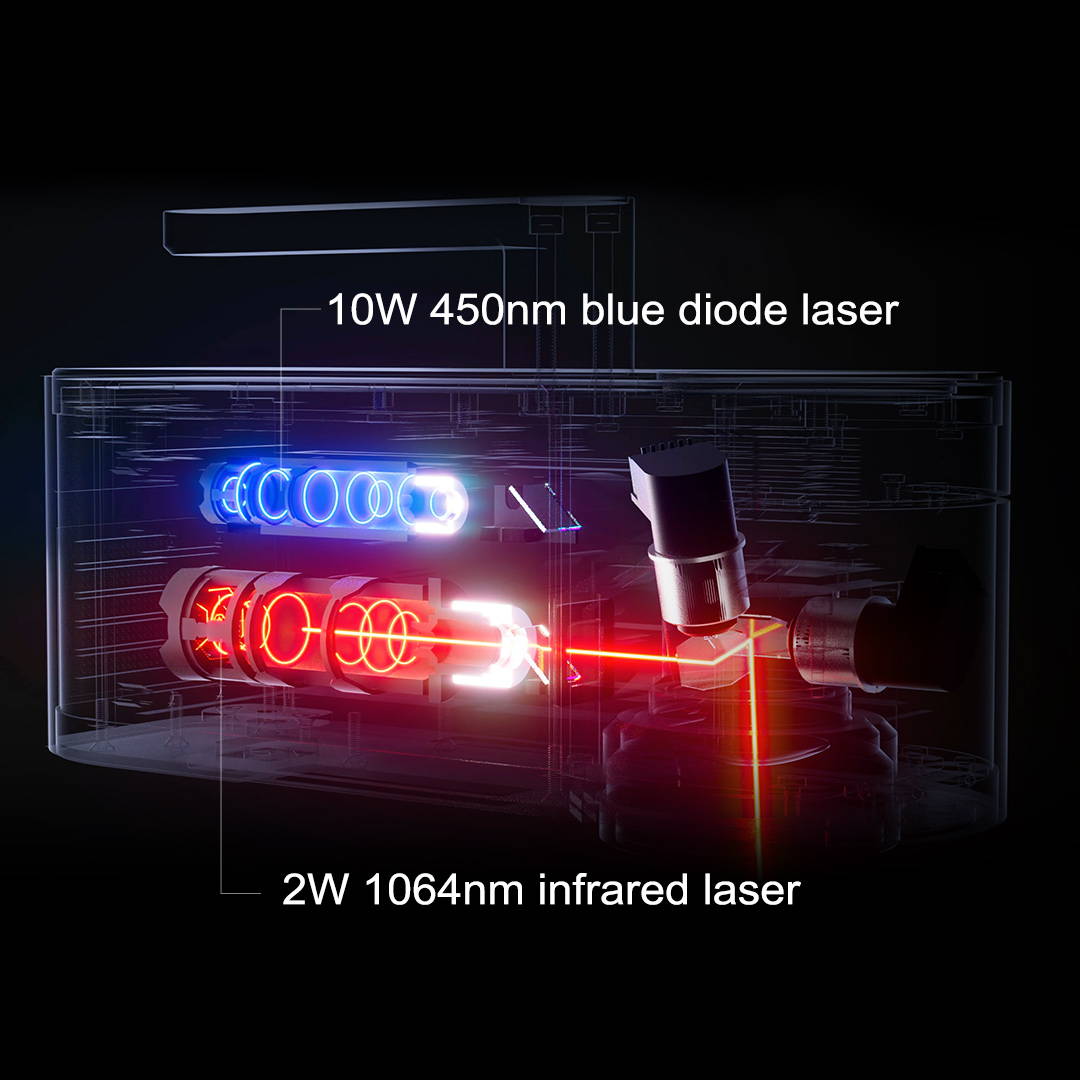 Diode lasers, also known as semiconductor lasers, are a popular type of laser that generates coherent light using semiconductor materials. Their compact size, versatility, and energy efficiency have made them a popular choice for a wide range of applications. In particular, blue diode lasers at 450nm are excellent for high-resolution engraving on various materials, including paper, fabric, wood, leather, glass, ceramic, stone, and more.
Meanwhile, IR lasers generate longer wavelengths of light, oftentimes without the need for complex gain medium and pumping processes. The LaserPecker LP4's 1064nm IR pulsed laser, paired with advanced galvanometer technology, is ideal for engraving on metals like 304 stainless steel, silver, and gold. It's also great for colored plastics. If you're interested in exploring the different types of lasers and their respective benefits further, check out our article, "Diode, CO2, Fiber, Blue and Infrared Lasers. What are the differences?"
◆ Strengthened engraving and cutting capabilities
The latest galvanometer technology has taken LaserPecker 4's engraving and cutting capabilities to another level! The engraving speed now hits up to 2,000 mm/s, and the preview speed is a blazing 16,000 mm/s - faster than ever before. And not surprisingly, our R&D team is still devoted to the engraving speed, which is expected to reach 6,000 mm/s in the following months. In addition, the engraving accuracy can now reach an unprecedented resolution of 8K.
But that's not all - LaserPecker 4 has also stepped up its cutting game. It can now cut through 8mm (0.3 in) thick wood materials with 2 passes, high speed, and top-notch quality. And it gets even better - one pass is enough to cut a precise 5mm (0.2 in) thick wood board or opaque acrylic, making it a significant upgrade from its previous version.
Plus, LP4 offers a larger engraving area, with a whopping 160*120 mm (6.3*4.7 in) maximum working area that can be expanded to 160*300 mm (6.3*11.8 in) with a slide extension.
Last but not least, LaserPecker 4 allows users to engrave and cut simultaneously, thanks to its multi-layer processing feature. Users can set unique parameters for different layers, making the entire process more efficient and productive.
Hence, the new upgrades to LaserPecker 4's engraving and cutting capabilities are not to be missed, especially for those who demand precision and speed in their work.
◆ More accessories for your options
As we previously shared in one of our blogs, the LaserPecker 3 was highly praised for its batch engraving capabilities using alignment fixtures on the removable base plate. And guess what? This feature is also available on the newer and better LaserPecker 4, making it ideal for business or large-scale projects that require producing multiple copies of the same design efficiently.
As always, we strive to make all our products cost-effective for our customers. Hence, the LaserPecker 4 is designed to be compatible with existing accessories like the versatile electric roller, which can be used for the new model and its Cylinder mode, Slab mode, and Trolley mode. Check out our article, "Guide to Purchasing Compact Laser Engraver & Cutter" to learn more about these modes.
But that's not all - the Rotary Extension is another excellent addition to the LaserPecker 4. It supports engraving irregular cylinders and objects ranging from 3 mm (0.12 in) to 200 mm (7.9 in) in diameter, making the device more versatile and expanding the variety of projects it can handle. Compared to the Cylinder mode, the rotary extension especially allows engraving on spherical or small-diameter items, such as on the inner wall of a ring or bracelet.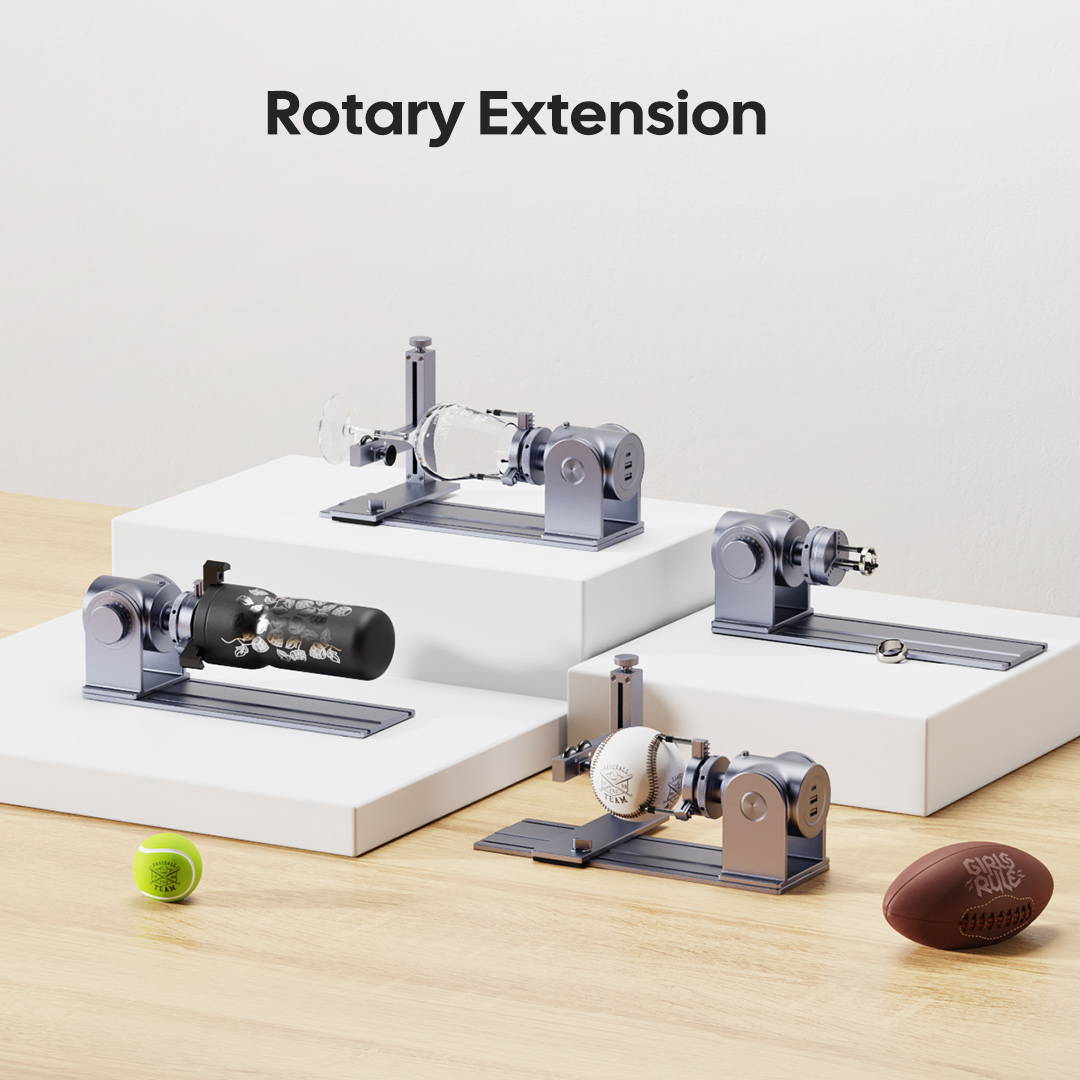 Lastly, we're excited to introduce the Slide Extension as a powerful addition for larger workpieces that can also achieve batch engraving, thanks to the LaserPecker 4's multi-layer processing system. With the slide extension, you can enjoy enhanced productivity and tackle bigger projects without any limitations.
◆ Flexibility
When it comes to engraving, the LaserPecker models have set the bar high. While the LP2 and LP3 models were lightweight and easy to maneuver, the LP4 offers more features and capabilities, making it slightly larger and heavier. However, fear not - we've added a new function that will make your work even more convenient. By simply reversing the L-shaped bracket of the electric stand tower by 90 degrees, you can position the surface of the unit base perpendicular to the floor. This will allow you to easily engrave or cut standing items with precision and ease. And if you're up for a challenge, you can even hold the machine by hand to engrave at any angle.
Now let's talk about the LED touch screen, a key feature that highlights its user-friendly design. The screen enables you to engrave on a variety of materials by switching smoothly between the two laser sources. Moreover, the File Selection screen collects all the file history and allows for hassle-free repeated use, which enhances your productivity. You can also view the real-time progress of your engraving project and choose to stop at any time.
What's even better is the angle adjustment knob that comes with the brand-new LP4 model. It allows you to position the laser unit at any angle for engraving, and even the Rotary Extension can be used for alternative angle engraving.
◆ Advanced Mobile and PC App
The latest launch of the LaserPecker boasts an advanced mobile and PC app that delivers a more flexible and inspiring user experience. Say goodbye to the old engraving process with this powerful Creation module that supports multi-layer editing, variable engraving settings, and multi-format image imports. The new community feature offers tutorials and premium materials, and inspires users to share their creative engravings and preferred settings with each other. And guess what? The LaserPecker 4 is now compatible with LightBurn, making it an excellent choice for common users too.
But wait, there's more! By setting a Preview mode on the app, the device offers previews in both square and graphical forms, at an impressive speed of 16,000 mm/s. This allows users to visualize their designs before the engraving process starts, helping to reduce any errors.
◆ Enhanced safety devices
At LaserPecker, ensuring your safety is our top priority. Our latest device comes equipped with not one, not two, but three protection measures - a basic protective shield, goggles, and a fully enclosed safety cover (with an optional purchase), that block 99.9% of both 450nm blue laser and 1064nm infrared laser. This assures optimal safety for users during the engraving process.
But that's not all - the LaserPecker 4 also has additional features that prioritize your safety, such as an automatic shut-off if there is a sudden tilt, vibration, or overheating during engraving. It allows a startup password to prevent accidental operations and features an emergency stop button on the top of the device's handrail. This way, users can easily pause or stop the engraving process with just one click.
Moreover, we have considered the issue of stinky fumes and smoke generated during engraving. That's why we're excited to offer an air purifier for users to eliminate these concerns. It ensures a pollution-free environment, free from bad odors and toxic smoke. Follow our official website for more information and updates on our new launch.
◆ Good value
The LaserPecker 4 is also a great value for money. Combining the features of its predecessors, the LaserPecker 2 and 3, it is offered at a lower price point. And, if you're an early bird customer, you can enjoy an additional discount. Don't hesitate, grab the chance and give the LaserPecker 4 a try. You won't regret it!
II. Creativity will grow with the innovation of our products
Anyone can be a creator, we believe, and our products are designed to make that belief a reality. Our LaserPecker 4 is the perfect tool for DIY enthusiasts and small business owners alike, offering endless creative possibilities.
With its intuitive touchscreen and user-friendly mobile/PC app, the LaserPecker 4 is accessible to beginners and experts alike. You won't have to worry about complicated setups or confusing instructions - just purchase the machine, and start creating!
But don't let its ease of use fool you; the LaserPecker 4 is a powerful machine. Its extensive range of functionalities makes it capable of bringing even the most complex and intricate designs to life. Whatever you want to engrave on, from paper to metal, this machine has got your back.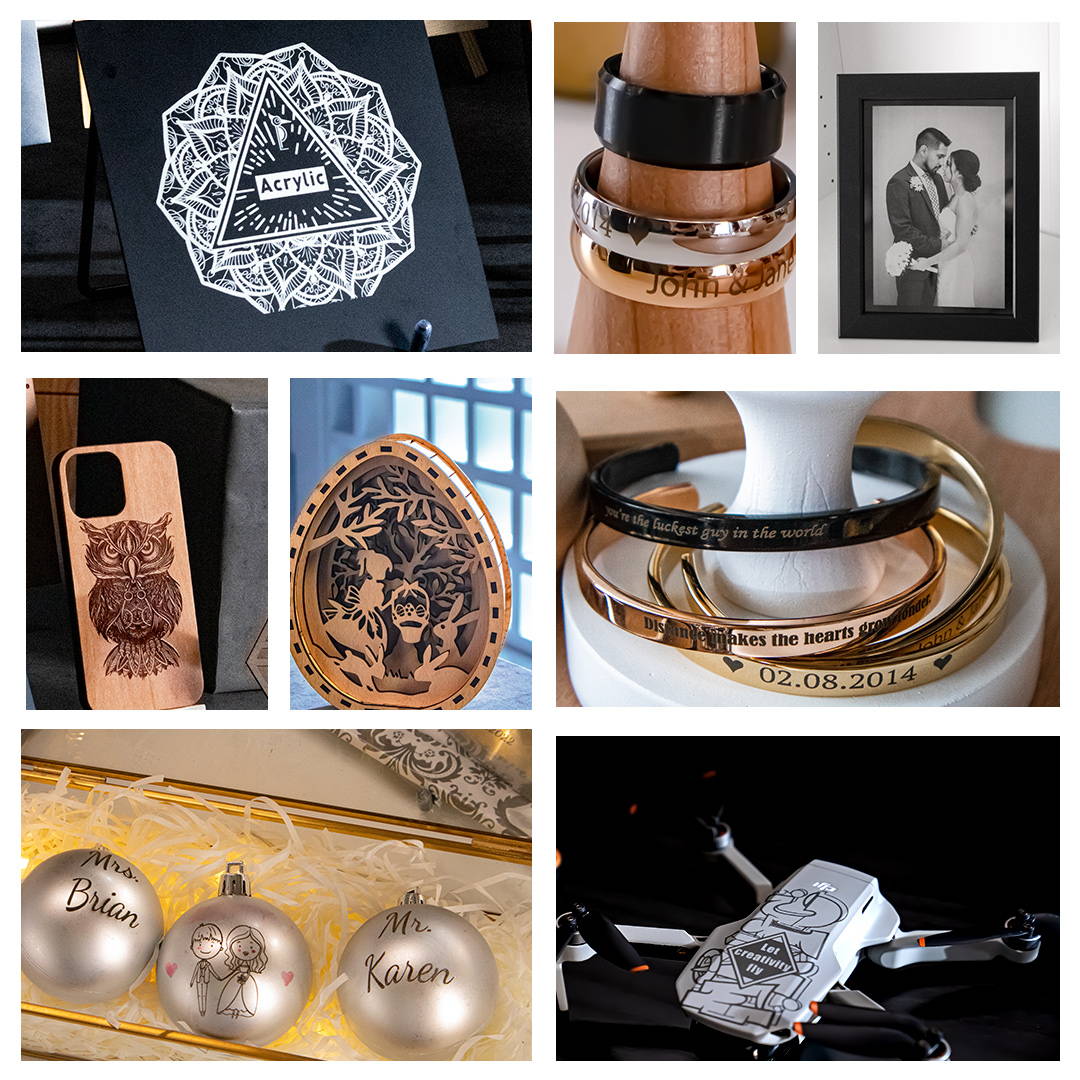 III. Sincere messages
At LaserPecker, we take pride in constantly pushing the boundaries of laser engraving innovation. Our latest product, the LaserPecker 4, boasts a wide range of features unmatched by any machine in its class.
With multiple laser types, exceptional engraving and cutting power, and a generous work area, the LaserPecker 4 can handle an extensive range of compatible materials. Plus, its versatile accessories make it easy to customize and adapt to any project's needs.
So, if you're looking to unleash your creativity and bring your ideas to life, the LaserPecker 4 is the machine for you. For more details, please visit LaserPecker 4 Detail Page.