The emergence of the compact laser engraver has transformed traditional engraving and cutting industries by providing a portable and space-saving solution. Consequently, it has become increasingly popular in various industries, including automotive, aerospace, and electronics. In contrast to traditional engraving machines, compact engraving machines are small, lightweight, and designed to fit into tight spaces, making them ideal for small workplaces or personal spaces.
This blog aims to explore the latest trends in laser engravers and cutters, as well as the essential factors that influence customers' purchasing decisions, providing multiple perspectives on choosing a satisfying model. Additionally, we will discuss the innovative features and breakthroughs of LaserPecker's compact laser engraving machines. Lastly, we will demonstrate how to enhance productivity utilizing these compact laser engravers and cutters. With this comprehensive guide, you will undoubtedly find the perfect laser engraving machine for your needs.
Ⅰ. Mainstream trends for laser engravers and cutters
With the ever-increasing demand for precision in laser engraving and cutting applications, it's thrilling to see advancements in laser technology that can meet these growing needs. No doubt, laser engraving and cutting machines are emerging to cater to these demands as users seek new and innovative ways to apply this technology. There are now even higher expectations for continued improvements in laser technology that will undoubtedly bring even greater advancements in the future. For instance, the LaserPecker3, one of our top-of-the-line machines, can achieve ultra-high precision with 4k precision, which enables it to perfectly reproduce any picture to create a one-of-a-kind masterpiece.
Portability is another important trend. As previously mentioned, compact laser engraving and cutting machines are often lightweight and small yet offer a full range of features. They are capable of engraving on a wide range of materials, including paper, cardboard, ceramic, leather, and many more. With these machines, you can easily personalize items with photos, names, intricate designs, or any other creative idea anywhere you go, even on the street. We don't need to worry about the weight or the size anymore. The concern about the weight and size of the machine is no longer an issue, so you can comfortably carry it with you and share your personalized engravings with friends and family.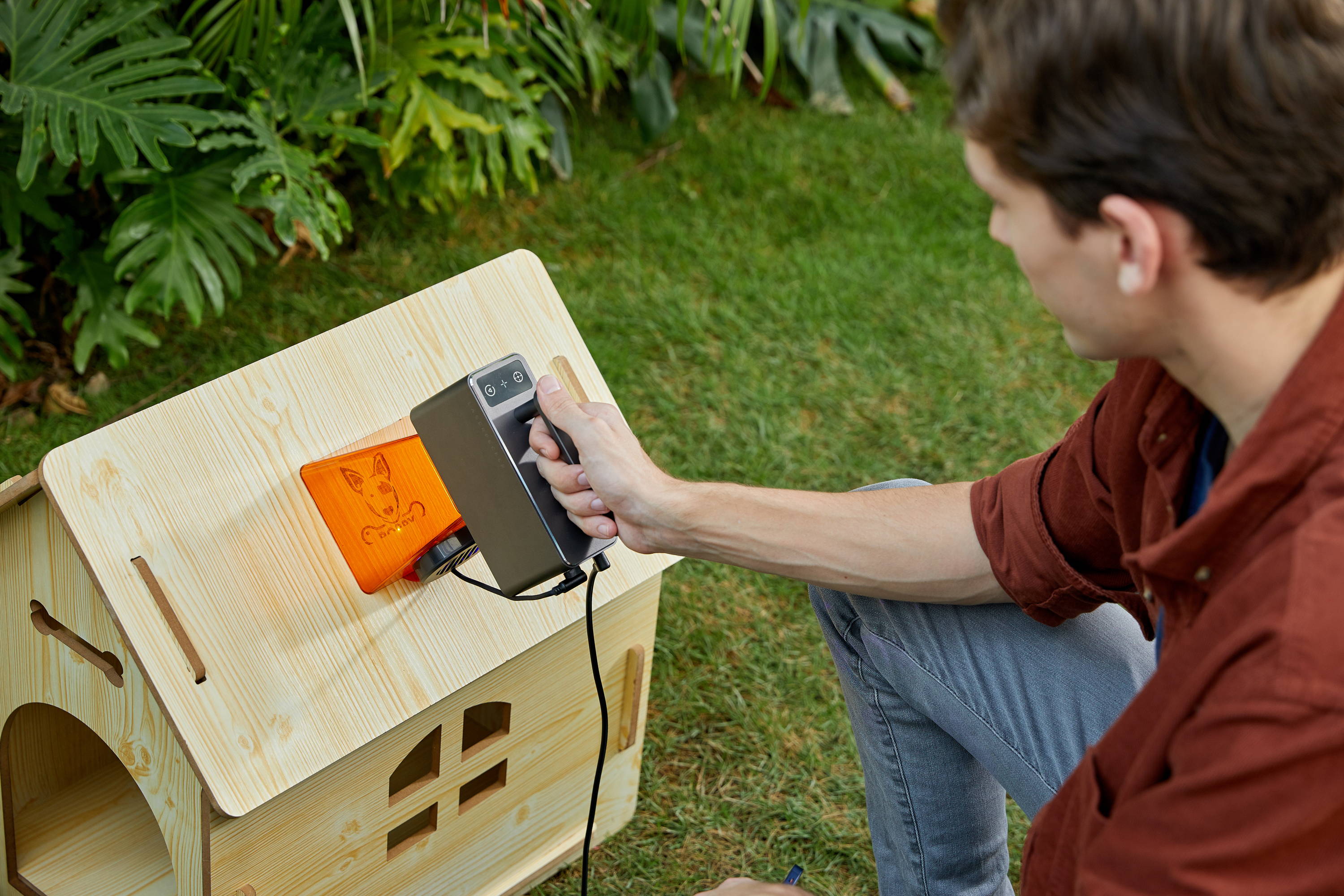 Not to mention, it focuses on the move towards automation. With the use of automatic systems such as the optical path adjustment systems, these machines can now achieve more efficient production without the need for manual intervention. As a result, you can simply upload your preferred image to the software, preview the effect, and choose the necessary parameters to produce the work. It really couldn't get any easier than this!
So, if you're looking to invest in a laser engraving and cutting machine, keep an eye out for machines with precision, automated and versatile capabilities that allow you to work with a variety of materials. With these machines, you can enjoy greater precision, efficiency, and productivity, while unlocking endless creative possibilities.
II. Factors influencing users' purchase
Before delving into the practices of our company's products, let's first touch on the key factors that influence customers' purchasing decisions. With so many options available on the market, it's important to understand the key factors that can influence your decision.
Different laser engraving machines are suitable for different types of materials with different thicknesses, such as wood, leather, paper, plexiglass, plastic, etc. Before buying a laser engraving machine, identify the type of material you wish to cut or engrave, and then choose the corresponding machine accordingly.

Suppose you are a jewelry maker, and you have boundless creative ideas to achieve or if you want to make a unique mark for all your work, then make a choice from The Best Laser Engraver for Metal 2023, all of which have the super fast engraving speed and high precision.
The cost of a laser engraving machine is an essential consideration when making a purchase. With numerous brands and models on the market, buyers should look for machines that offer high cost performance while fitting within their budget. Even with limited funds, there are still plenty of cost-effective options available, and buyers should not worry about finding a suitable machine within their price range.
One of the first factors to consider is the function and applications of the laser engraving machine. Does it have 360° Cylindrical Rotating engraving? Does it support batching engraving and other functionalities? Different users have different needs, so it's important to choose a machine that suits your requirements.

Meanwhile, most amateurs don't have enough time or energy to delve into laser engraving, all they need is an automated machine for their personal hobby. Therefore, once meeting their own functional requirements, whether it's easy-to-use or beginner-friendly in the installation and operation process is also crucial.

Of course, as us amateurs have limited space at home, those traditional large laser equipment is never a suitable choice for us. What we prefer instead are compact ones that are smaller, more flexible and even portable.
Precision and accuracy required
When it comes to engraving or cutting projects, precision and accuracy are essential factors that can significantly impact the outcome. While traditional tools such as spokeshaves may suffice for basic projects, most projects require a higher level of precision. This is where laser engraving machines come in. With their ability to offer unparalleled precision and accuracy, they can engrave intricate and detailed patterns on a variety of materials. In fact, the top machines can even provide high-quality engravings on the smallest material surfaces. As a result, for users who require high-precision engraving and cutting, a high-precision laser engraving machine is undoubtedly the better option.
Brand reputation & after-sales service
Laser engraver buyers often emphasize the manufacturer's brand, after-sales service and user reputation while making their decision, after all, it's not cheap for most of them. Therefore, it's essential to fully understand the manufacturer's reputation and after-sales service before making an informed decision, to ensure continuous support and service.
In conclusion, investing in a laser engraving machine can be a great addition to your personal or professional projects. By carefully considering the factors listed above, you can make an informed decision and select the right machine that meets your needs and budget.
III. Brief introduction to LaserPecker's compact engraving machines
Innovative breakthroughs in technology
Here we would like to introduce our LaserPecker's LP2 & LP3 .Compact laser engraving machines are innovative devices that are smaller, more versatile, and more adaptable than traditional large laser equipment. LaserPecker, a leader in this field, stays abreast of the latest technological trends and makes impressive advancements. With features like galvanometer technology, LaserPecker offers numerous benefits that other competitive machines cannot match, including super-fast engraving speeds (48,000mm/min), 0.01mm high-precision (up to 4k), and a variety of versatile accessories and modes to meet users' diverse needs.
Major characteristics of our LaserPecker products    
Handheld & Portable: Compact laser engraving machines are often small, lightweight, and feature a compact design, making them ideal for use in small workplaces or personal spaces with limited space. LaserPecker 2 & 3, handheld and portable models, enable you to achieve perfect engravings from any angle by adjusting the laser head's angle. Equipped with a rechargeable power bank, they can be used for outdoor activities, allowing you to engrave anytime, anywhere.

Beginner-friendly: Compact laser engraving machines are equipped with user-friendly interfaces and easy-to-follow instructions, making them ideal for beginners and enthusiasts alike. For example, with the help of Dual Red-light Focus mode, let's say goodbye to complex manual measurement. Not surprisingly, these machines can be easily operated and controlled through bluetooth connectivity to a computer or mobile phone. Simply download the easy-to-use and powerful LaserPecker App to get started.

Multi-function: LaserPecker offers three professional modes: Cylinder mode, Slab mode, and Trolley mode, providing users with versatile options to suit different engraving needs. Cylinder mode is designed for 360° rotating engravings on cylindrical objects, as well as curved or uneven surfaces. Slab mode, on the other hand, is ideal for larger flat objects, allowing users to move the plate forward for engraving. Trolley mode offers a larger engraving size of up to 100*2,000 mm, making it perfect for producing large workpieces such as skateboards and wooden doors. LaserPecker 3 also includes adjustable positioning fixtures to achieve batch engraving for increased efficiency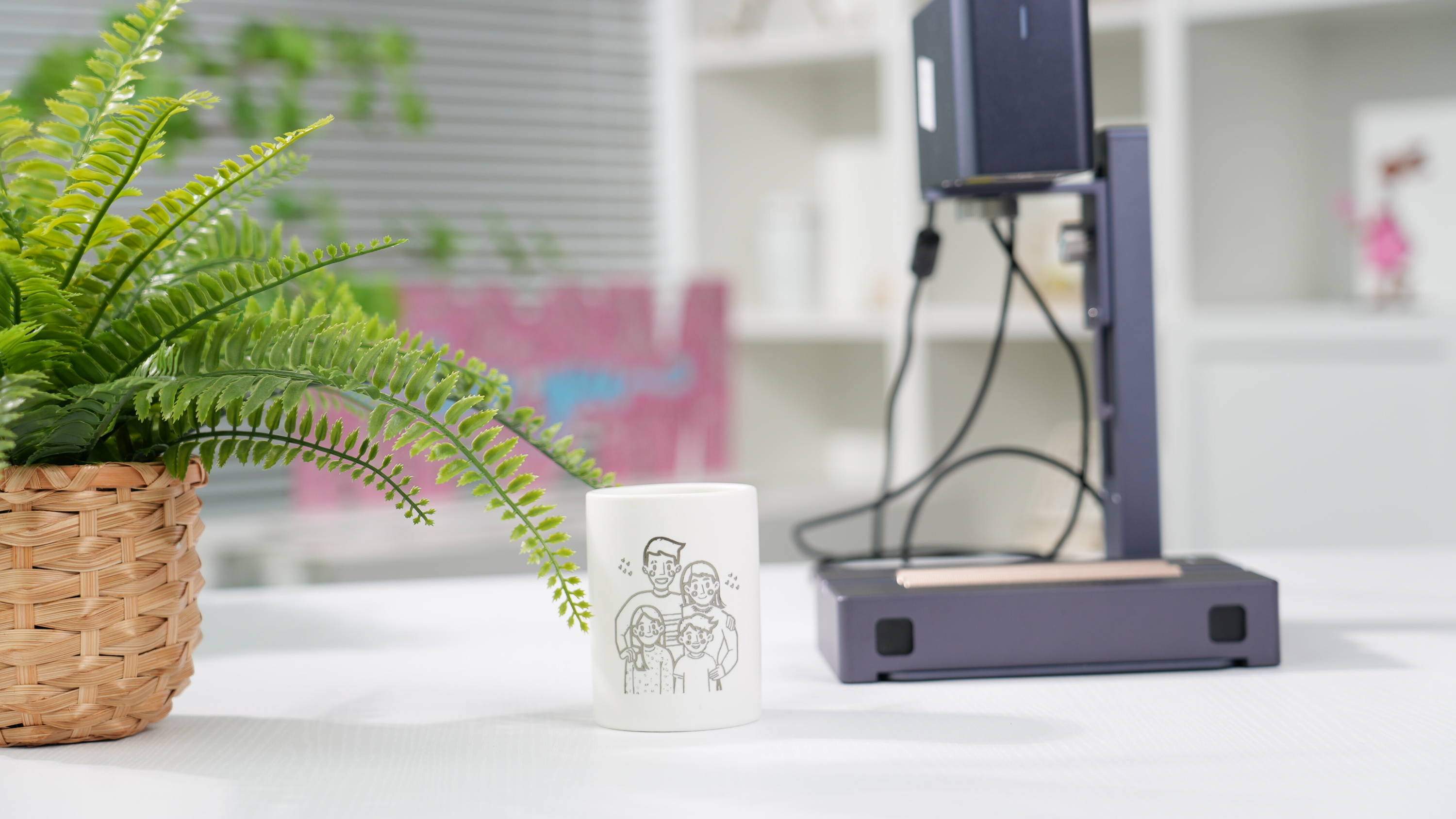 High precision and high efficiency: Our compact laser engraving machines use compressed laser spots (as tiny as 0.01mm) to achieve high precision, resulting in a finished product that is an exact match for the software design. Additionally, the integrated design and Galvanometer technology allow for a maximum speed of 800mm/s. With lower energy consumption, the LaserPecker 3 has a working time of up to 240 hours and a lifespan exceeding 10,000 hours.




 

Wide applicable materials: Our two most popular models offer versatile capabilities for a wide range of materials, but each one is designed to excel in specific applications. The LaserPecker 2 can engrave an extensive list of materials, including painted metal, anodized metal, 304 stainless steel, bamboo, wood, leather, food, paper, cloth, photosensitive stamp, plastic, acrylic, colored glass, glazed ceramics, and more. In contrast, the LaserPecker 3 is specifically optimized for metal, plastic, and leather engraving and is a preferred choice among many jewelry stores. If you're curious about the differences between these models, we invite you to check out our article: "LaserPecker 2 vs LaserPecker 3: What's the Difference?".
Safety & maintenance: The Basic package includes a protective shield and goggles for safety purposes, while the dust filter at the machine's back can be removed for easy cleaning. Performing regular maintenance can prevent failures and extend the engraving machine's lifespan.
In summary, the LaserPecker laser engraving machine caters to a diverse range of users, including both individuals and entrepreneurs. Its small size, flexibility, ease of use, efficient operation, high-quality features, and affordable cost make it useful for various engraving creations and processing fields. The laser engraving machines from LaserPecker are a reliable choice for those seeking both precision and efficiency in their work.
IV. Suggestions to boost productivity by LaserPecker machines
We have seen that LaserPecker machines have enabled individuals to establish their own businesses, with many achieving significant success. However, due to juggling multiple responsibilities, limited time and energy can be invested in these side endeavors. As such, improving productivity becomes crucial. To address this issue, we recommend taking certain steps:

Suggestions

Choose the right machine and material: Selecting appropriate materials can considerably enhance production efficiency. Prioritize materials that offer stability, quality, and low cost while remaining well-suited for the intended task. Additionally, investing in a high-quality, cost-effective machine that can handle the preferred material can significantly improve the productivity of your compact laser engraver.

Optimize the design: Before cutting or engraving, create a suitable design to optimize the engraving effect. For instance, make reasonable parameter adjustments like altering the cutting/engraving route or depth, and conduct multiple experiments on a simulated material to achieve the desired outcome.

Do batch processing: Instead of engraving or cutting individual products separately, try batch production of multiple identical products on the same material. This can eliminate the repeated operation of parameter setting in the application, saving time and energy while increasing production efficiency.

Maintain machines: Regular maintenance can ensure the stability and accuracy of equipment performance. In case of machine shutdown or malfunctions, contact after-sales service or professional technicians immediately.

Conduct training: Organize some training programs or learn from the tutorials about compact laser engraving machines to improve the operators' skills. This can make operators aware of equipment safety and efficiency, leading to improved productivity and cost savings.