10 Laser Engraved Christmas Ornaments Ideas
Christmas is the perfect time of year to share special moments and what better way to do this than by exchanging gifts that have been made with love & care. Whether you are a hobbyist or small business owner, the LaserPecker range of products are perfect for creating a wide variety of Christmas products to sell or share with friends and family.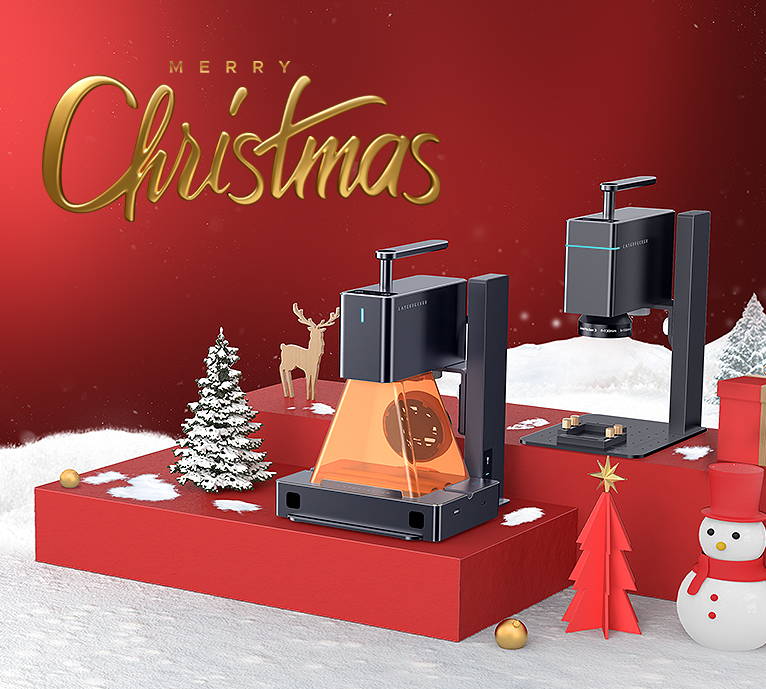 With LaserPecker 2 and LaserPecker 3, you can create a versatile range of products on almost all materials. From wood, slate & stone, glass, plastics and metals, LaserPecker allows you to unleash your creativity.
In this Christmas article, we'll show you some creative ideas that utilise LaserPecker 2 and LaserPecker 3 to create new ideas that can increase your Christmas sales and bring joy over the festive season.
1. 10 Laser Engraved Christmas Ornaments Ideas For Your Inspriration.
2. Start Your Christmas Decoration With LaserPecker 2 And LaserPecker 3
3. Conclusion
10 Laser Engraved Christmas Ornaments Ideas For Your Inspriration
1) Personalised Christmas Tree Decorations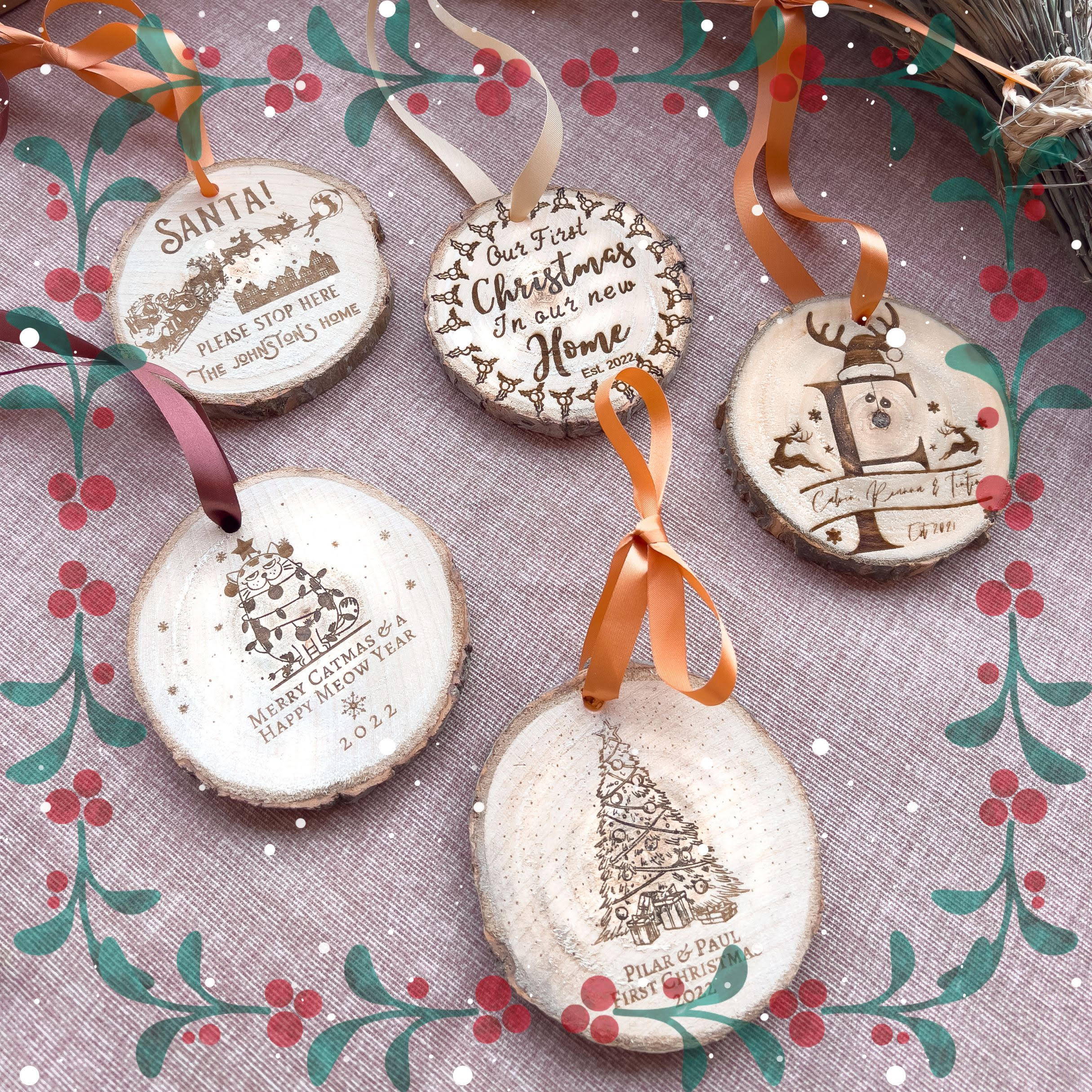 Christmas decorations are the perfect item for any shop or as a special gift to give.
Using LaserPecker 2, you can turn a normal wood slice into a Christmas masterpiece.
Wood slices are readily available from online retailers such as amazon. With a low cost to purchase, you can create a product you can transform and sell.
These wood slices are usually available to purchase in two options - normal untreated and pretreated with hole already drilled and thread included.
Using these wood slices, you can create perfect Christmas tree decorations using a wide range of designs. For LaserPecker 2, we recommend using the settings of 1k resolution, 100 power, 10-15 depth and 1 pass.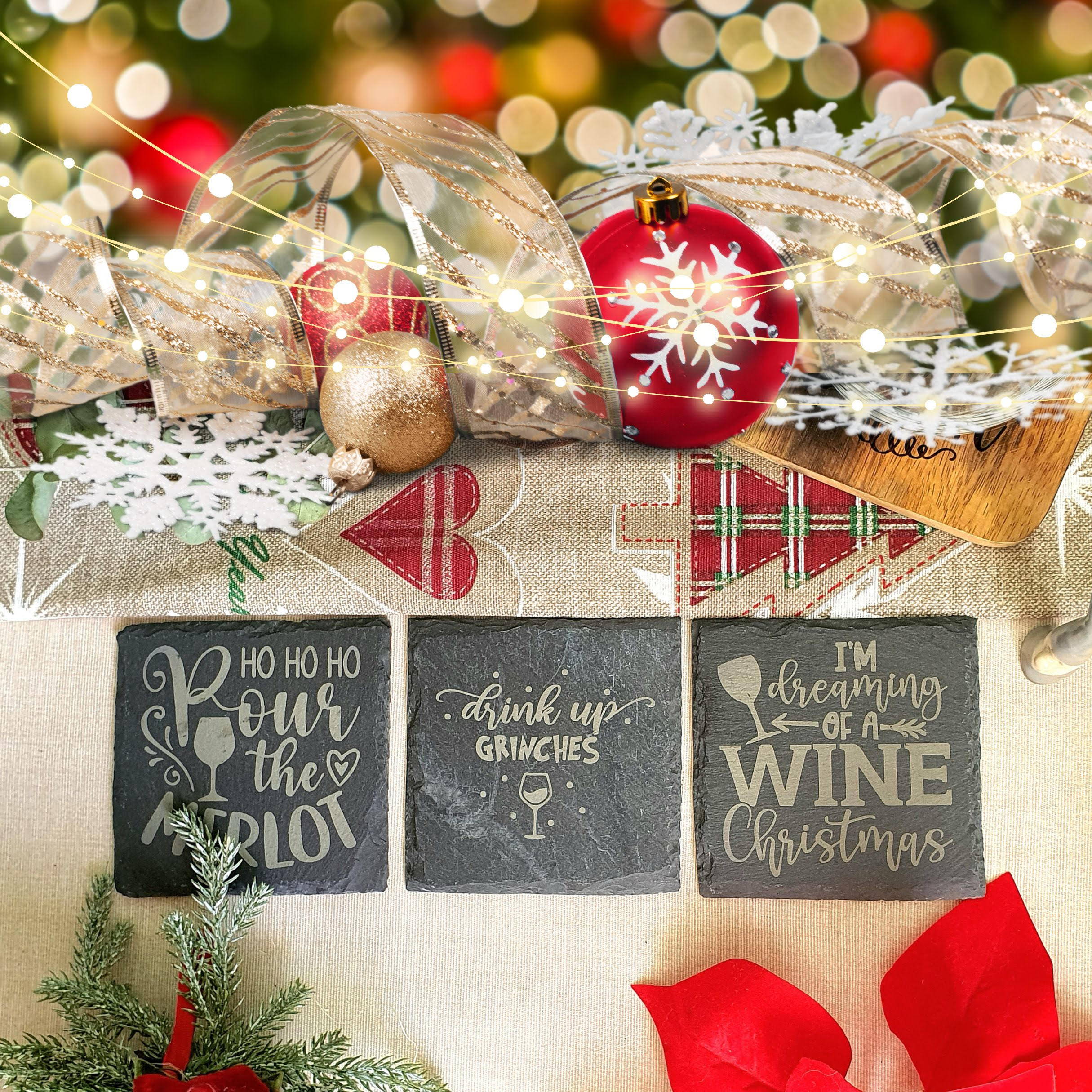 Christmas is a time to celebrate and whether that is with a mulled wine or cup of hot tea, coasters are a perfect gift that is functional and versatile with a wide range of designs to choose from.
Making unique designs can often be time consuming and can require using design applications. A great way to expand your design library is by using pre-made designs which can be purchased from sites such as Etsy. These offer a fast way to expand your product range and save time.
Coasters can be made from a wide range of materials such as cork, wood, stone or slate. For cork we recommend using low settings of 1k, 100, 3, 1. For wood we recommend increasing the depth. Use 1k, 100, 10, 1 on darker wood and 1k, 100, 15, 1 on lighter woods. For slate, the ideal settings can vary depending on the effect you want but 1k, 100, 15, 1 will give a clean engrave similar to our photo. For a whiter effect, reduce the depth to 10.
3) Christmas Serving Plates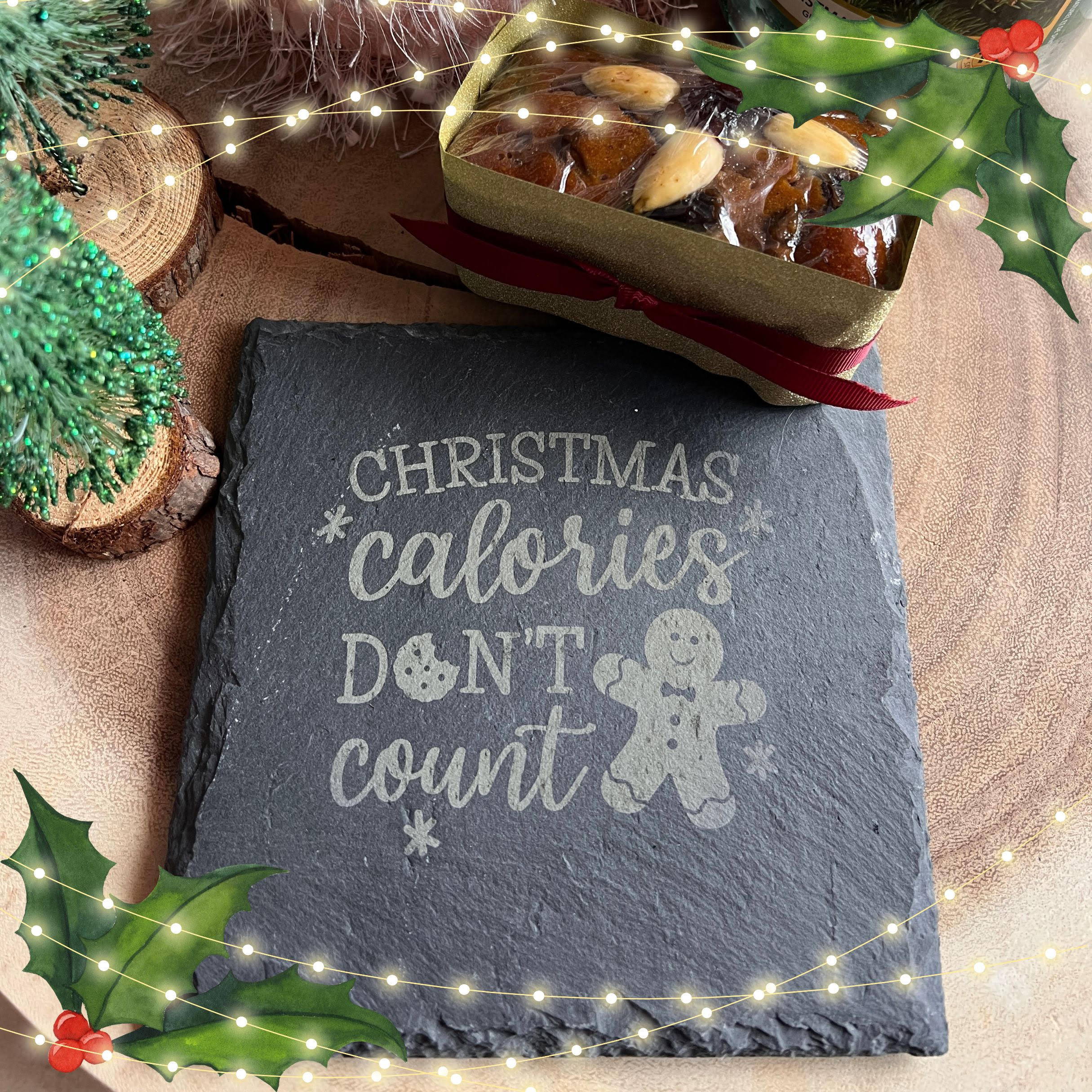 Serving plates are perfect when all the family come around for Christmas. Whether they are used for sweets or for desserts, these slate plates are the perfect gift to add some Christmas cheer to you or a loved one's Christmas table.
In our example, we have used a larger slate square but slate is available in a wide range of shapes and sizes. The benefit of slate is that it is a cost effective option and quick to engrave, meaning you can produce more using less of your time.
Ideal settings for slate are 1k, 100 power, 10-15 depth and 1 pass.
4) Christmas Gift Baskets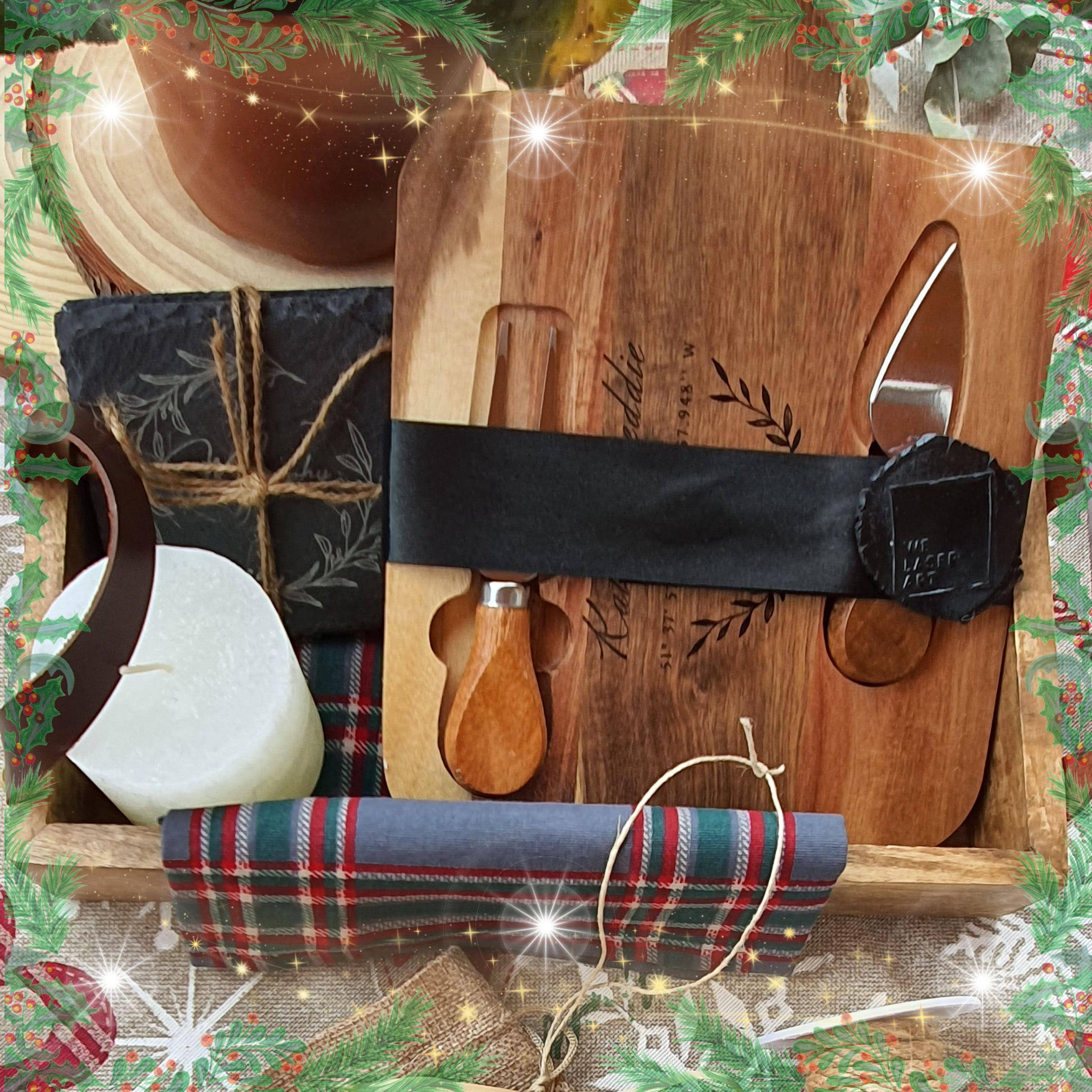 Gift baskets are the perfect gift to sell or give at Christmas.
Using products that are readily available in most supermarkets or online retailers, you can create baskets that are special with personalised items.
Using the third axis add-on, you can use the rolling option to engrave beautiful items such as rolling pins. On normal mode, you can use the LaserPecker 2 to create beautiful items such as coasters, spoons etc. Adding some homemade jams, sweets or other treats can bring your gift basket to life.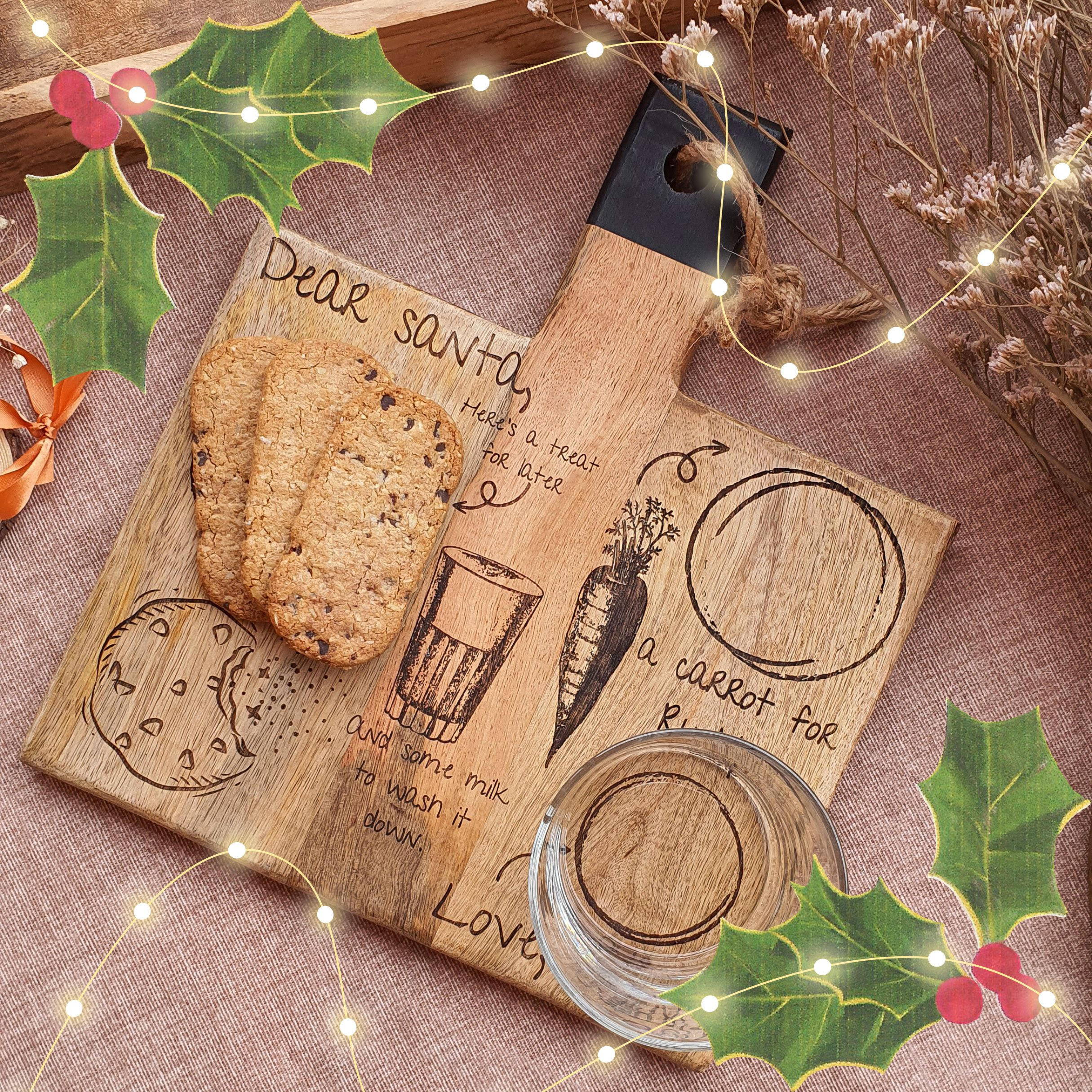 One of the most magical moments of Christmas for any child is getting prepared on Christmas Eve for Santa's arrival.
What better way of keeping a beautiful tradition going than having a Christmas board for Santa's arrival with some milk, cookies and even a carrot for his reindeer.
For this design - we have used Canva to create these graphics and utilised the portability of LaserPecker 2 to engrave the design elements in different segments.
Use the default wood setting for this design. For deeper engraving, we recommend doing a second pass but it's very simple to evaluate this after your first engraving. 
6) Stainless Steel Engraved Christmas Decorations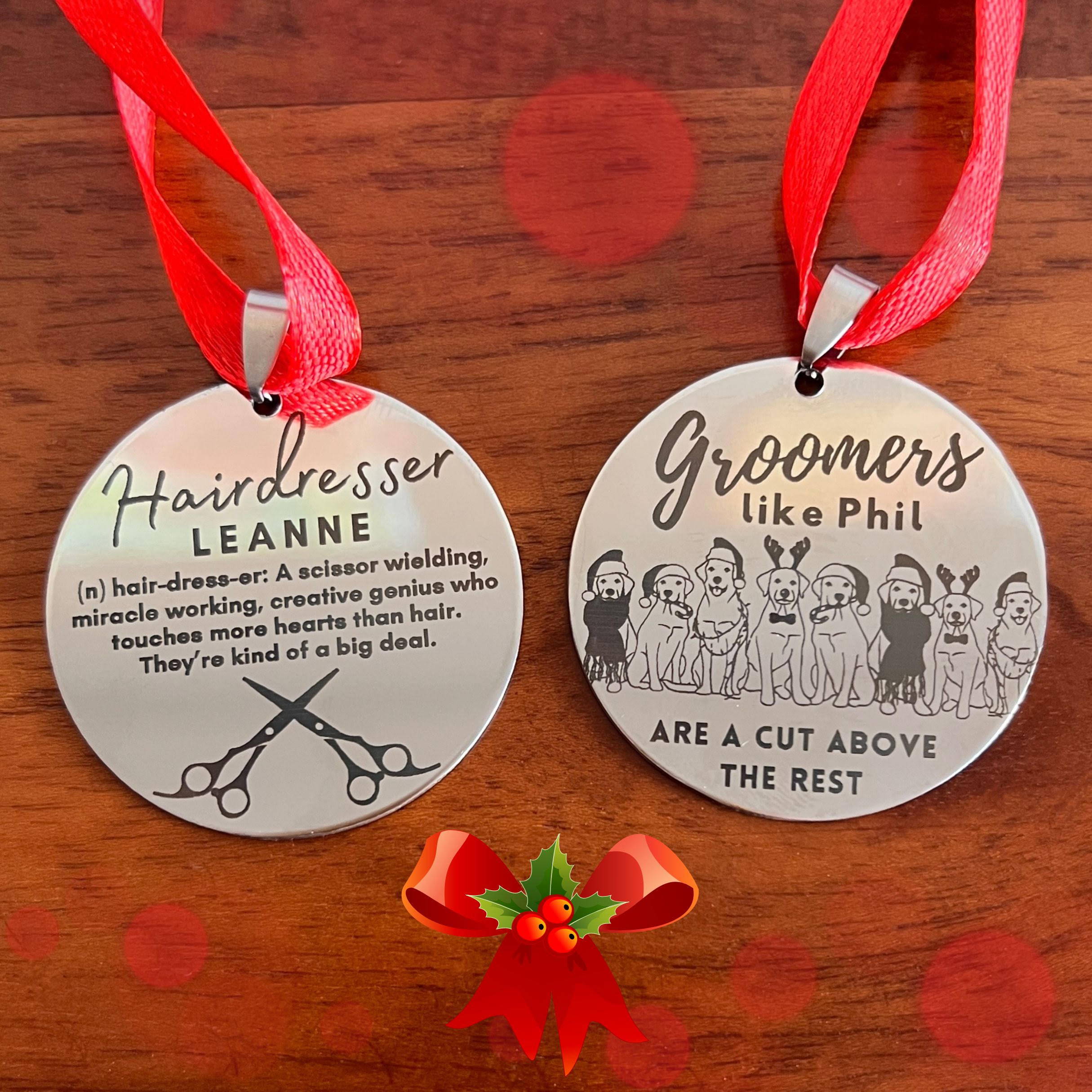 LaserPecker 3 is perfect for creating beautiful high end metal Christmas decorations that make great personalised gift ideas.
These mirror-finished stainless steel pendants can be easily sourced from retailers such as amazon but LasperPecker 3 will also work with other metals.
For this design, we have used the 4K resolution setting. Other settings can be used to give a lighter or white effect on stainless steel but using 4K resolution will leave a black engraving. Optimal settings for stainless steel are 4K, 100, 18, 1 on BIN mode. This setting will also work with pencil and g-code. For grey dithering you will need to increase the depth setting to a minimum of 60.
7) Laser Cut Christmas Gift Tags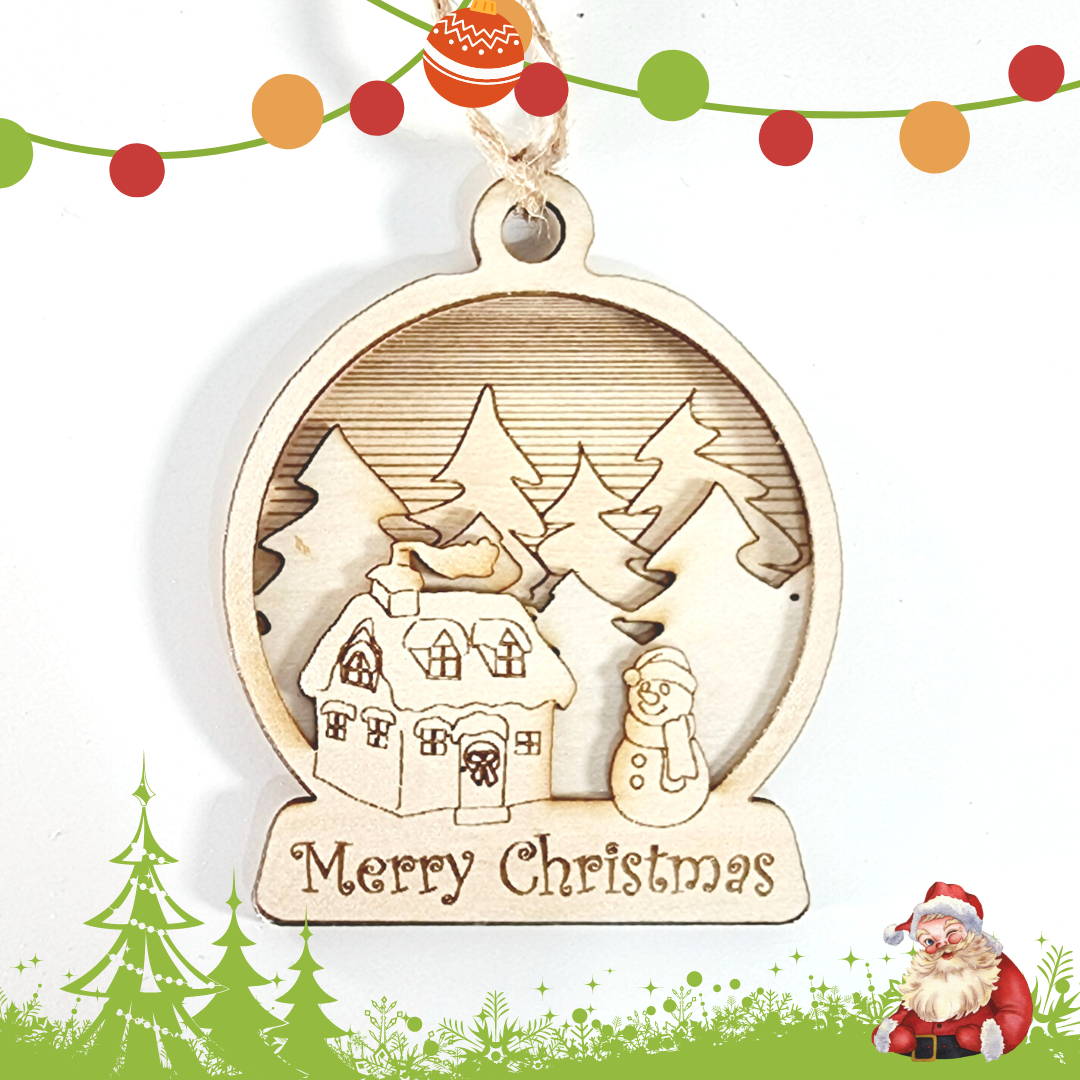 Make special gift tags for your Christmas presents using LaserPecker 2 to laser cut.
We have used the outline shape of a Christmas bauble and used the cutting plate with LaserPecker 2 to laser cut this design from 2mm plywood. For cutting you will need to use higher depth settings and multiple passes. You can go this Facebook post to get the detailed tutorials.
For this design we used 1k, 100, 24, 4 passes on g-code mode to cut out the outline but we recommend doing a test on the material you want to cut to determine the optimal setting. Once the outline has been finished we then engraved the design using BIN mode. This Christmas graphic was engraved using 1k, 100, 10, 1.
8) Christmas Engraved Jewellery With Coordinates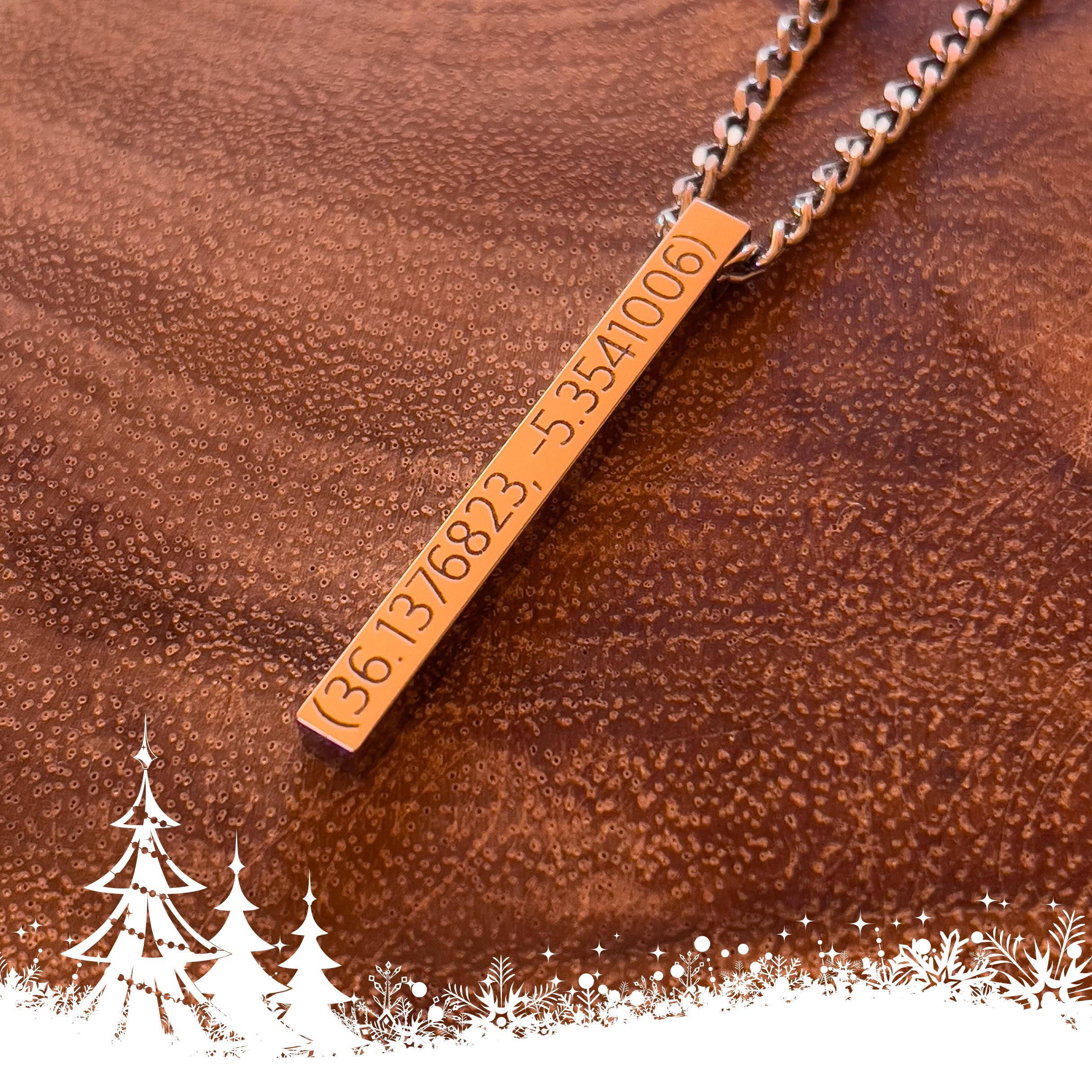 Using the LaserPecker 3, you can engrave the tiniest details in full 4K resolution to create a personalised piece of jewellery that will make the perfect Christmas present.
Using google maps, you can determine the co-ordinates for a special location and engrave them onto jewellery using the text option in the LaserPecker app. Simply measure the length and heigh of the object and set this in the app to ensure the engraving will fit. Use the preview mode to line up your design and press start! Within seconds you'll have a personalised piece of jewellery.
For this option we recommend using 4K,100, 18, 1 on the standard mode.
9) Engraved Glass Frame Christmas Gift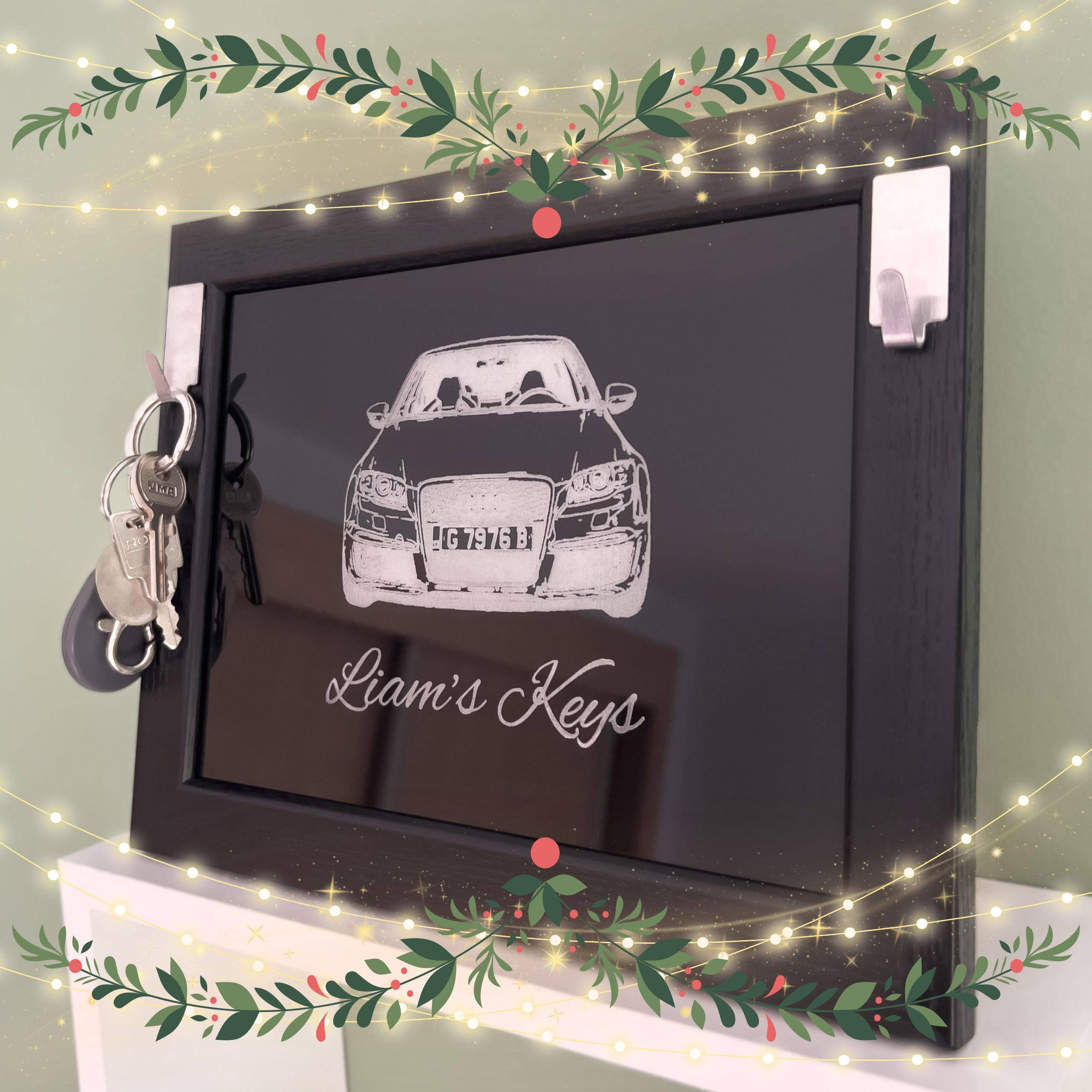 Make a special glass frame using the LaserPecker 2 to engrave.
For this mode we need to create a dark surface on the glass. Use black spray paint to coat the glass and leave to dry.
When dried, we can then start to engrave on the glass mode. We recommend 1.3k, 100, 50, 1.
Remember to engrave on the side that has been painted. The design must first be converted to a mirror image so that when in the frame it will display correctly. You can use your phones photo editing software to change the image to a mirror image.
10) Photo Engraved Christmas Gift
The capabilities of LaserPecker 3 are endless! Create an amazing high definition Christmas pendant or keychain using your favourite family photo.
How to prepare your image.
Convert to black and white
Increase the sharpness of the image.

Increase the light levels. We want the image to not be too dark for engraving.

Connect the LP 3 in the app. Import the image to the LP app and choose greyscale mode - dithering.

Set 4K,100, 60, 1 as your settings.

Start your engraving!
This will make the perfect Christmas present for friends and family. Engrave family photos, special moments or even your favourite pets!
Start Your Christmas Decoration With LaserPecker 2 And LaserPecker 3
If you plan to prepare for the coming Christmas, it's the right time to start your creation. We will provide a detailed guide to the machines, the engraving tutorials, the engraving file, and the concrete settings.
You can choose the LaserPecker 2 as your best decoration helper, the world's fastest blue laser engraver and cutter (600mm/s), if you want to engrave on wood, paper, leather, acrylic, anodized/painted aluminum, stainless steel, etc.
It's a beginner-friendly machine, which is easy to set up, allowing you to get started faster. You can also program everything wirelessly from an APP on your phone to realize your creation anytime, anywhere.
With the versatile electric roller, LaserPecker 2 laser engraver can do 360° rotary engraving on cylindrical, engraved surfaces such as tumbler/glass.
Why hesitation? Pick up the LaserPecker 2, and start your Christmas decoration right now.
What about engraving on metal and plastic? You can look at LaserPecker 3, the smallest fiber laser in the world.
With an optimized algorithm, the resolution of LaserPecker 3 has been increased to 4k, making the engraving details more clear. We recommend the LaserPecker 3 if you want to engrave metal and plastic.
Considering you need the engraving files, we will provide you below website to get your inspiration!
LaserPecker 2 and LaserPecker 3 are the perfect pair to guarantee the most creative Christmas products and gifts.
With LaserPecker 2 offering high speed engraving and LaserPecker 3 capable of metal and plastic engraving with 4K resolution; their portable form factor is the ideal solution for small business owners and hobbyists who want to create high quality professional products.
We're sure these Christmas gift ideas will help you to on your own journey to create your own range of festive products just in time for the big day!  
Make sure to share all your creations with us on instagram by tagging @laserpecker and join our other LP2 & LP3 users on our facebook LaserPecker user groups where you can find lot's of fun and creative ideas with recommended settings.
Wishing you a very Happy Christmas and wonderful New Year from all the team at LaserPecker! 🎅🎅