Easter used to be a Christian holiday of celebrating the resurrection of Jesus Christ on the third day after his crucifixion. But nowadays Easter has become a beloved secular holiday, celebrated by people of different cultures and beliefs around the world. It is a time to gather with family and friends, enjoy delicious food, and hold interesting activities.
Easter is often associated with two symbols: bunnies and Easter eggs. Many children look forward to hunting for Easter eggs that the bunny supposedly hides. The origins of the Easter bunny can be traced back to ancient German pagan celebrations of spring, which often featured the symbolism as a representation of new life. Meanwhile Easter eggs have a rich history that have long been a symbol of new life, growth, and rebirth as well.
As Easter comes with the arrival of Spring, it provides a unique opportunity to create gifts and decorate your home with vibrant and lively Easter-themed items that embody the spirit of the season.
From personalized Easter eggs to customized bunny decorations, there are endless possibilities to explore. With the help of laser engravers, you can unleash your creativity to realize your Easter inspirations with ease.
Here are some ideas to inspire your own Easter laser engraving projects. Let's get started!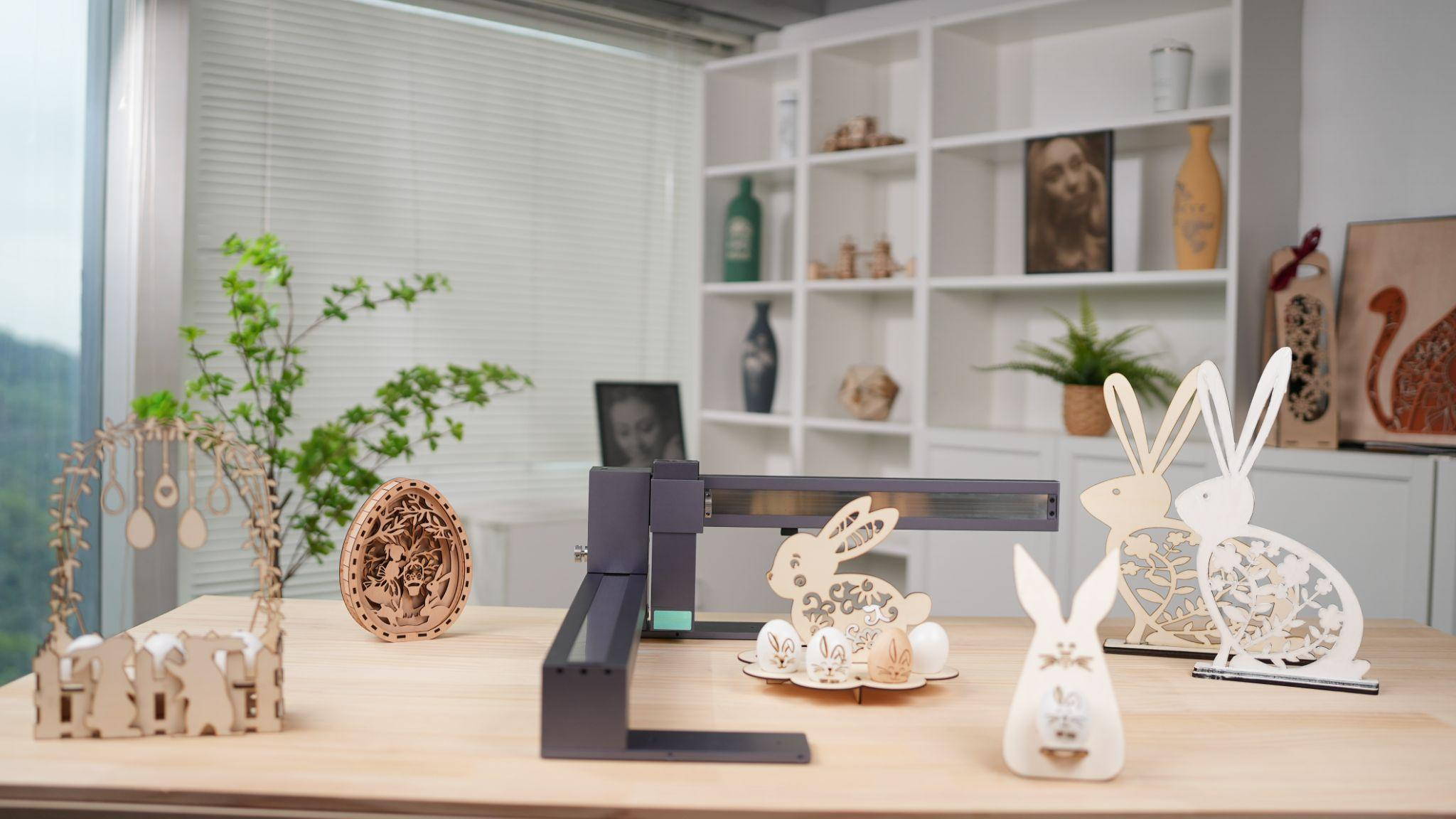 Necklace with Easter Decor
Necklaces are always a great way to accessorize any outfits, and a necklace with an Easter theme is not an exception. With a laser engraver, you can create unique pendants or charms that reflect the holiday theme, which add a touch of Easter spirit to your jewelry collection.
One of the best ideas is to engrave an image of a bunny or Easter egg onto the wooden or metal pendant. To get started, you'll need a laser engraver, a wooden or metal pendant, and an Easter-theme design. You can find and download plenty of Easter-theme images on those websites like: https://3axis.co/laser-cut/engraving/. Once you have your design, you can use the laser engraver to etch it onto the pendant material.
The laser engraver works by removing material from the surface of the pendant, leaving behind a permeant mark that is engraved or etched into the material. You can adjust the settings such power/speed/depth and etc. on the laser engraver to achieve different levels of detail in your design.
Please note that it is important to choose the right type of laser for the material you want to work with. For instance, while a 1060nm wavelength laser is ideal for engraving metals due to their high absorption rate, it may not be the best option for wood, which has a lower absorption rate. Wood needs lasers with a wavelength of 10600nm or 450nm-950nm, which are mainly called CO2 laser and diode laser accordingly in the market.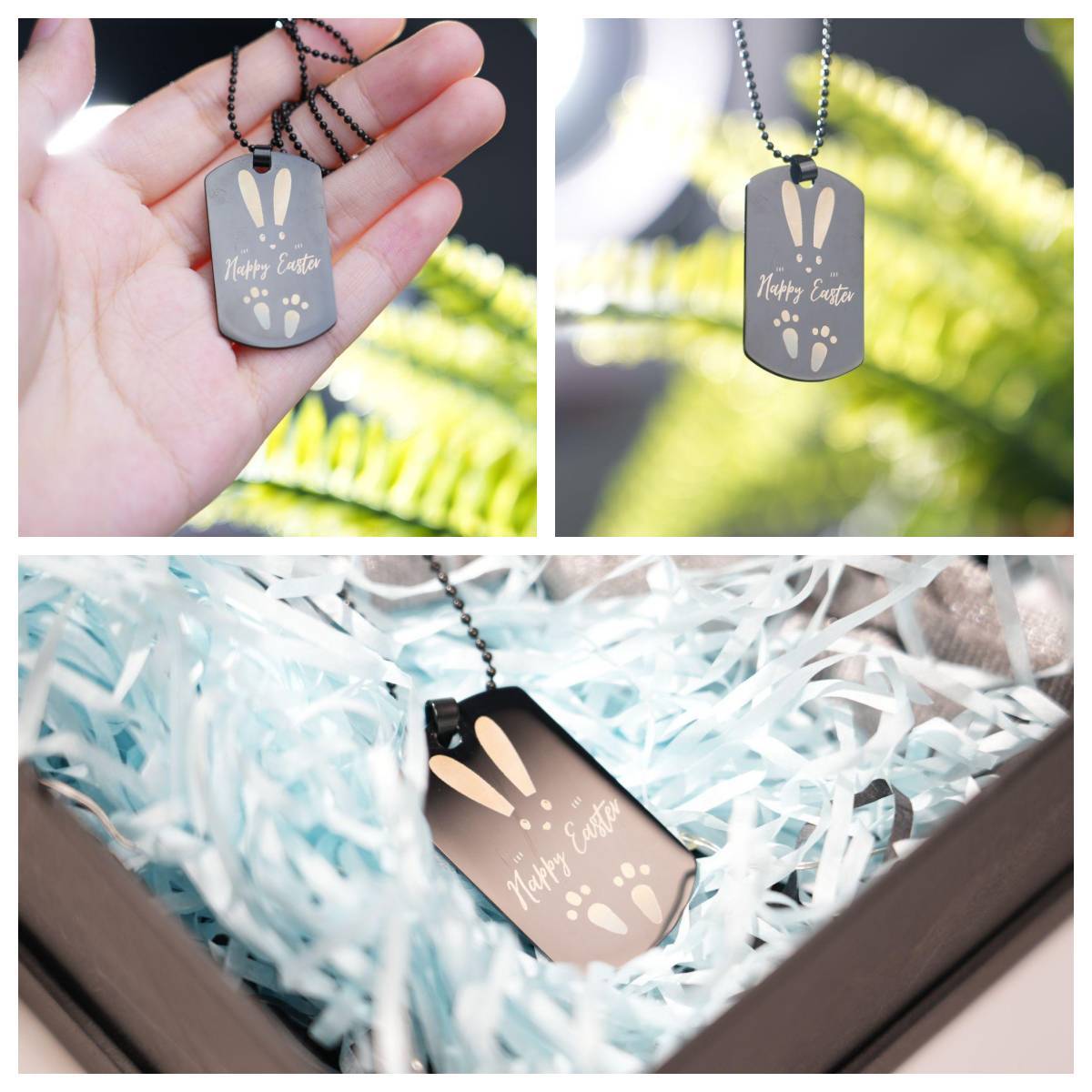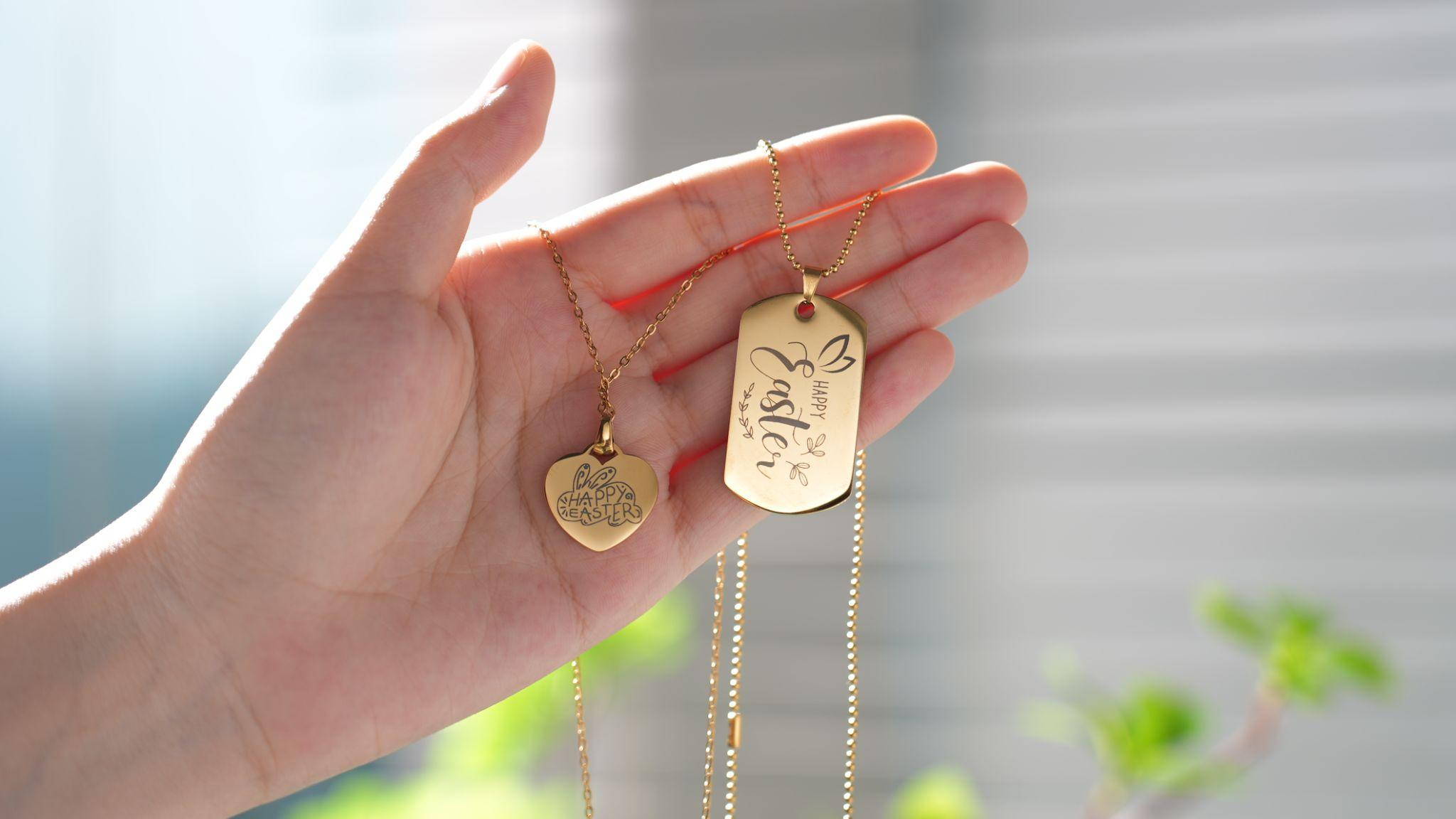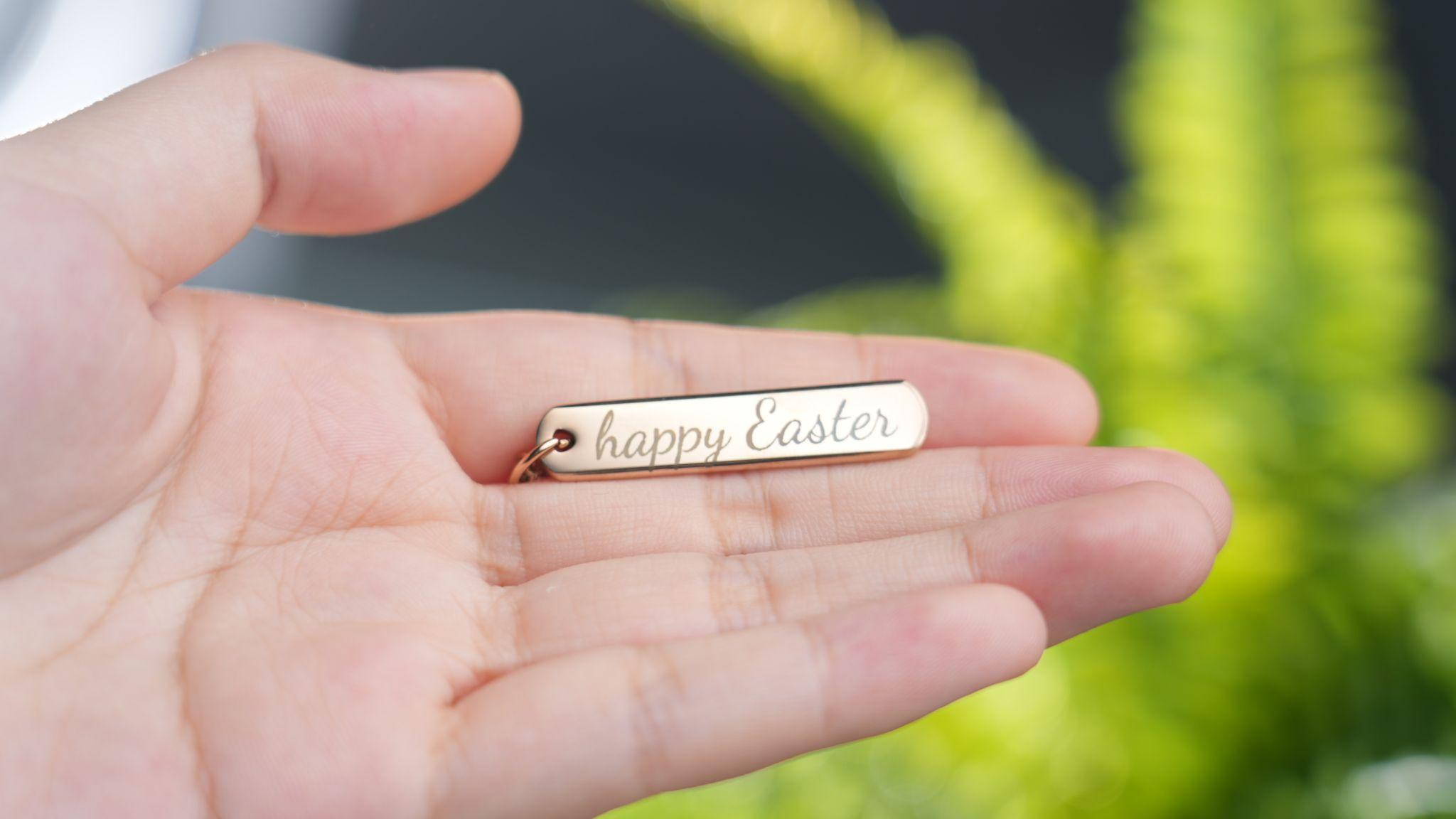 Those images above show some stainless-steel pendants which are engraved onto adorable texts and bunny patterns which reflect the Easter theme by using the LaserPecker LP3 engraver.
The LaserPecker LP3 is equipped with an infrared laser that provides high-precision engraving of 0.01mm, making it ideal for small metal marking and engraving that requires ultra-fine detail.
For a more elaborate necklace, you can consider adding additional charms or beads to complement your Easter-themed pendant. You can also experiment with different materials and colors to create a unique look.
KeyChains with Easter Decor
Another fun project to try with your laser engraver is creating custom keychains with Easter decor. These keychains make great gifts for family and friends or can be used to add a touch of holiday cheer to your own keys.
You will also need a keychain blank, and an Easter-themed design. One of the recommendations is to engrave a bunny or egg shape onto the keychain blank, along with a personalized message or name. You can also experiment with different materials for your keychain blank, such as wood, metal, acrylic, or even leather.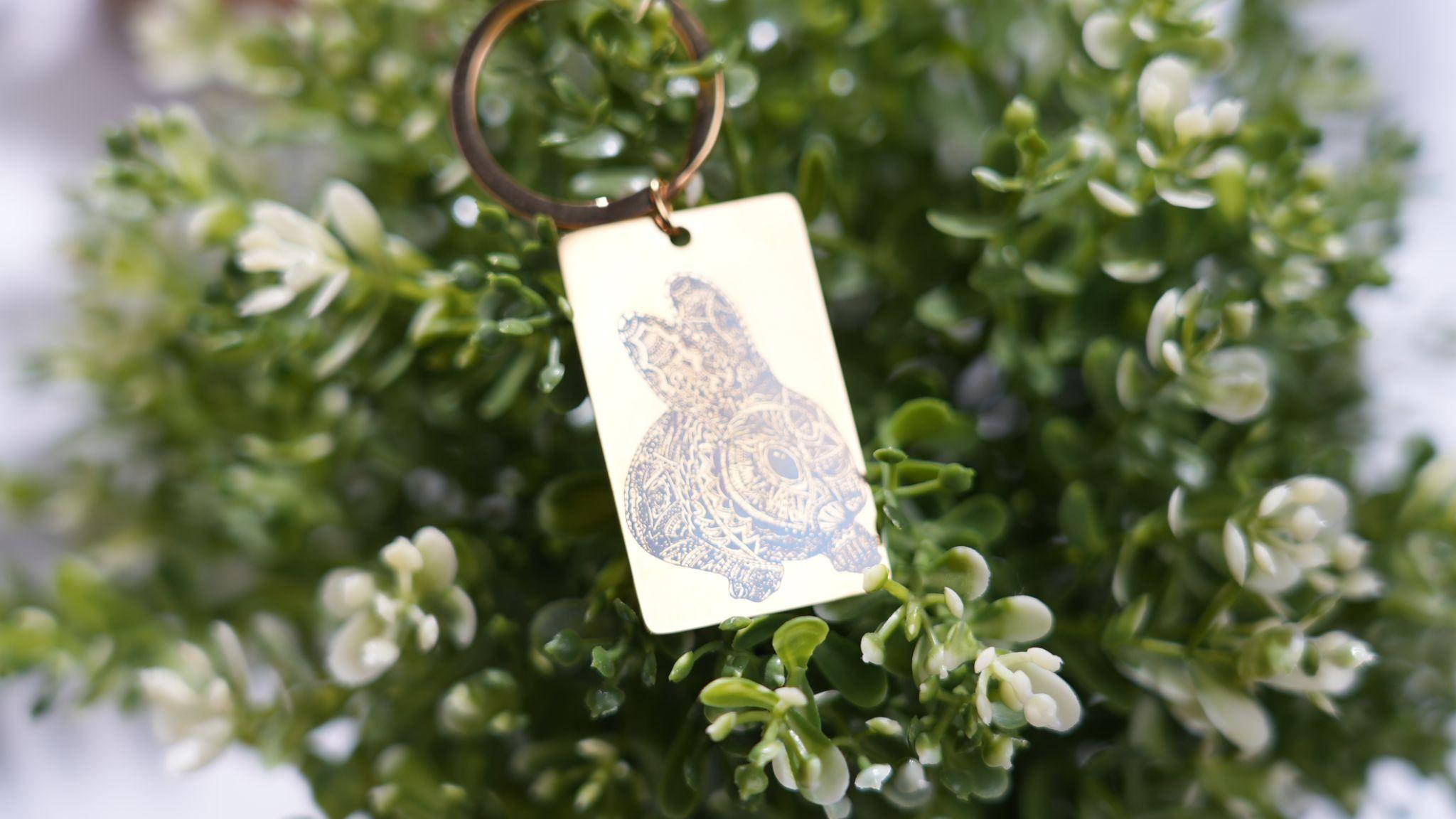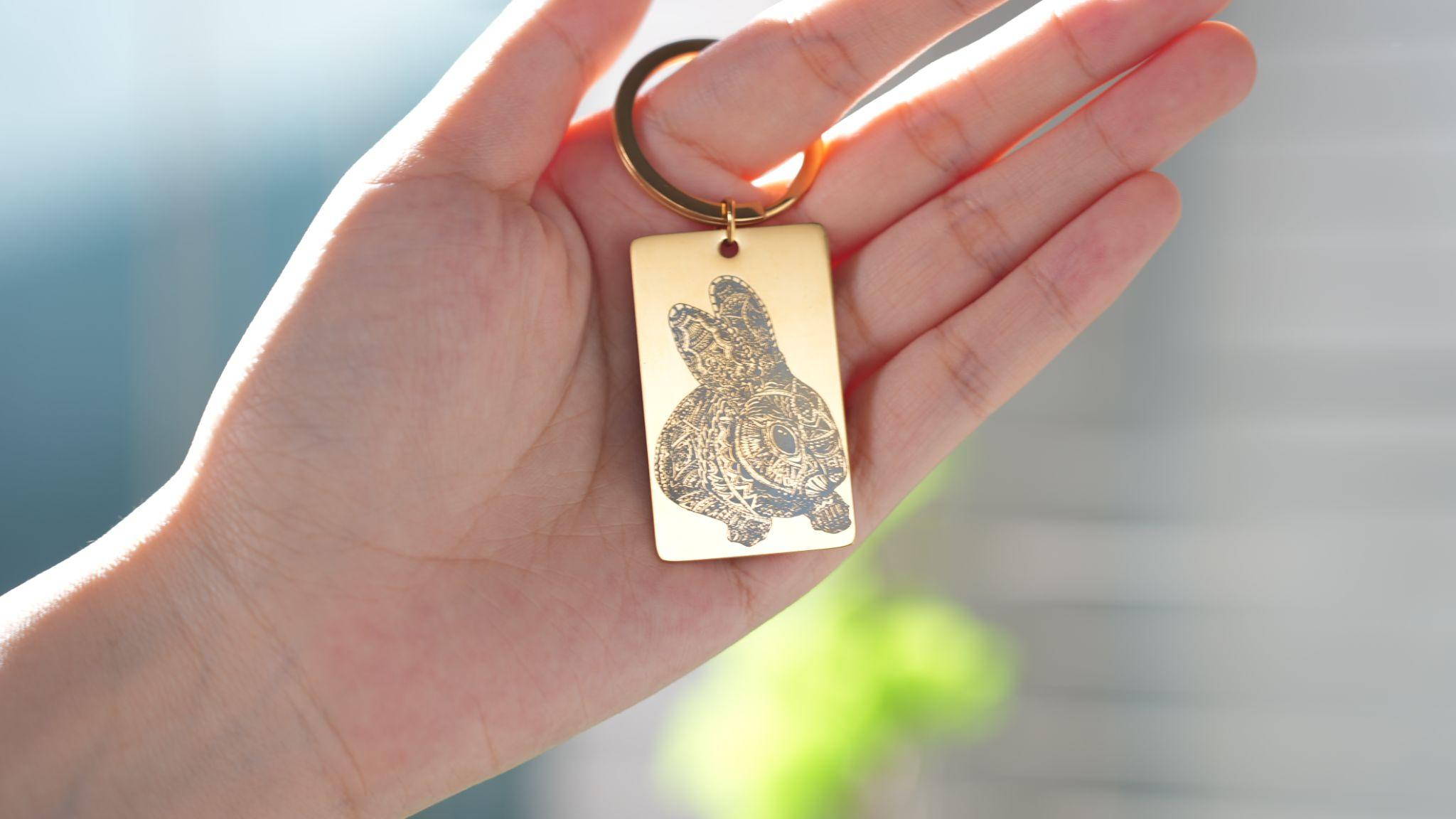 Those images above also showcase some stainless-steel keychains blanks with bunny patterns using the LaserPecker LP3 engraver. The LaserPecker LP3 provides you patterns with a maximum resolution of 4K ultra fine engravings even on small items.
Once your keychain engraving is finished, you can add additional decorations to make it more festive.
Easter eggs are a classic symbol of the holiday, and they're often decorated with bright colors and patterns. Another fun project to try with your laser engraver is creating Easter egg tags. Easter egg tags are a fun way to label Easter baskets, candies, toys, books, clothing, home decor items and more. You can also use them to write a special message to your friends and family on the front of the tag.
Wooden material is perfect for engraving because its natural beauty complements the reborn and growth meaning of Easter eggs. You can purchase the tags directly online, or you can create your own using a laser engraver to cut egg-shaped pieces from wood.
When working with wood, it's essential to choose the right type of laser and adjust the power for engraving and cutting. Wood has a wavelength absorption rate of 10600nm or 450nm-950nm. For example, a 15mm-thick wooden plate might require a 10W power of blue laser (450nm wavelength).
Here is an example of Easter egg tags made by LaserPecker LX1 engraver and cutter: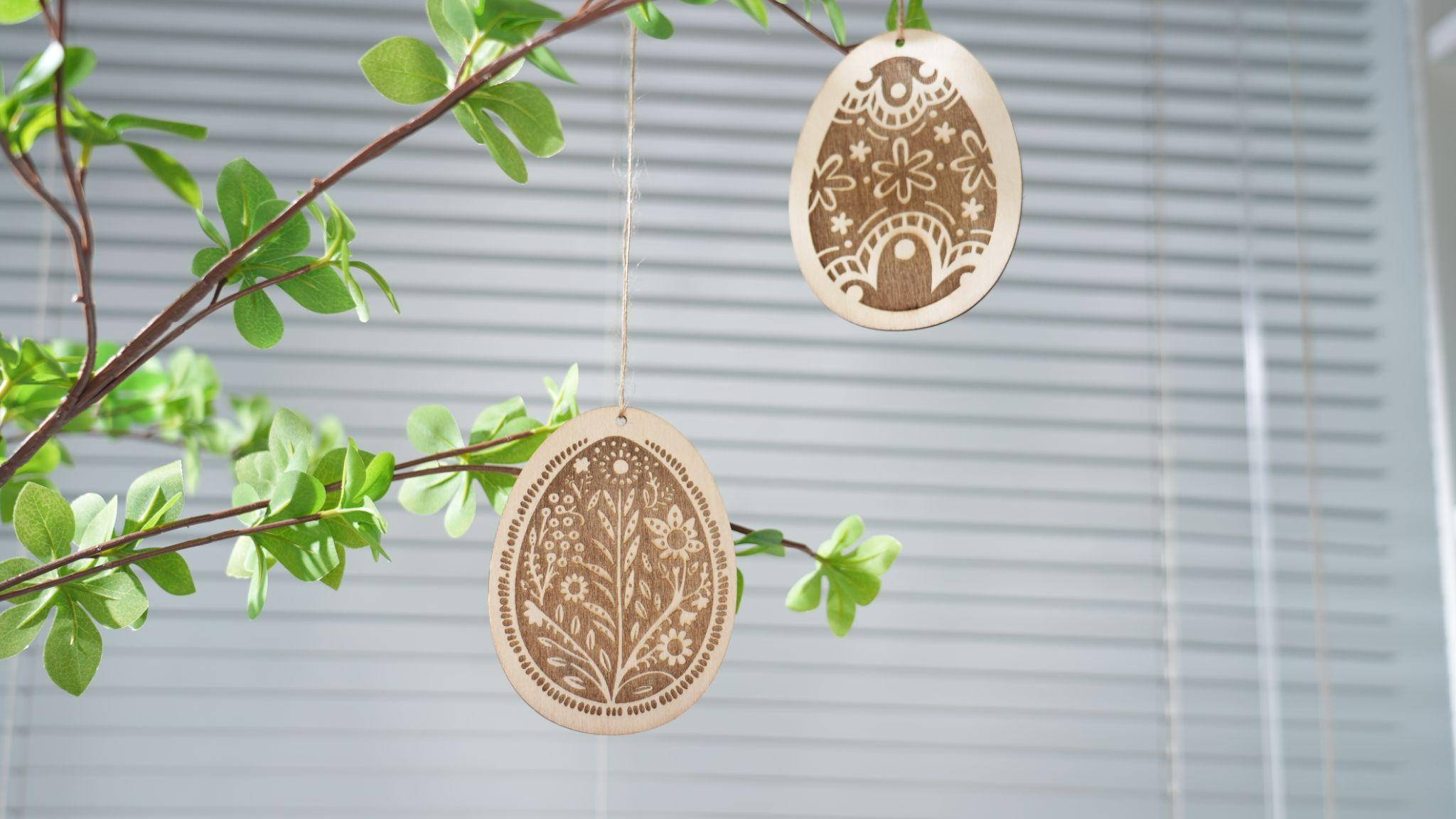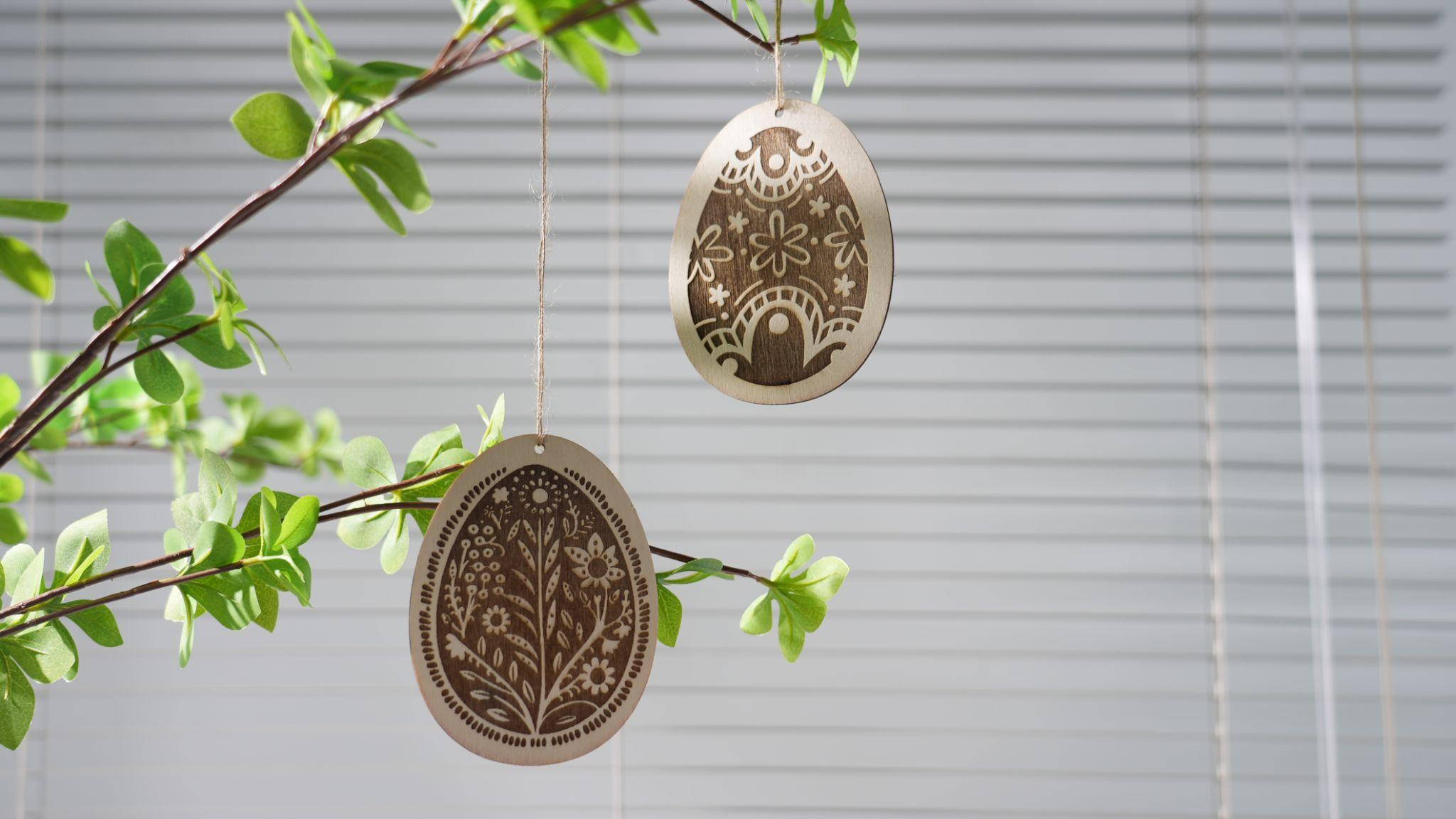 Since it's Easter, how could we forget about Easter eggs? You can use watercolors to paint your desired patterns and colors. But if you lack ideas, paints or techniques to paint, laser engravers are here to help you finish the job. Laser engravers can use standardized methods to engrave the exact designs you have in mind by uploading an image, including your photos or even your own designs using computers or phones.
However, unlike other materials, it is important to make sure your laser engraver would allow you to mark or engrave on a curved surface of eggs. Otherwise, the patterns you engraved would be distorted.
Laser engraving machines such as the LaserPecker offer rotary accessories that allow for comprehensive 360° engraving. By securely fixing and rotating items during the engraving process, these rotary accessories ensure precision and accuracy, making it easy to achieve the desired results.
After engraving, you can still add a background color to the Easter eggs using watercolors to make them more layered and complement the engraved design.
Here is an example of Easter eggs engraving using LP2.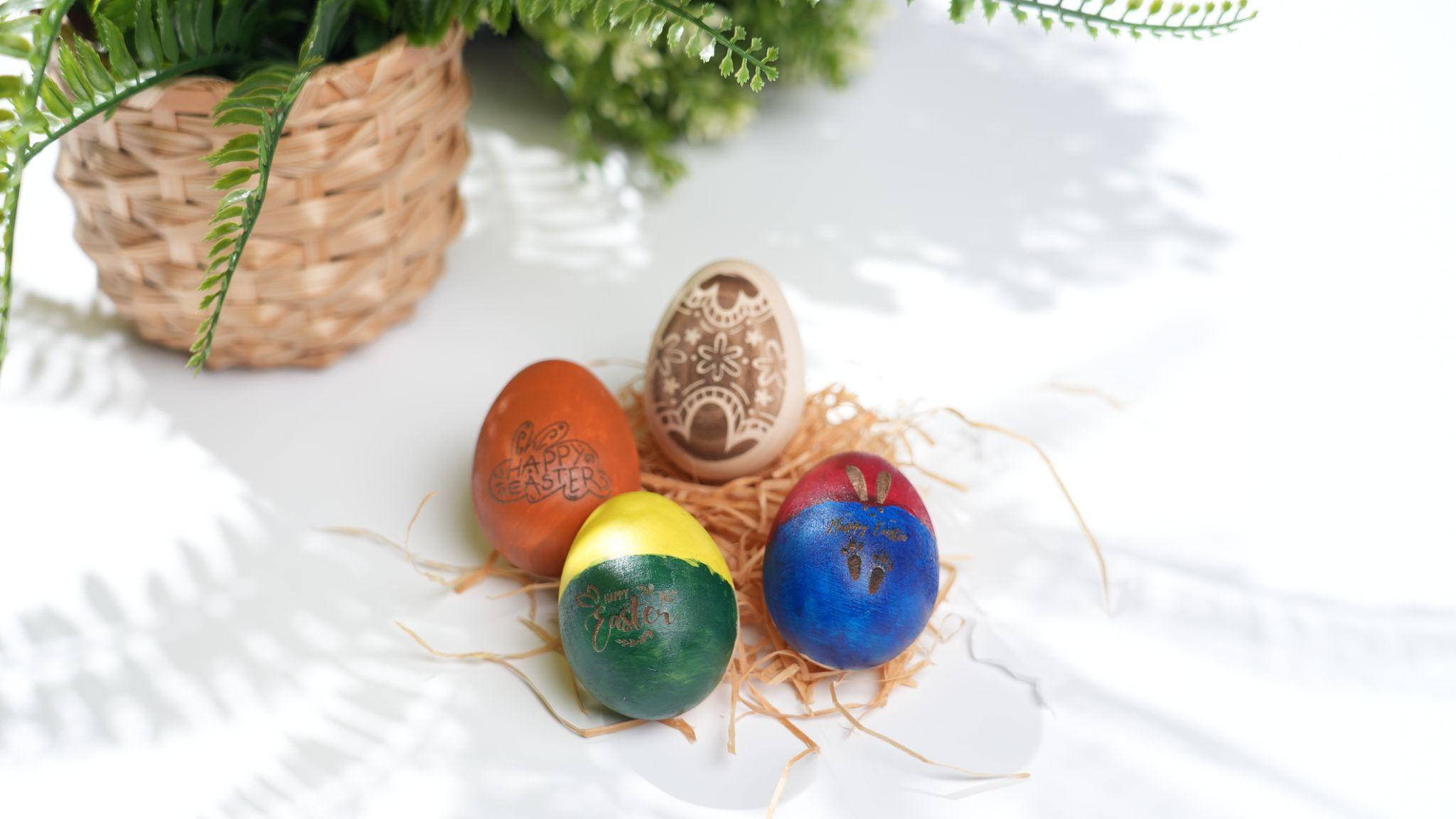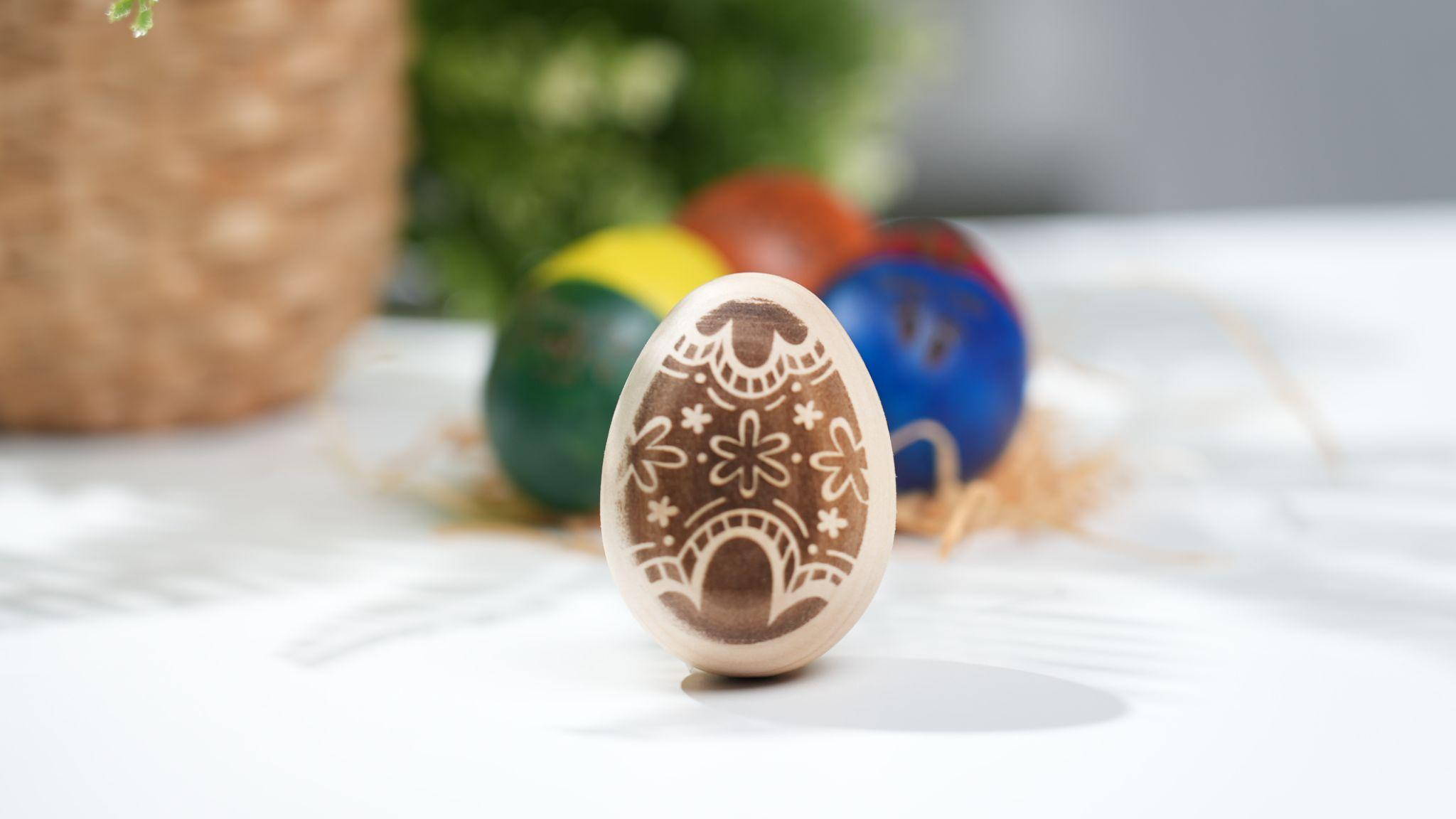 Creating 3D Easter-theme models is a fun and fascinating alternative to traditional 2D decorations, and can make for an engaging family activity that attracts children to DIY projects.
Easter-themed models, such as an Easter egg basket, are an essential addition to your Easter celebrations. Not only do they add a touch of creativity and personality, but it also helps you to collect the eggs found during Easter egg hunts.
Creating a 3D Easter-themed model requires laser cutting, which can be achieved through a few simple steps. Firstly, you can either find and download free files online or design your own using software such as CorelDraw or Adobe Illustrator. The file should include the basket's shapes, patterns, and details, as well as the dimensions and thickness of the material you plan to use.
Secondly, it's important to choose the right material for your basket, such as plywood, MDF, acrylic, or natural wood. Make sure that the material is flat, clean, and matches the thickness specified by engraver. Once you have your material ready, upload the file and begin the cutting process. After cutting, it may be necessary to sand or clean the edges of the cut pieces to remove any burrs or residue.
Finally, join the pieces together using glue, nails, or screws. You can also add a personal touch by painting, staining, or embellishing your basket with ribbons, flowers, stickers, or any other decoration of your choice.
Here is a 3D Easter basket below made by LaserPecker LX1 engraver and cutter: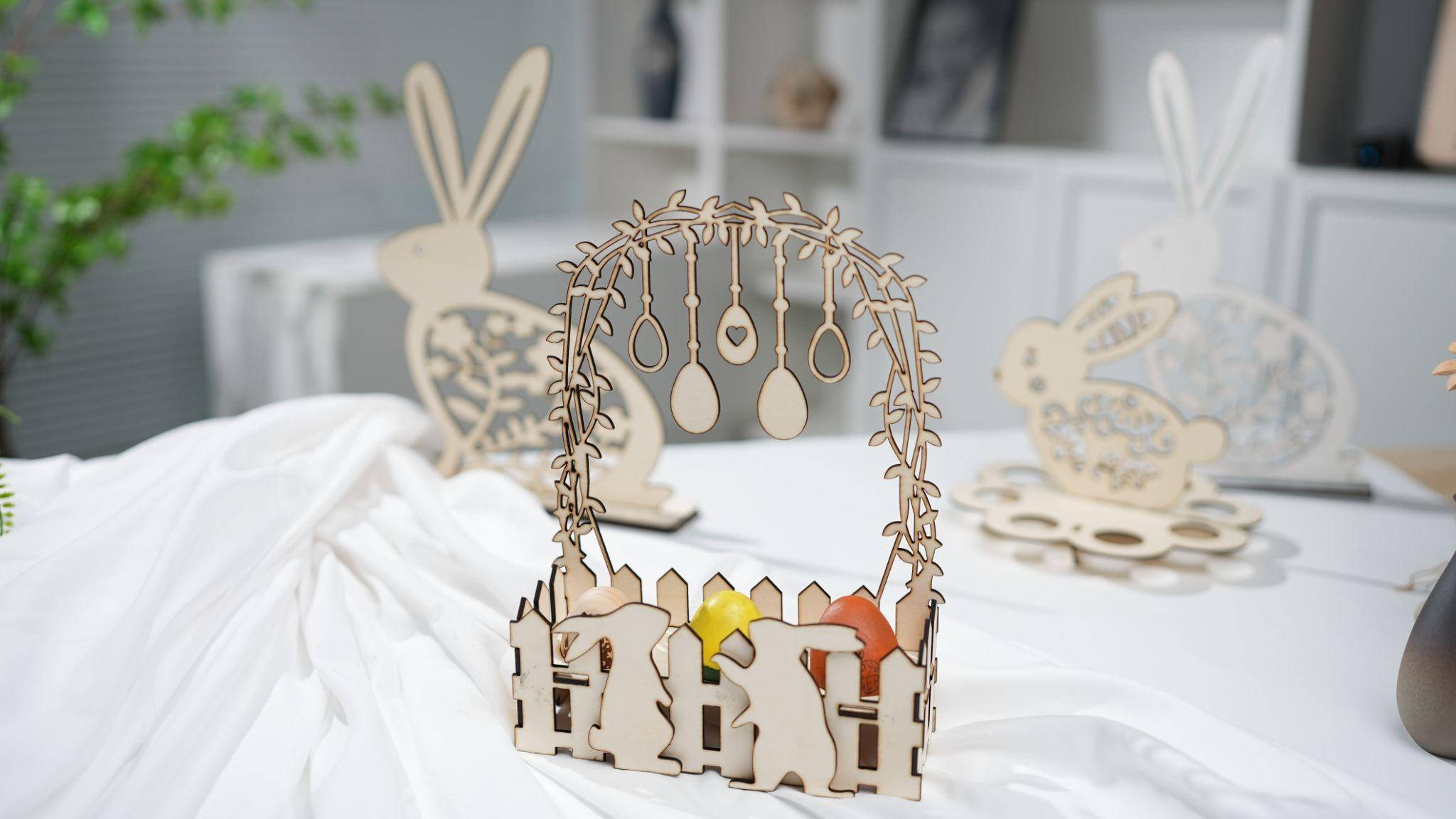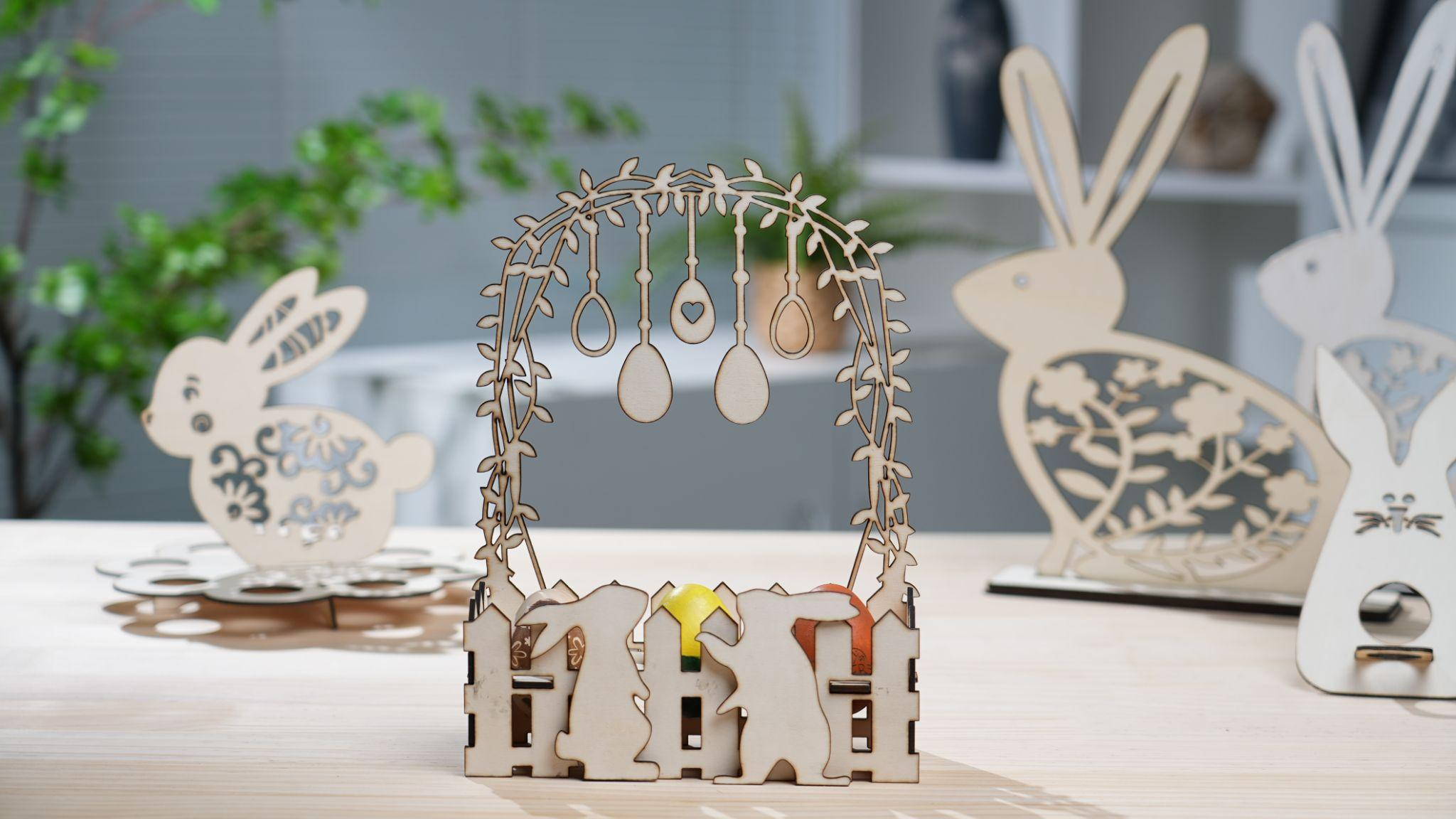 Don't forget about the bunny! Another inspiration of 3D models is to combine both the bunny and Easter egg symbols together to form a bunny Easter eggs holder. It is a cute and festive way to display your painted, dyed, or chocolate Easter eggs. It can also be a personalized and thoughtful gift sent to your family and friends, which you can also customize with their name, initials or favorite color and especially give a surprise to your children with an Easter egg hunt or candy treat.
Here is an example below made by LaserPecker LX1 engraver and cutter: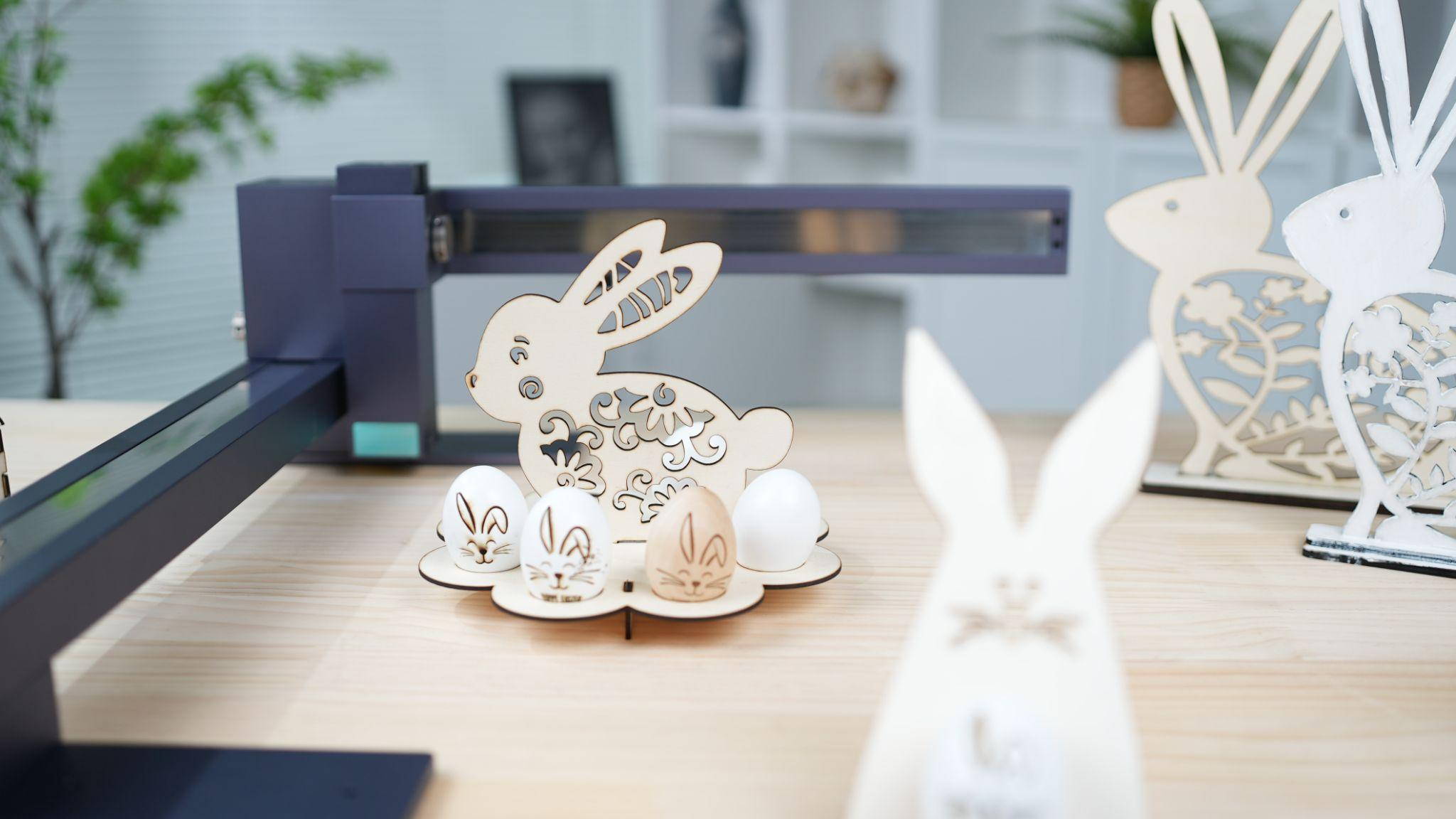 Openwork Easter Bunny models
If you're looking to take your 3D model building to the next level, consider exploring openwork models and incorporating different engraved layers to create a model with a 3D depth-of-field effect. Achieving such intricate designs may require high levels of engraving and cutting accuracy, a laser engraver with ultra-fine cutting ability is an ideal tool for the job.
The whole process for creating openwork 3D models is similar to that of 3D model creation we mentioned above, requiring the uploading and cutting of multiple layers of the model separately. However, in openwork designs, the inner side of each layer must also be cut to achieve the desired effect. It is important to ensure that the logic of cutting routes is consistent across both the outer and inner layers. You need to cut out the unused material from the wooden board and leave the layer you want. Similarly, you need to cut out and remove the unused material from your layer and leave the pattern you want as well.
In addition to cutting the inner side of each layer, multiple layers can also be combined to create a sense of depth and dimensionality in the final product, resulting in a stunning finished product that is sure to impress.
Here are two examples openwork models with inner-side cutting and multi-layers: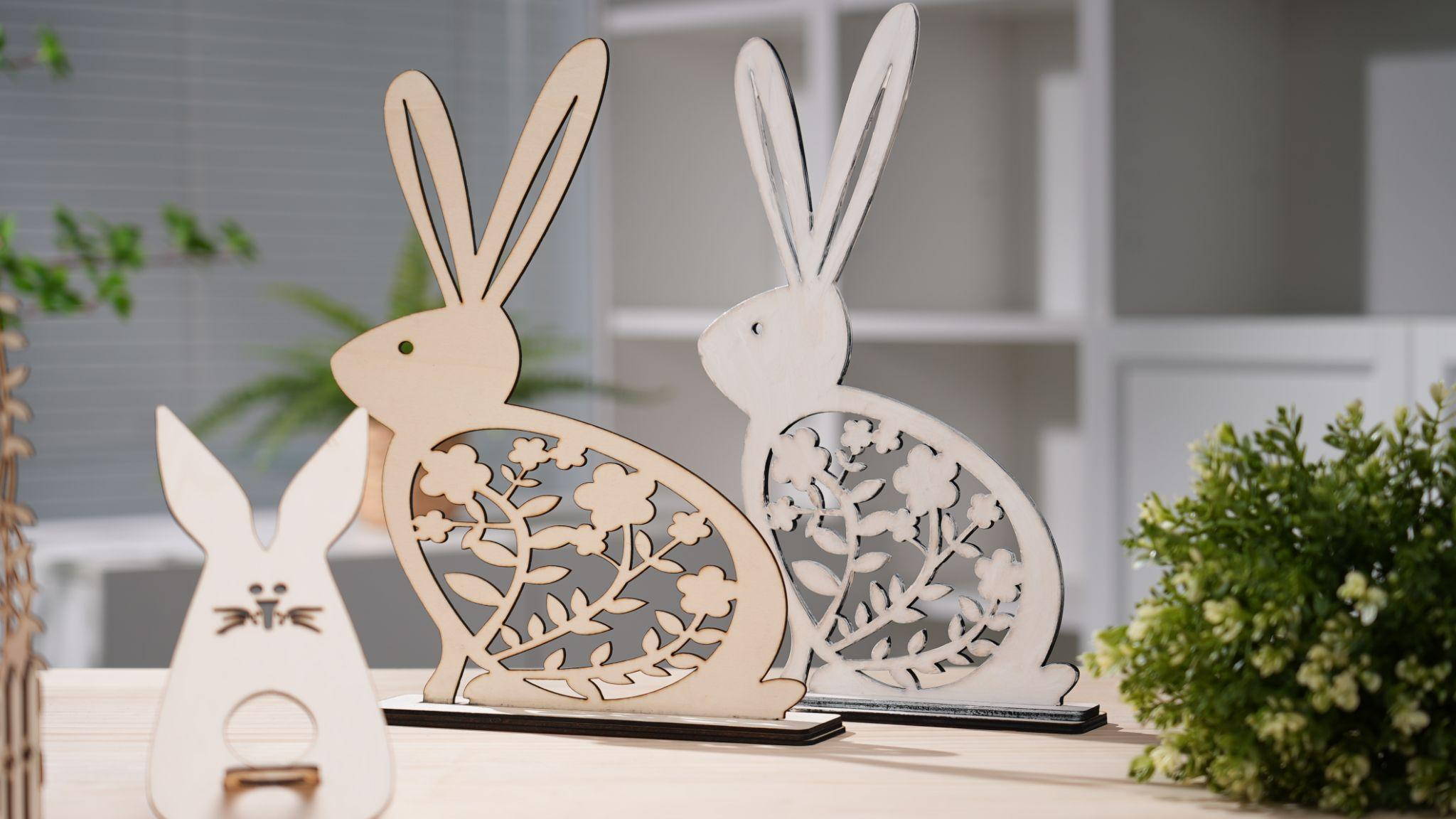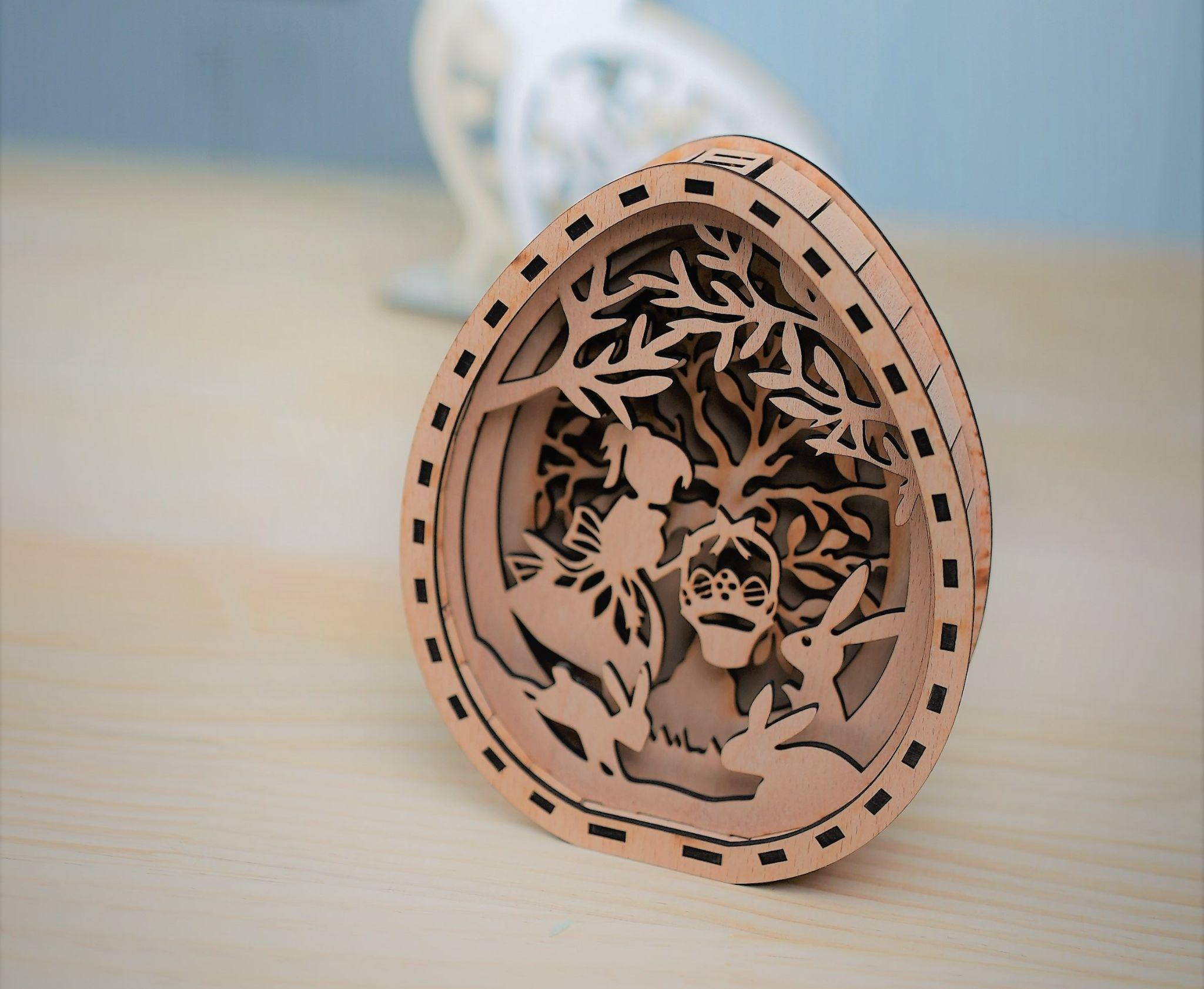 Laser engraver recommendation
If you're new to Easter DIY or just looking for a more affordable option, investing in an expensive and large laser engraver may not be the best choice. That's why we recommend the compact and portable LP3 and LX1 laser engravers. These machines offer high-precision engraving and cutting abilities and are easy to assemble and use. Plus, their affordable price tags make them a great investment for anyone looking to explore their creativity this Easter season.
The LaserPecker LP3 is an excellent option for laser engraving on metals like necklaces and keychains. With its 1064nm infrared laser, up to 1000 mw average power, maximum 10kw power, 800mm/s speed, and 4K ultra-fine engraving, you can create detailed and precise designs on metal surfaces. Despite its high-performance capabilities, the LP3 weighs just 2.54kg (5.59 pounds), making it lightweight and portable, so you can easily use it to create your own Easter DIY projects anytime and anywhere.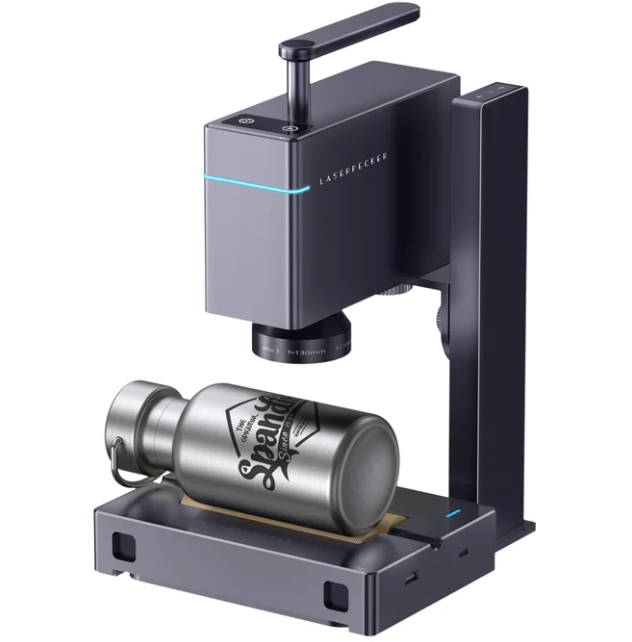 If you're interested in laser cutting on wood, the LaserPecker LX1 is a great option to consider. As the world's best foldable frame-structure engraver, it offers a convenient and easy experience for your Easter DIY projects. The LX1 has interchangeable modules with a 20W 450nm blue laser, a 10W 450nm blue laser, and a 2W 1064nm infrared laser, allowing you to choose the appropriate laser for your specific needs and requirements. This versatility enables you to create a wide range of Easter designs with precision and ease.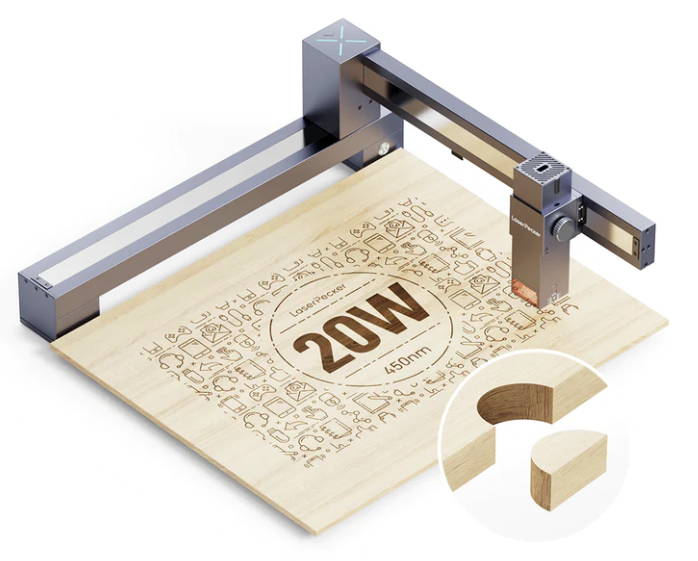 Both the LP3 and LX1 laser engravers are beginner-friendly and easy to use, with assembly taking no more than 5 minutes. You can easily connect the LaserPecker app to your machine via Bluetooth for wireless control. The app offers a wide range of design options, from album photos and live photos to default clipart and even your own creations. With just a few taps, you can select and import your design, adjust the parameters, and start the laser engraving process. Then, all that's left to do is wait for your creative vision to come to life before your very eyes.
Easter presents a wonderful opportunity to express your creativity by making DIY bunny or Easter egg items and decorations at home. A portable and compact laser engraver with automatic processing and high engraving or cutting capabilities can help you achieve your desired designs and even expand your range of products to the next level.