Hey there, fellow DIY enthusiasts! Portable Laser Engraving Machines are the ultimate tool for customized crafting during the holidays. Halloween is the perfect time to add a touch of personalized creativity to your spooky projects and portable laser engraving machines are the way to go!
Whether you're looking to carve intricate designs on pumpkins or create eerie patterns on wooden signs and whether it's a spooky outdoor gathering or a cozy indoor crafting session, its portable design ensures that you can take your laser engraving adventures anywhere. So, let the magic of laser engraving elevate your DIY Halloween projects to a whole new level of spooktacular awesomeness and Let Creativity Fly!
In this article, we'll explore the top 6 portable laser engraving machines of 2023 that will make your Halloween celebrations truly unforgettable. Let's dive right in!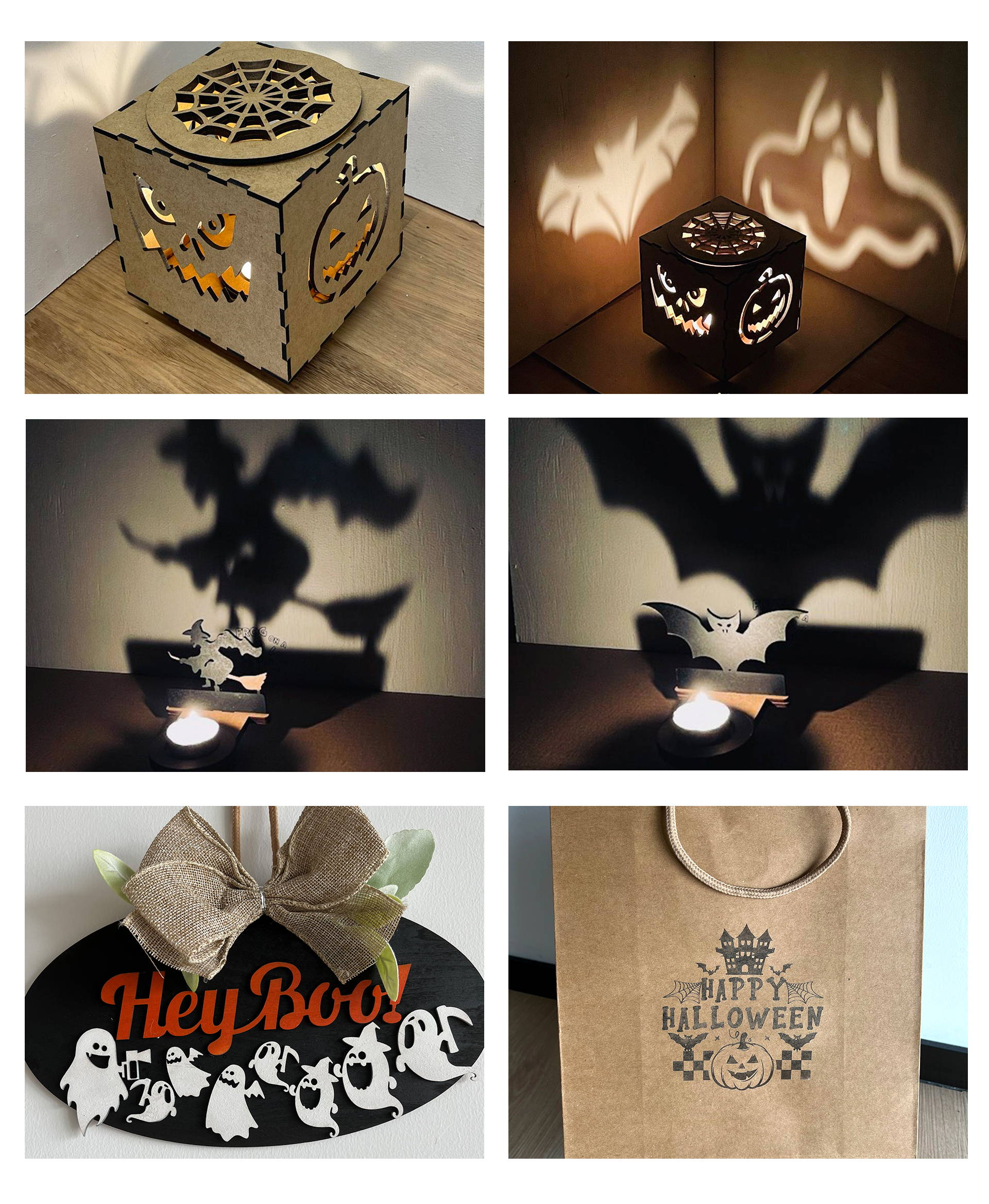 LaserPecker 4 Portable Dual-laser Engraver
LaserPecker 4 provides the world's easiest dual-laser switching solution. You can switch smoothly between two laser sources with a slight swipe on the machine's touch screen. It can handle various materials, including wood, leather, paper, fabric, plastic, etc., offering users more creative possibilities. It not only performs laser engraving but also offers various operations such as laser cutting and marking to meet different needs.
Thanks to its small size of 260.5 x 218 x 283.5 mm and weight of 4kg, you can engrave anywhere, anytime. No complicated setup is needed; easily get the work done in seconds. You can control it directly through your phone, tablet, or computer. You don't have to worry about running out of power because our PowerPack Pro has 50,000 mAh, enough to meet your needs. It also has a speed 5 times faster than traditional engraving machines, which can save you a lot of time and help your business. Whether you're at home or at a handicraft exhibition, you can enjoy the convenience and efficiency brought by laserpecker 4.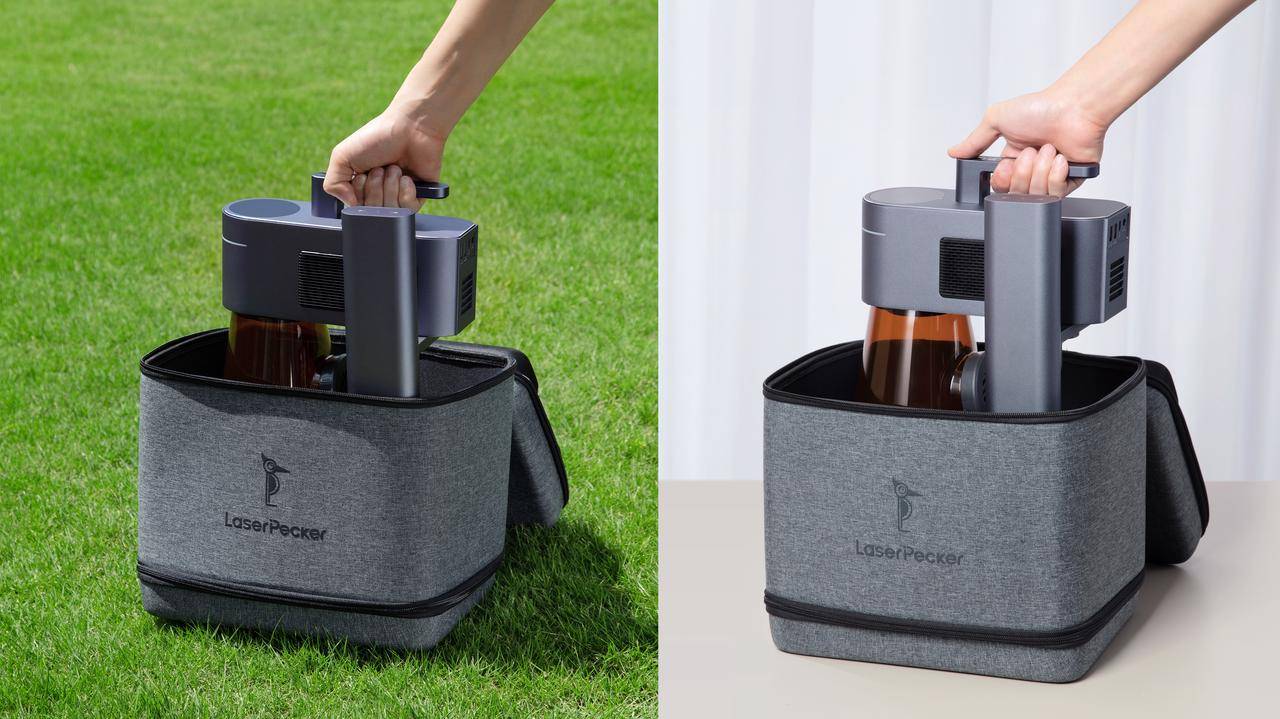 The LaserPecker 4 utilizes advanced laser technology, providing high precision for engraving and cutting, enabling detailed patterns and text. It supports a precision of 0.00199 mm and offers a choice of 8K precision, allowing every detail of your photo to be displayed. You can also choose from 1K, 2K, 4K, and 8K to meet your different needs.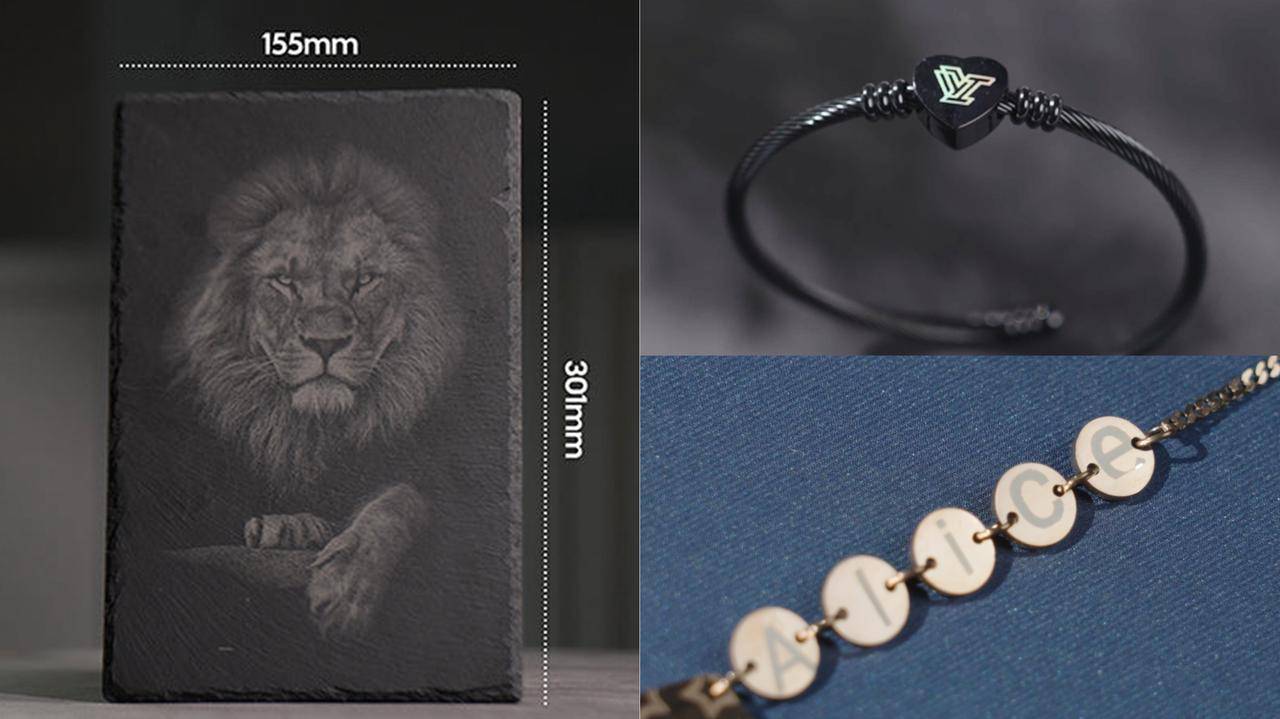 Additionally, LP4's user-friendly interface and simple operation process make it easy for beginners to get started. It comes with its own software that runs on both mobile and desktop devices. It is also compatible with LightBurn software, which is a popular choice for laser engraving enthusiasts. You can easily create and edit your designs with this software.
Finally, LP4 has a powerful accessory ecosystem, bringing you more possibilities. You can expand the engraving area from the original 160x120mm to 300x160mm with a slide extension, which is very useful for engraving multiple small objects at once. You can also perform perfect engraving on any circular object with the rotary extension. In addition, the accompanying power bank can always help LP4, no matter where you are.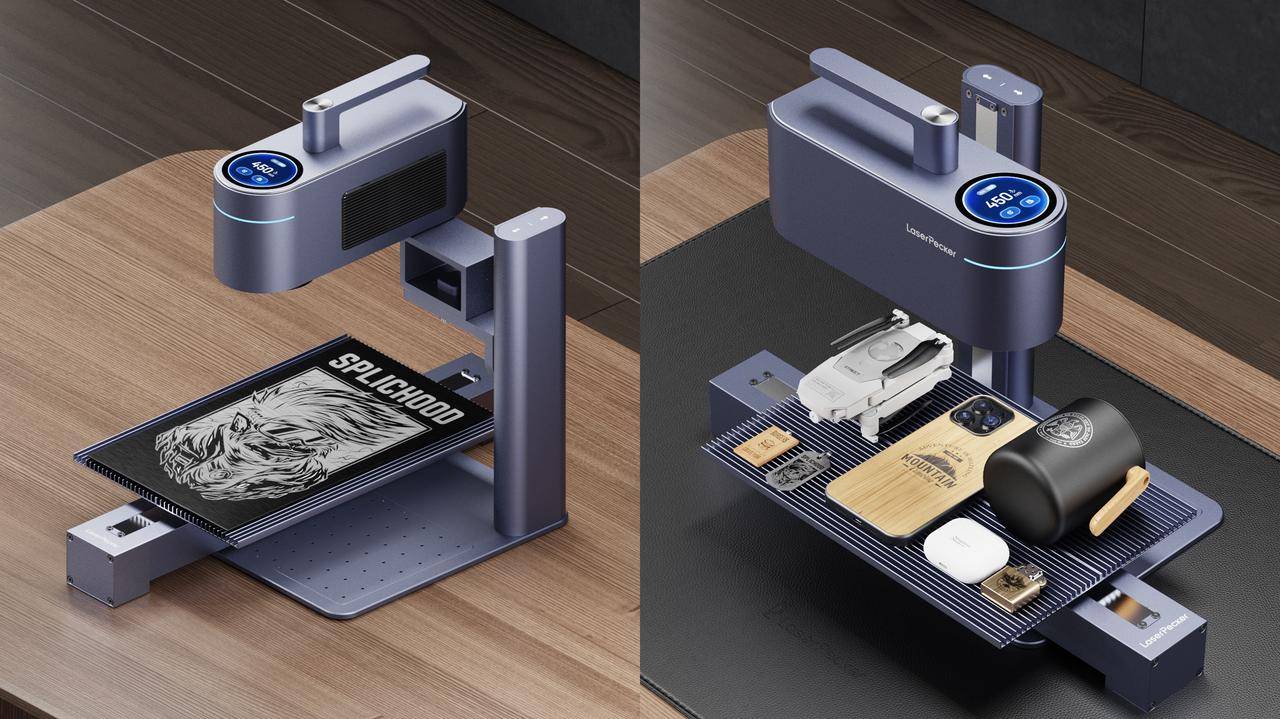 In summary, the LaserPecker 4 is a powerful, portable, and user-friendly laser engraving machine suitable for creative enthusiasts, makers, small businesses, and so on.
xTool F1 Portable Diode & IR Laser Engraver
Xtool F1 is another product similar to LP4. It is also a portable dual-laser engraving machine with two laser sources: a 10-watt blue diode laser and a 2-watt infrared laser, suitable for various materials, including wood, plastic, leather, paper, etc. With its lightweight design of 179mmx235mmx334mm and weight of 4.6kg, you can take it anywhere, anytime for creative work and engraving.
xTool F1 is easy to operate and does not require professional skills. It comes with its own software that runs on both mobile and desktop devices. It is also compatible with LightBurn software. Using this software, you can easily create and edit your designs. It is equipped with an intuitive user interface and simple control buttons, making the engraving process easy and enjoyable.
It is suitable for various applications, including art creation, personalized gift-making, DIY decoration, etc. Whether you're at home, in a coffee shop, or outdoors, it can meet your creative needs.
Neje 3 Portable Diode Laser Engraver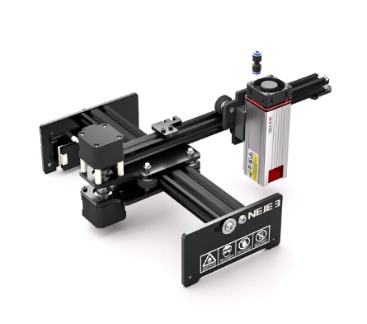 Neje3 is a portable diode laser engraving machine. Its lightweight design allows you to take it anywhere. However, it has some limitations in terms of engraving materials, compatible materials include wood, plywood, fabric, paper, cardboard, acrylic resin, canvas, stainless steel, painted metal, fabric, leather, etc. If you have some knowledge of portable engraving machines, this can meet your daily DIY needs.
Neje3's performance is also quite good. It is equipped with a 10W diode laser, with a point distance of 0.075 mm, 338 dpi; engraving accuracy of 0.01mm. Its engraving area reaches 255 x 420mm, and the engraving speed reaches 1000mm/s. Overall, it may be slightly inferior to similar portable engraving machines. But if your budget is limited and your engraving needs are not as professional as enthusiasts, it is a good choice.
ENJOYWOOD 2 in 1 Handheld Laser Engraver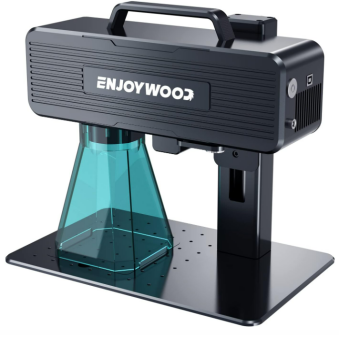 ENJOYWOOD is a portable laser engraver with an infrared light source. Its most prominent design feature is that it can be used as both a desktop and handheld device, allowing you to take it anywhere you want to engrave. Compared to diode light sources, it is more suitable for metal and plastic engraving. If you have high requirements for engraving metal or plastic, it is a good choice for you.
The ENJOYWOOD M4 industrial-grade galvanometer technology greatly improves the engraving and marking speed - its high speed of 12m/s is 5 times that of a blue light marking machine. The laser spot size is 0.01mm, which can cover tiny details and improve the contrast of the engraving. This machine can engrave wood, leather, cardboard, acrylic, plastic, transparent, and reflective materials, as well as metal.
You can use desktop software and connect your device directly via USB. Before engraving, it can also allow you to quickly preview and understand the size and position of the image.
AtomStack P9 M50 Laser Engraver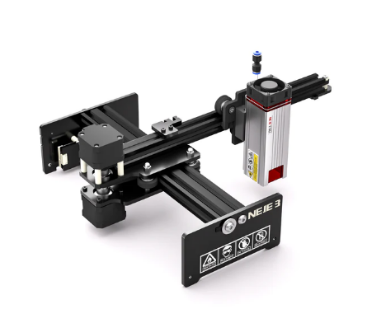 The AtomStack P9 is a portable engraving machine with a 10W 455±5nm laser, and the P9 M50 is equipped with a terminal control panel that supports offline engraving. You can carry out engraving operations anytime and anywhere without being restricted by the computer. If you have a low budget or high requirements for cutting ability, it is a good choice. It is priced at only $300.
Its engraving speed is 700mm/s, and the laser spot is 0.08*0.06mm. This high-density laser can easily cut 15mm thick wood and 15mm thick black acrylic resin. At the same time, this machine is compatible with various mature engraving software such as LaserGRBL and LightBurn, supports Win XP / Win 7 / Win 8 / XP / Win 10, and also supports the Mac system (LightBurn). The engraving file format supports NC BMP JPG PNG DXF, etc. It also has an emergency stop button and if an accident occurs, you can stop the machine at any time to make the engraving safer.
Comgrow Mini Laser Engraver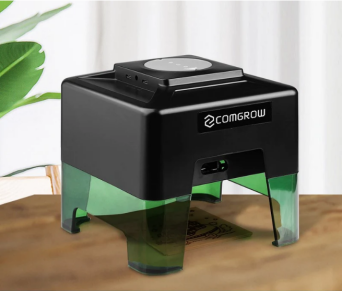 The Comgrow Mini is an entry-level portable engraving machine that anyone can afford. It is one of the most portable products on the market, weighing only 0.9kg. You can easily take it anywhere.
Its engraving area is only 98mm x 88mm and its engraving depth can reach 2mm, which is very suitable for engraving small objects. This machine is compatible with Windows, Android, and iOS operating systems, and the computer software can be used on Mac OS. It uses precise XY module technology and can engrave complex patterns that are not easy to fade. The laser head can be replaced, making it more convenient. This machine is very suitable for engraving various materials such as cardboard, paper, fabric, wood, and metal if you want to make some small attempts and learn about some of the applications of laser engraving machines. It is a good choice.