Laser engraving combines art and high-tech to leave personal marks on wood, acrylic, plastic, and metals. Laser engraving involves shooting high-energy beams at the targeted area to vaporize the material and leave permanent visible marks.
Metal laser engraving is about engraving on metals and leaving stunning marks on metals, such as stainless steel, copper, silver, gold, etc. But metal laser engraving is kind of different from other materials because of its impervious nature. which its surface will reflect the laser beam, reducing the effect of vaporizing and marking metal.
Are you puzzled about purchasing the right laser engraving for metal? Today, we'll offer you thoughtful and comprehensive guidelines to choose the right laser for you.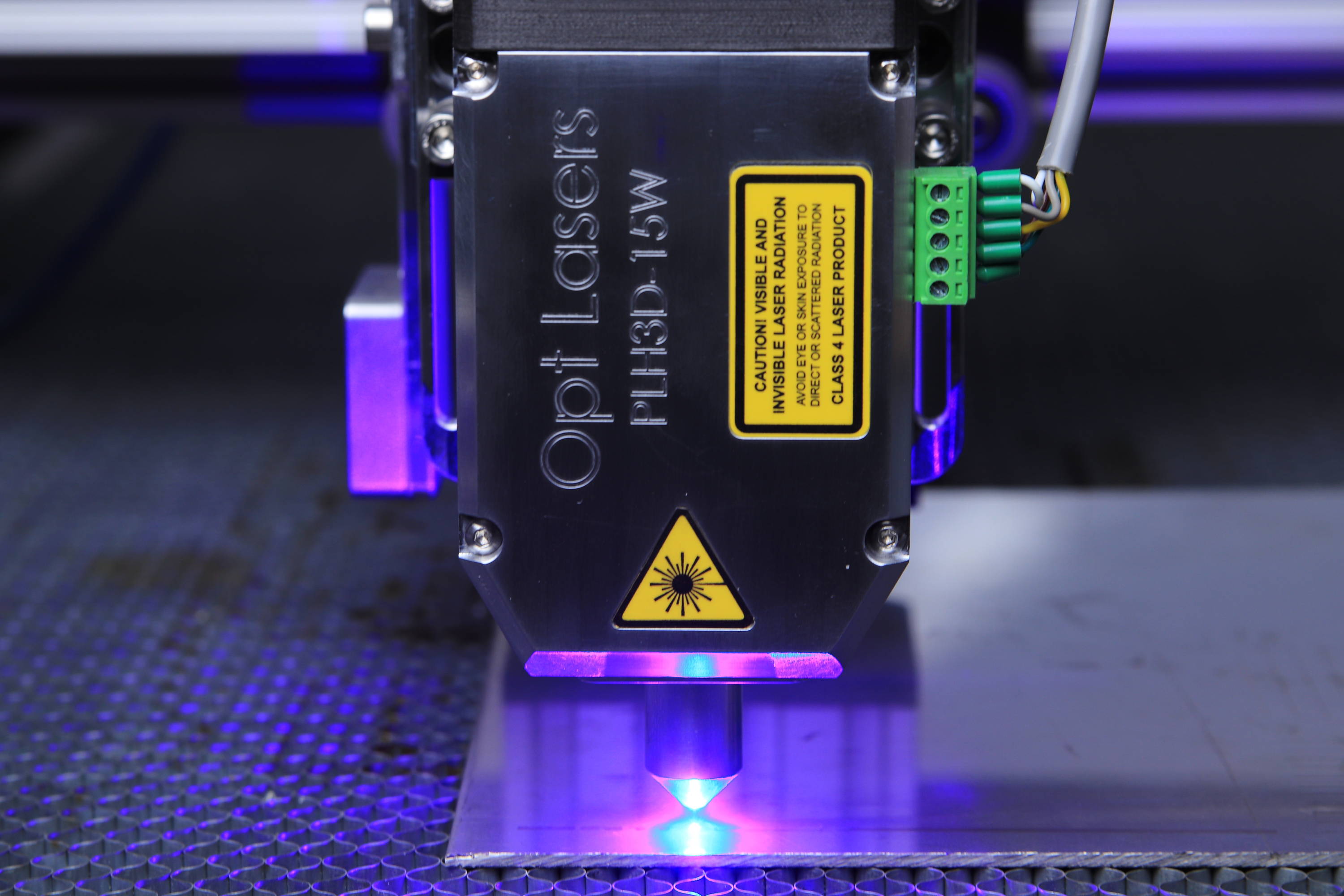 (2)What Type of Laser Is Right for You?
It's a little troublesome to select a suitable laser for metal as there are many different laser engravers in the market, such as the diode laser, CO2 laser, fiber laser, and infrared laser, which may dazzle your eyes. It's important to figure out what materials you want to engrave before your engraving because the intrinsic properties between all the different types of metals, such as metallic sheen, will have a different absorb efficiency to the laser beam.
As for metals, they can be roughly divided into coated metals, anodized metals, and uncoated metals. You can choose CO2 and diode laser if you only plan to engrave coated metals and anodized metals, which will burn through some of the coating or oxidation layers to mark the target area. Besides, the CO2 laser and diode laser are the most cost-efficient choices as their price is lower than infrared laser and fiber laser, and they can engrave some materials that infrared laser can't, such as wood and paper.
When it comes to metal engraving, fiber laser is a powerful and efficient option for industrial applications. The generated laser is directed to a fiber-optic cable. It can engrave on bare metals like stainless steel, copper, silver, and gold, and can also cut metal sheets up to 0.05mm and perform laser welding and basic cleaning. However, it comes with a high price tag, with an entry-level 20W fiber laser costing between $3,000 to $5,000, making it unsuitable for small businesses or personal use.
In contrast, infrared lasers use air as the medium and are much more affordable, with prices ranging from $1,000 to $2,000. Although their power output is lower than fiber lasers, typically 1-2W, they can still engrave on almost all metals, including coated and oxidized metals. This makes them a great choice for personal use, small laser engraving businesses, and engraving on jewelry and personalized business cards.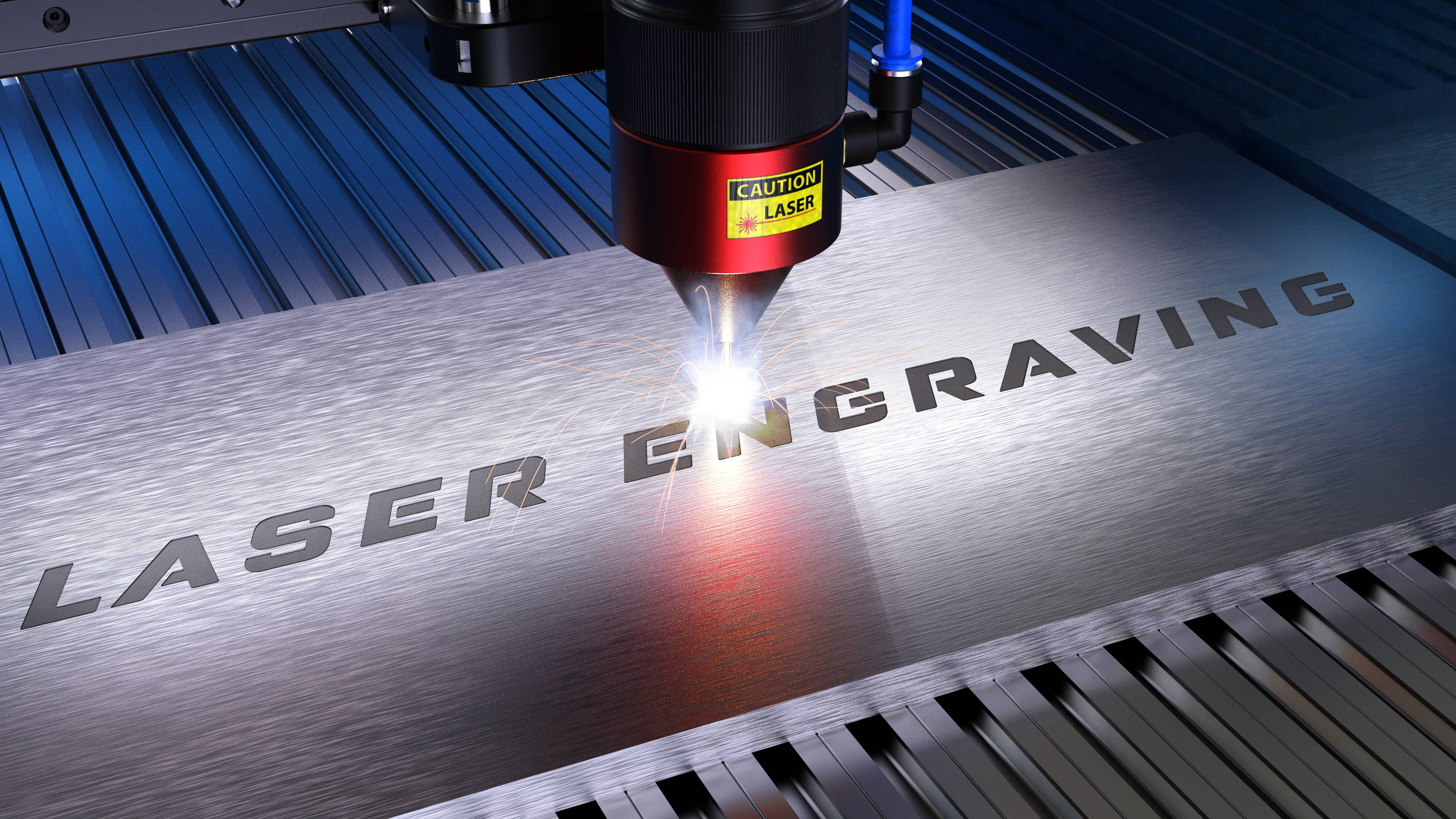 (3)How To Choose The Right Laser Engraver for Metal?
There are a few things you need to consider when you choose a metal laser engraver. Below are the things to take into account:
1. Purpose
The first thing you need to think about is your purpose in buying a laser engraver, starting your own hobby, gift customization, or starting your small business. The different purposes will lead to different choices: you can choose an entry-level laser if you want to start a new hobby or gift customization, but you need to choose a more powerful laser for your small business. Once you have thought clearly about your purpose, you can narrow down your choices.
2. Metal type you want to engrave
As we mentioned before, it's the target materials that decide what type of laser you choose. You can use a CO2 laser or diode laser if you want to engrave on coated and anodized metals. But you need to purchase the infrared laser or fiber laser if you want to engrave on bare metal, which has a low rate of absorb efficiency of CO2 and diode lasers' wavelength.
3. Budget
In general, fiber lasers tend to be more expensive as they are typically professional-grade, which can actually engrave on all metals. The infrared laser can also engrave on most metals, and it's cheaper than the fiber laser. The CO2 and diode lasers have a relatively lower price, which is reflected in the capability that only to engrave on coated and anodized metals.
4. User Friendliness
It's a little challenging to learn a new machine or technique. There are two main factors that determine user-friendliness— the software and the tutorials across various platforms. Easy-to-use and stable software is a must-have for laser machines as it involves design work and engraving settings. What's more, various tutorials are also necessary because it's two massive curricula to commend the laser and the software. The more curriculum is provided, the quicker you will get familiar with the machine.
5. Engraving Size
Depending on how large the produce you'll handle, the target engraving area may vary. Engraving small objects can be done with a portable laser machine, while larger objects require a machine with a larger working area.
6. Extra Feature
Has a rotary module or other useful accessories? Equipping a rotary module would make it easy to engrave on cylindrical objects, such as rings and tumblers. Expandability and other features can increase functionality as well.
(4)The Best Laser Engraver for Metal in 2023:Top Six Choices
Best Beginner Laser Engraving Machine For Metal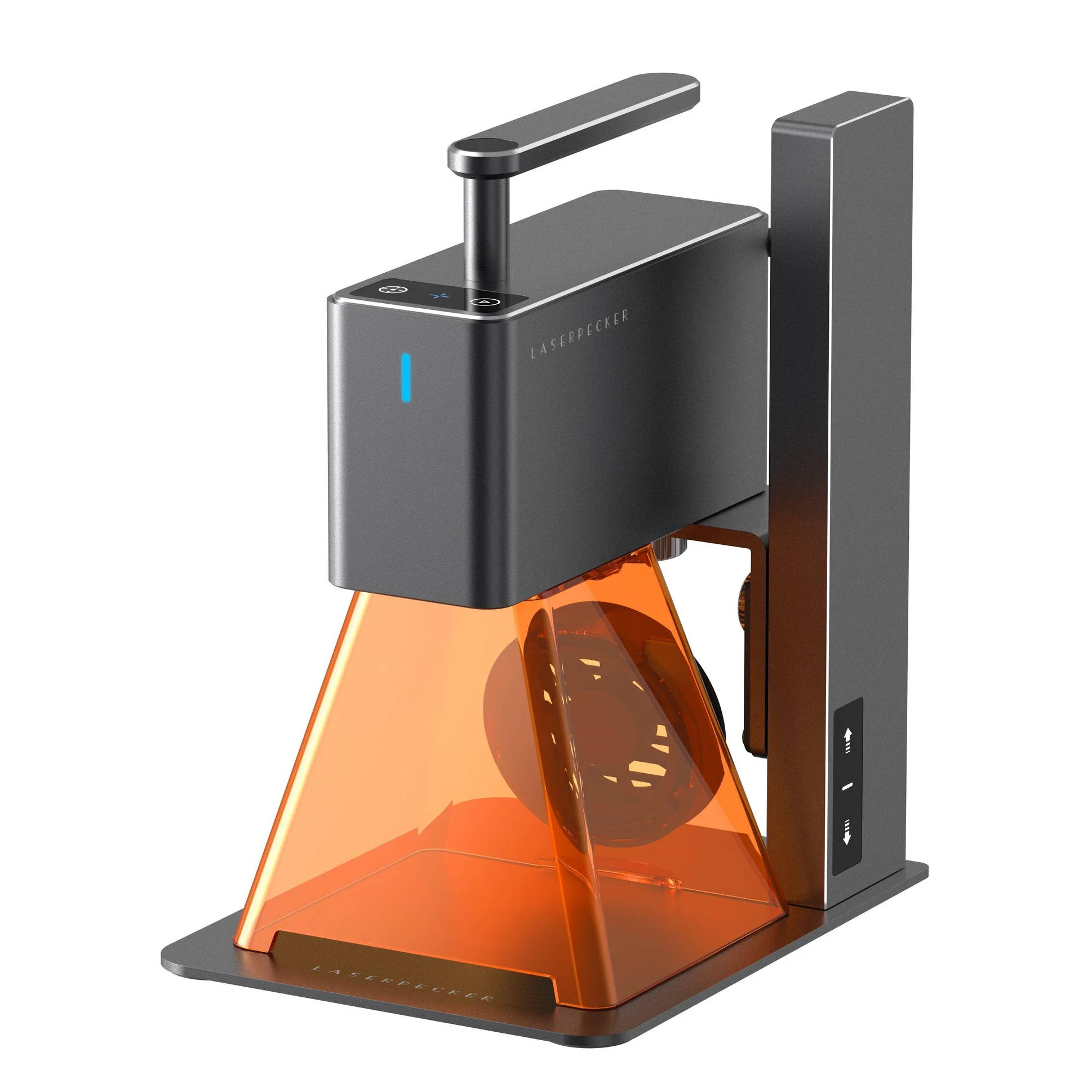 LaserPecker 2 is a beginner-friendly machine, which is easy to set up. You can program everything wirelessly from an APP on your phone to realize your creation anytime, anywhere. Simply connect the App to your laser, select your design, and initiate the laser engraver. Afterward, all that remains is to await the completion of your personalized engraving. The assembly process is quick as well. With only two screws to tighten, you can finish setting within a few minutes.
LaserPecker 2 can engrave on various coated and anodized metals and stainless steel. But that's not where its versatility ends. This laser can also work its magic on wood, paper, leather, acrylic, etc. Also, it's the world's fastest blue laser engraver and cutter with an impressive 36,000mm/min speed.
Plus, the engraving accuracy is up to 0.05mm, higher than the average industry level. With the versatile electric roller, LaserPecker 2 can do 360° rotary engraving on cylindrical, engraved surfaces such as tumbler/glass.
Summary:
Easy to install and use.

User-friendly APP

Portable design, easy to carry

Rotary module for curved surface
Best Cost-effective Laser Engraving Machine For Metal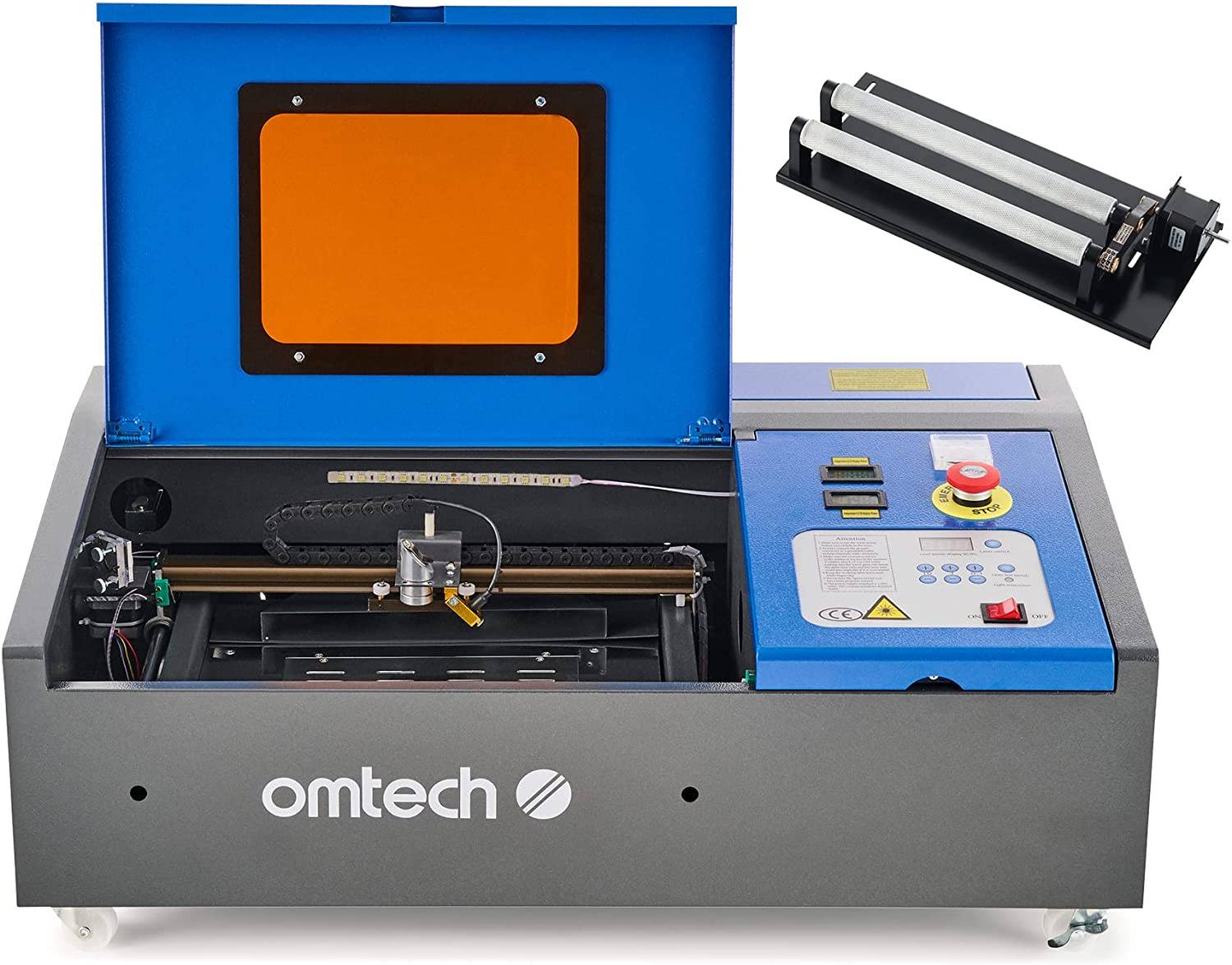 The OMTech K40 laser engraver is equipped with a CO2 tube as the laser source and some pretty great specs. This machine can engrave lots of materials, such as wood, paper, cardboard, plastics and acrylic, leather, fabric, etc. But as far as metal is concerned, it can only engrave coated or anodized metals because bare metals reflect the wavelength of a CO2 laser.
This laser provides a spacious working area (200 x 300 mm) to fit all the projects, whether personalized gifts for friends and family or customer orders, Additionally, in adding a new dimension to relations, the bundled K40 rotary axis can easily perform smooth 360° engravings on cylindrical or irregularly shaped objects.
OMTech is an American-based company that provides good customer service, which will lead you to commend this laser machine quickly. Through a vibrant community, the OMTech provides its users with invaluable insights and practical tips, and eliminates members' doubts with collaborative learning and growth.
Summary:
Works on various materials

Fairly large working area (200 x 300 mm)

Well priced

Good customer service
Best Portable Laser Engraving Machine For Metal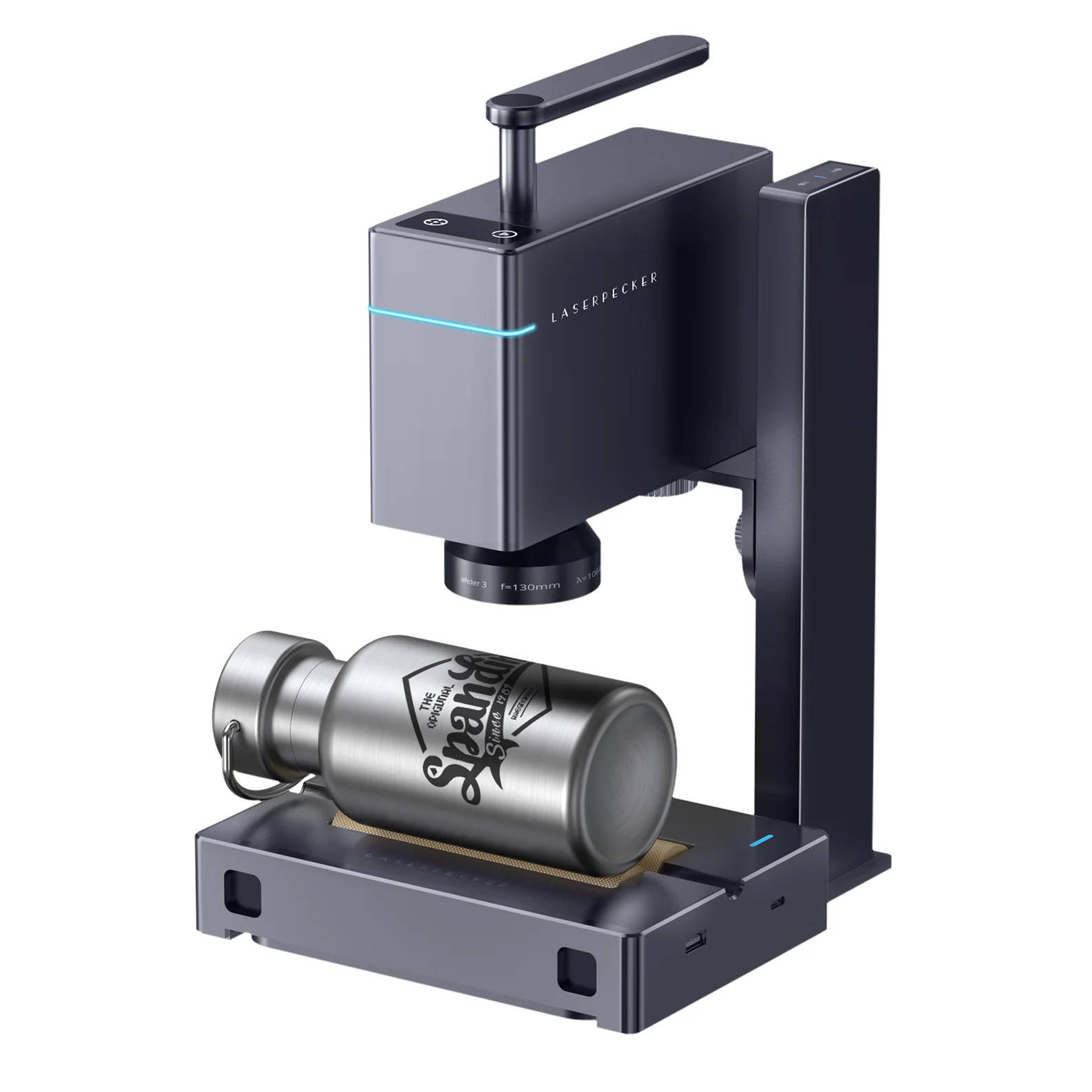 LaserPecker 3 is the smallest and most convenient infrared laser engraver in the world. Without any pre-treatment process, you can easily engrave on any metal, coated metal, anodized metal, and bare metal, as the 1064nm infrared laser wavelength can penetrate metals more easily. Additionally, LaserPecker 3 works with various materials like plastics, fiberglass, synthetic leathers, etc., Expanding your creation possibility to the next level...
The weight is only about 2.45 kg. Equipped with a stylish ergonomic handlebar and an intuitive touch-screen control panel, this machine could be assembled in less than 5 minutes by only tightening two screws and conveniently transported to engrave onto any place. As LaserPecker 3 comes with a 0.01mm*0.01mm ultra-fine compression spot and the optimized algorithm, the resolution of LaserPecker 3 has been increased to 4k, making the engraving details with high accuracy.
With additional accessories like a rollable bracket, the machine enables you to engrave on a wider range of cylindrical objects with curved surfaces, such as bottles, cans, trophies, etc.
Summary:
Applicable to all metals

High-speed engraving (Up to 48000mm/min)

Portable design, easy to carry

High engraving accuracy

Easy-set-up

Curved-Surface Engraving
Best Trustable Laser Engraving Machine For Metal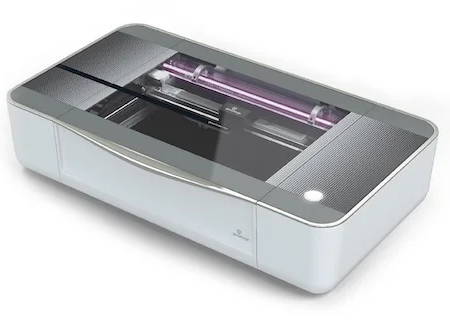 The Glowforge, similar to the K40, is a kind of CO2 laser. It can engrave and cut various materials, such as wood, leather, paper, acrylic, etc. But there is a limitation for metal engraving; it only works well on coated metals and anodized metals. To realize more possibilities for metal engraving, you may need to pre-coat and mark the metals using the CerMark, Enduramark, and LaserBond.
With regard to the working area, it is approximately 495 x 280 mm and can support workpieces up to 505 x 455 mm, so the working area is big enough to cover your most engraving work.
Glowforge is a well-known brand in the laser market because of its outstanding products and fantastic customer support. The Glowgorge community is a lively place for your study, learning, and sharing.
Summary:
Feature-rich software

Powerful laser and material portfolio

Large working area

Great documentation and community
Best User-friendly Laser Engraving Machine For Metal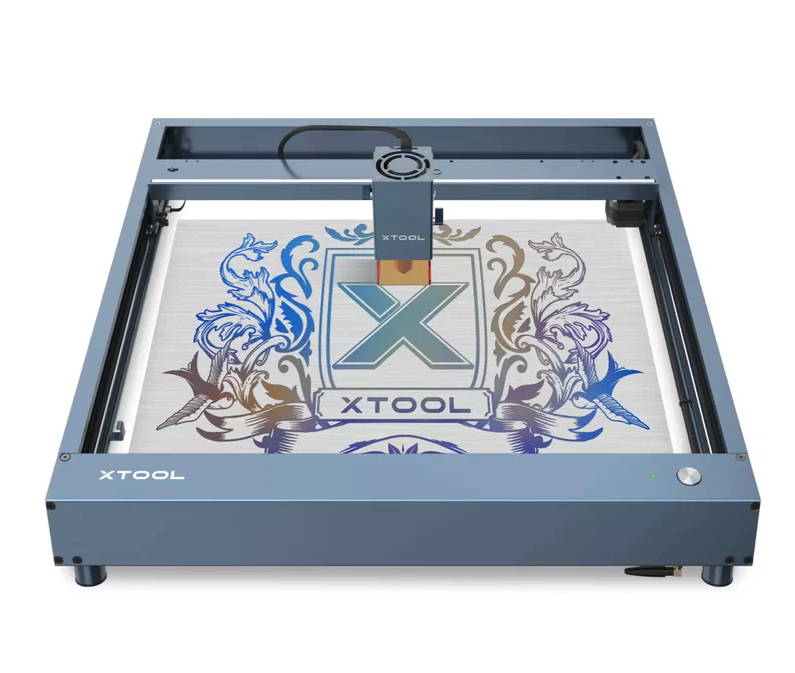 Xtool D1 20W is an essential diode laser that can engrave and cut on various materials, wood, leather, paper, acrylic, stone, etc. But as far as metal is concerned, it can only engrave coated or anodized metals because bare metals reflect the wavelength of a diode laser. This laser head adopts 0.08mm compressed spot technology, and the maximum processing resolution (DPI) reaches 1000, making your engraved images clearer. In terms of the speeds, the maximum processing speed can reach 24000mm/min.
Also, Xtool D1 20W comes with a fantastic accessory, the RA2 Pro Rotary. It's a rotary attachment, and it's easy to engrave on cylindrical items, such as a wine glass, yeti tumbler, baseball bat, ring, ball, or mug with a handle.
Assembling this laser engraving machine typically requires reading through the setup manual and spending approximately 40-50 minutes on setting, especially if it's your first time. Due to the unique design of each part and connection, these accessories are not interchangeable.
Finally, this laser has a vibrant community as well; the Facebook Grop and the "Xtool Creative Space" will be awesome communities where various tutorials and creative ideas that can get you inspired.
Summary:
Work on various metals

High-speed and high-accuracy engraving

Cylindrical engraving

Vibrant community
Best Industrial-grade Laser Engraving Machine For Metal
The OMTech 50W Fiber Laser engraver is so powerful that it can even cut through thin metal sheets. Coming with the Fθ lens, this laser helps create vivid markings on flat surfaces, maintaining a consistent, focused spot size across its 7.9″×7.9″ (200×200 mm) working area. This is one of the largest work areas of fiber lasers available to the consumer in the laser market of today.
There is no worry about metal types as this fiber machine can engrave almost all metals, from bare metals to others. Additionally, the Galvo-Tech drive and scanning system provides outstanding accuracy and fast, stable marking of flat surfaces at speeds up to 275.6 inches per second (7000 mm/s). The customer service of OMTech is highly reviewed as they are an American-based company, which will offer your better service.
Due to its industrial-grade level technology, the price is about $5,000—a little expensive for daily customers. OMTech also has some lower-wattage lasers, such as 20 and 30 watts fiber lasers, but they are still fairly pricey.
Summary:
Powerful laser, even for a metal cut.

Large working area (200×200 mm)

Fast engraving speed (7000 mm/s)

Great documentation and community
(5)Metal Laser Engraving Uses
After choosing the right laser for yourself, it's time to take a look at what metal laser engraving does. We have listed five popular usages of metal laser engraving:
1. Personalized Jewelry
Jewelry is the most widely-applied item for metal laser engraving, as many pieces of jewelry are made of metal, and there is a growing demand for personalized jewelry. Then laser engraver for metal is the best tool to mark silver, gold, stainless steel and etc. You can write names, dates, quotes, or any other signage on bracelets, rings, watches, etc. These personalized items are quite trending nowadays.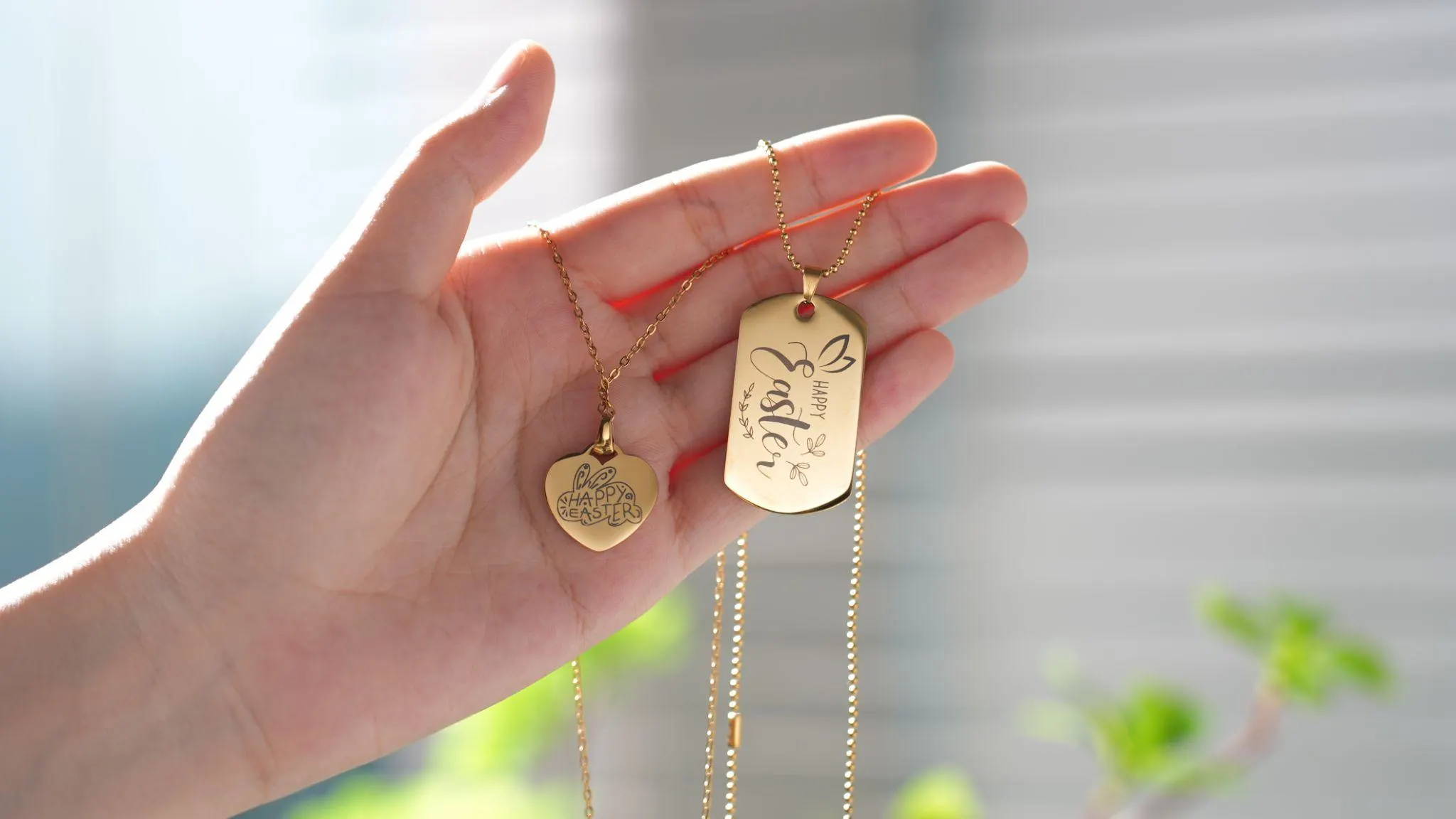 2. Business Cards
Metal business cards have emerged as a new trend as it's a great way to show one's exceptionalism and profession in today's business world. You can engrave the logos, name, address, and contact on the metal business card, and the metallic sheen and the delicate engraving will leave a special memory to the exchangers.
3. Branding
Branding is an important part of any business. By engraving the company logos, barcodes, QR codes, addresses, and other detailed information on various metals, you can establish a more distinct and recognizable brand identity, making it more appealing to potential customers.
4. Awards &Trophies
Metal laser engraving is also commonly used for customized awards and trophies. Engraving the recipient's name, the date and a special moment is the best way to memorize the unique moments and the special person. Because of the laser machine engraving process, a more precise and professional image could be achieved.
5. Nameplates
Instead of purchasing standard nameplates, you can easily design engrave nameplates on tables and doors with a laser engraver for metal. Additionally, you can even change the festival style when Halloween and Christmas are coming.
Q: Which type of laser is best for metal engraving?
A: It depends on what metals you are going to engrave on. If you want to engrave on coated and anodized metals, CO2 and diode lasers are the best choice as they are more affordable, and they can engrave on additional materials such as wood, leather, acrylic, paper, etc.
But if you want to engrave on uncoated metals, it's better to choose the fiber laser or infrared as their wavelength better penetrates uncoated metals, such as aluminum, gold, silver, copper, nickel, and stainless steel.
Q: How powerful of a laser do you need to engrave metal?
A: A CO2 and diode laser with a power rating of 5W can engrave on metals. But for infrared laser, 1w infrared laser can also engrave on metals as it is tuned to the frequencies necessary for metal.
Q: Can a CO2/diode laser engrave metals?
A: CO2 and diode lasers can engrave on metals, but they can only engrave on coated and anodized metals. For bare metals, such as stainless steel, a pre-treatment process is required. With a simple laser bond spray, including CerMark, Enduramark, and LaserBond -you can turn your CO2 and diode laser into a stainless steel laser engraving machine! Spray the bond mark, allow it today, and then perform the engraving as normal.
Laser engraver for metal can leave permanent marks on metal by shooting a high-energy beam to vaporize the target surface. It's necessary to confirm your engraving purpose and material because it will decide what type of laser you choose.
After thousands of research and comparisons, we have highlighted the top six choices that have outstanding features to satisfy the metal laser engraving, from product design, software, and use-friendliness.