Laserpecker pro : the most advanced & versatile handheld automatic engraver
Engrave any pattern on any surface. Set your creativity free anywhere $ anytime!
· Compact & portable · Plug & Play · Diy supported · 10,000+Hrs.lifespan
· App Control · Ultra-safe · Multiple materials engraving · Easy to assemble & use
① Laser engraving food and fruits ② Laser cutting cardboard
③ Free all your creativity with so many possibilities ④ Decorating your holiday with coloring powder

Engrave Any Pattern on Various Materials
Creating artistic patterns with LaserPecker is easy. The app provides a wide variety of cool patterns to choose
from or you can create your own by uploading any picture or customized pattern design. LaserPecker can be
used on various materials such as paperboard, fabric, wood, leather, felt, plastic and more. Because of its
powerful versatility, LaserPecker Pro can handle all your engraving needs.
Auto-focusing Support Stand
LaserPecker Pro is upgraded with an auto-adjusting support stand that sets up and focuses in seconds. All you
have to do is put the engraving target on the spot.The built-in sensors of the stand will measure the distance
between the laser generator and the target and automatically adjust the height to make sure the focal point is
the correct distance from the surface of the object.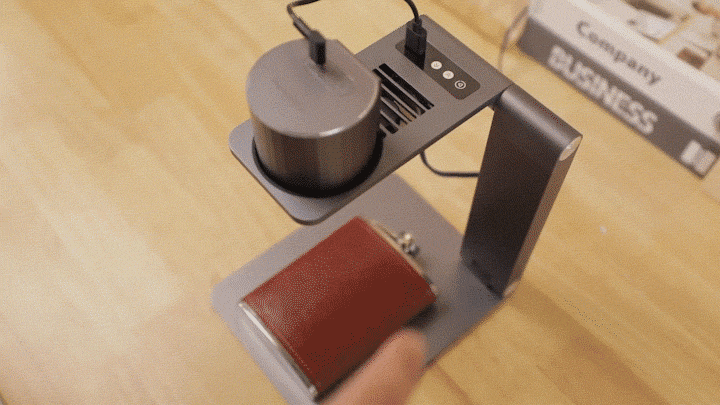 Smart Control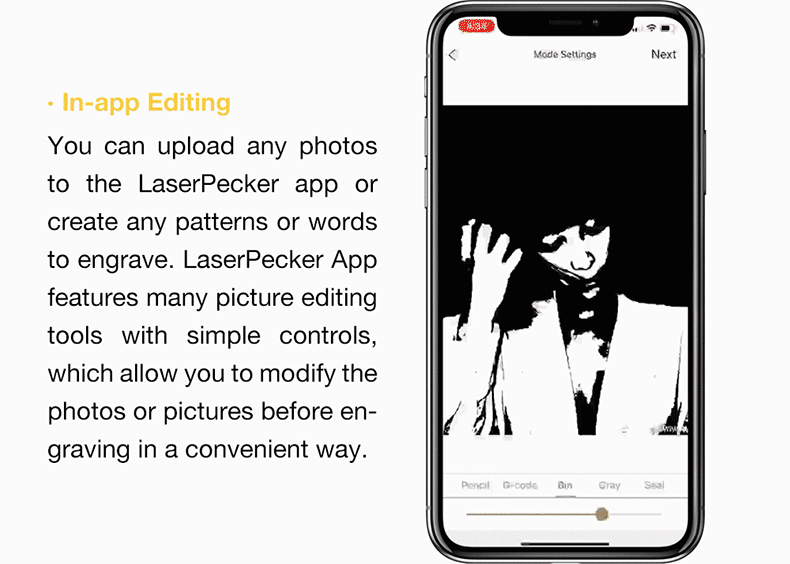 Preview Mode
Before engraving,LaserPecker Pro will first show the planned trajectory of the pattern by projecting a guide
laser on the target surface.Users can easily adjust the size,position, and the rotation angle of the pattern based
on the preview trajectory.Once satisfied with the pattern, just press the button to burn it in!
plug & play anytime anywhere
. Set up the stand and power up LaserPecker Pro.
. Connect LaserPecker Pro with LaserPecker app,choose or upload any pattern in-app and edit it with user-friendly
controls .
. Start to engrave!

Your pocket art studio
LaserPecker is the most compact and easy-to-use laser engraver of its kind.Just grab it and put in your bag,your
pocket art studio is ready to work anytime and anywhere.When you find your inspiration, just plug it in, or connect
to a power bank or PC via a Type-C port and bring your ideas to life!!

Foldable desigh
Both the support stand and laser shield of LaserPecker Pro can be carried effortlessly as they all feature a foldable
design.When not in use, they fold down flat, about the size of a small book and can be easily stored away for travel
or storage.


Ultra-safe protevtions built-in
LaserPecker Pro has built-in protections to ensure safe use LaserPecker Pro has built-in protections to ensure safe
use to you and your projects.


Works with power bank




LaserPecker Pro can be powered up using an adapter,and can also be used with a power bank or PC
via a Type-Cport.Even when you are on the road, just take out LaserPecker Pro and connect it with your
power bank or PC,you can instantly explore your creativity!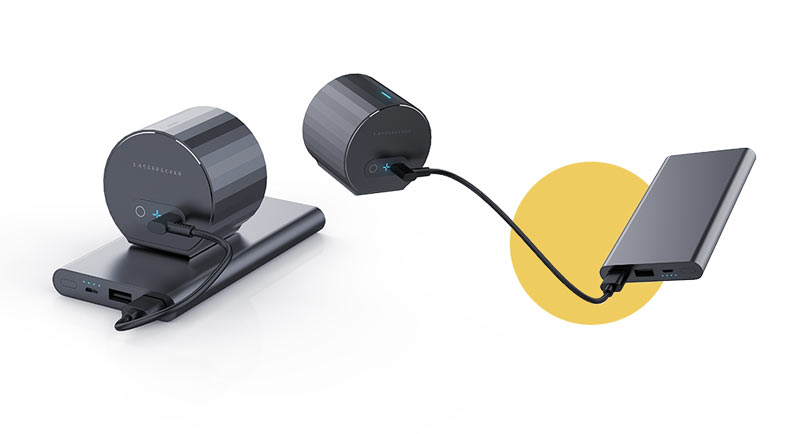 Built for long-term usage
LaserPecker is powered by a laser that is rated for over 10,000+ hours of lifespan-enough to engrave
nonstop for 416 days!
Laserpecker vs Laserpecker pro
Here is our improvement since the last one .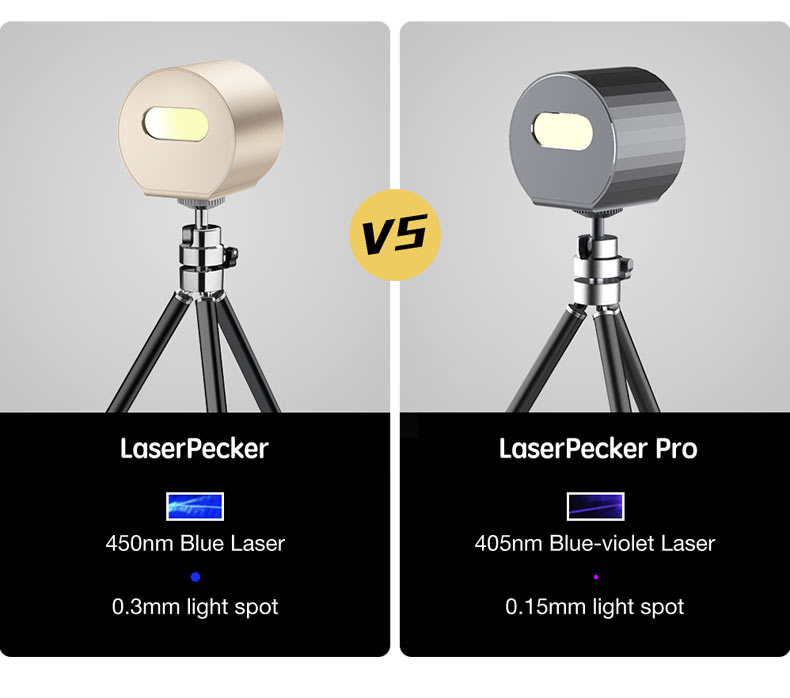 Specs: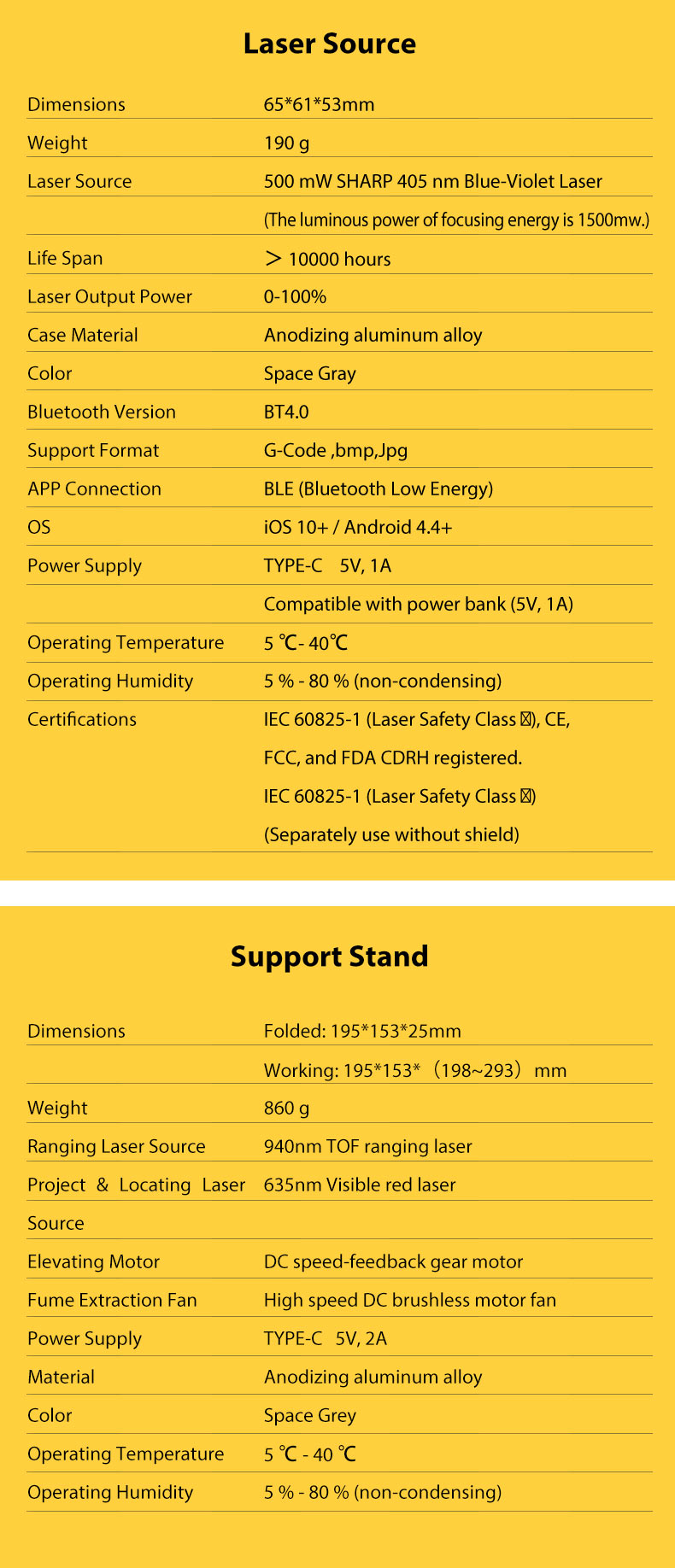 How to Design Laser Engraving Patterns
Design using software that creates vector files.

Generally, All laser cutters require vector files such as those that are created with Adobe Illustrator and Inkscape. Common files include .ai, .DXF, .eps, .step, and other vector file types. When using the files, you only just scale, connect and convert your design into shapes or "outlines" and then submit it to the cutter.

Laser cutting machines have specific design guidelines that must be followed to meet the precision and quality requirements. Based on this idea, LaserPecker software make some improves for this process. We provide the G-code mode in the software to reduce the complexity of your design, you can directly change the pic to vector files to engrave or upload the vector to the software, it can be easily used. Only you can do is determine which material is best for your design, LaserPecker mini laser cutter allows the design and manufacture of products with speed and precision at a low cost.

LaserPecker also do not need to create any patterns, you can download any pictures on the internet. You can download any types of engraving patterns. It can be engraved as well by uploading them to the LaserPecker software.
Tips for Pro Laser Cutting when Using an Automatic Engraver
If you're going to engrave or cut on something, we get to tips for cutting and engraving, LaserPecker, as an example, can cut paper.

Files: you can upload any pic to the laserpecker software. Vector files are best for cutting. Vector files are mathematical formulas defining lines, circles etc. These are created by programs like Adobe Illustrator, Inkscape, AutoCAD and Corel.

Presets: Your laser should have some suggested settings for pro laser cutting or engraving different materials and different thicknesses. Luckily, LaserPecker has more many consumers who made many practises for the setting, our tech team keep going to adjust engraved setting. It will be showed up the best setting when consumers choose the materials. You don't need to spend time for testing.
How Can I Make My Laser Cut Faster when Using an Automatic Engraver?
How Can I Make My Laser Cut Faster?
If you are wanna cutting faster, Laserpecker has fast laser engraving machine for you. And there are also some tips below.
Files: Vector files are best for cutting.
Size: The smaller is the pic, the faster is the cutting.